ASTEC to display a total of 42 machines at Conexpo 2014 including next-generation Vanguard jaw crusher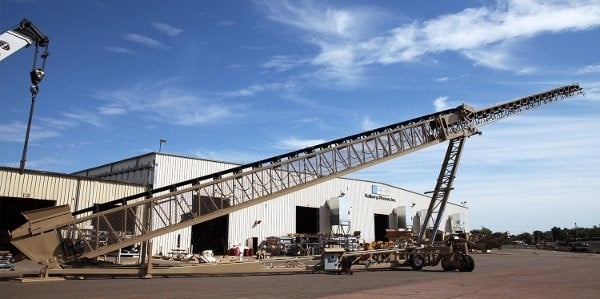 KPI-JCI and Astec Mobile Screens' parent corporation, Astec Industries, will exhibit a total of 42 pieces of equipment at their booth (50327 in the Central Hall) at Conexpo 2014, 89 percent of which the company says will be new to the industry.
KPI-JCI and ASTEC Mobile Screens will show six pieces of equipment during the show, including the new-generation 3055 Vanguard Jaw Crusher, the FT2650 Jaw Crusher with pre-screen option, and the new-generation 170-foot long SuperStacker telescoping stacker. Other products on display for the mining and aggregates industries will include the Kodiak Plus K500+ Cone Crusher, a Series 9000 Dewatering Screen, and a High Frequency Screen for the industrial sands market.
The 170' long SuperStacker™ (above) is the company's latest model of telescoping stackers. SuperStackers™ are essential to building a desegregated stockpile and ensuring product quality. By controlling the extension of the stinger conveyor, radial travel and conveyor incline, layered windrows will be built, minimizing stockpile segregation. The new generation of SuperStackers™ has replaced the e-chain with the festoon system, providing less maintenance, smoother operation and better reliability. They also feature an enhanced Wizard Touch® automation control system, allowing for more stockpiling options.
The new-generation Vanguard Jaw Crusher (below) features an optional tramp iron relief system that enables on-the-fly adjustment of the closed-side-setting, while providing overload protection from tramp-iron events. KPI-JCI says increased stroke, toggle angle and flywheel inertia provide up to 25 percent more production, greater efficiencies and lower fuel costs over competitive models.