Vermeer Texas-Louisiana opens new facility in Midland, Texas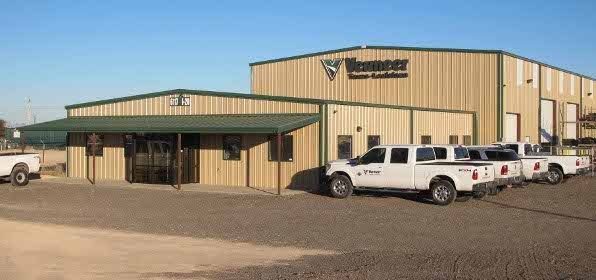 Vermeer Texas - Louisiana, a market leader in environmental and construction equipment with 12 locations across Texas and south Louisiana, celebrated the grand opening of a new branch in Midland, Texas on Friday, November 1, 2013.
Located on three acres on the southeast side of Midland, the new 8,000 sq. ft. facility will allow Vermeer Texas-Louisiana to provide local parts availability, in-shop and field service support to the Midland/Odessa area and customers working in the Permian Basin. The Midland location will have access to a full-line of Vermeer equipment ranging from trenchers and horizontal grinders to directional drills and vacuum excavators, offering both sales and rental options for customers.
Over 100 people attended the November 1st grand opening celebration. In addition to the team from Vermeer Texas-Louisiana, several vendors including Vactron, McLaughlin, MI Swaco and Baroid were on hand to support the new facility. The Midland Chamber of Commerce also held a ribbon cutting ceremony that included leaders from the city and local community ambassadors.
Vermeer Texas-Louisiana CEO Whit Perryman had this to say about the new location, "We are excited to open a facility in the Midland/Odessa area. As the community continues to grow, the Midland location will allow us to provide better service and support to our customers working in this region of the state."