Star Screen Insert takes process time from one week to one day and maintains product quality for organics recycler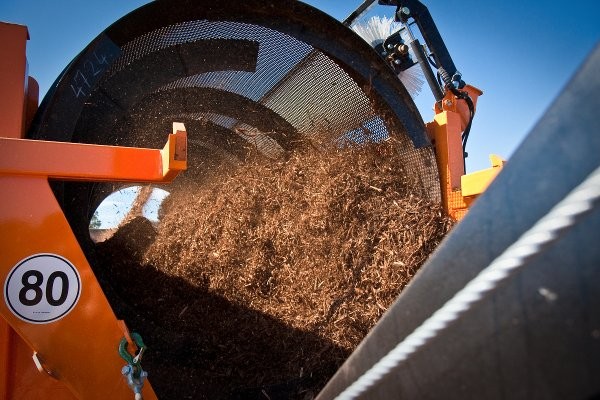 In every marketplace, businesses compete by establishing themselves within a competitive position that sets them apart. Sometimes that can mean providing the lowest price, the most unique twist or the largest selection.
For DK Organics in Lake Bluff, Illinois, their focus has always been to provide the absolute highest quality products and follow the strictest production control to ensure that quality is consistently maintained. And for more than 20 years, they have been delivering high quality compost, mulches, soils and aggregates in the Chicagoland area.
It has been said that regulation can spawn an industry, and in Illinois, that has certainly been the case for the composting and organics industry. When the green waste landfill diversion law was enacted in 1988, the market was suddenly faced with a glut of material that now had no established disposal solution.
David "Sid" Gorter, founder of DK Organics, realized the tremendous potential that was unfolding, and quickly scrambled to become educated enough to enter the business. Sid refined DK's production methods and increased the quality and purity of all the company's products. Continuous process improvements, capitalization on new university-level research and advanced equipment were all investments DK Organics made to ensure they maintained a high quality advantage.
Gorter understands very well that creating top quality products requires top quality equipment, and that a critical piece of equipment for any organics yard is a screen. DK Organics was one of the first companies in the United States to own a Doppstadt SM series trommel, acquiring their first unit back in 2003, just a year after they first became available domestically.
According to Andrew Mariani, DK Organics operations manager, "The efficiency of [the SM Series Trommel's] production, the ease of operation and the minimal downtime have definitely had a positive impact on our operations and our product quality."
DK Organics' Doppstadt trommel is certainly asked to do alot: screening fines from mulch, finishing compost, creating blends, cleaning soil. The company also offers it on a contract basis to organic farmers offsite that are running small-scale compost operations. But never content with the status quo, Gorter soon had his eye on the next innovation he recognized would propel them further ahead of their competition.
"For years, Sid was waiting for the Doppstadt star screen insert to become available in the U.S. market," recounts Mariani. In March, 2011, just as they were among the first to get their hands on the Doppstadt brand back in the early 2000s, DK Organics was again among the first to get an SM Star Screen Insert.
"We traded in our existing [SM] 720 and got a new 720 with the star screen," Mariani says.
The SM Star Screen Insert
The Doppstadt Star Screen Insert is engineered to drop directly into a trommel unit, simply replacing the trommel drum in an easy 15-minute change. It works on a revised principle utilizing a urethane star design for extended life. Units are designed to process wet, clumpy organic material with moisture content as high as 60 percent or more, with throughput results as much as 50 percent higher than screening through a drum.
According to Doppstadt, the oblong star shape on the shaft, as opposed to a conventional round star shape, aids dramatically with shaft cleaning. Plus, Doppstadt says, the exclusive, alternate shaft speeds on the unit's deck are extremely effective in the stratification of material feed, leading to a cleaner oversize product and increased production rates.
For DK Organics, their results using the Star Screen Insert were very positive.
"We had been running a 1.5-inch drum, but recognized that we were just not getting the product we wanted in the time we wanted it, with the quality we were aiming for," explains Mariani. "But the star screen was an immediate game-changer for us. We were now doing in a day what had previously taken nearly a week to run."
The resulting increase in quality was also as dramatic, and Mariani believes the Star Screen Insert investment alone has put them far ahead of their competition.
DK Organics' process
"DK Organics is obviously not the only game in town, and other providers work hard to meet the needs of their customers too," he continues. "But for us, our goal is to produce and deliver the highest quality compost, mulches and soils possible. Our customers come to us with that expectation and we need to always look for ways to exceed their standards. Our investment in this star screen is another example of that."
DK Organic's process begins with control over the source product – the company insists on using only clean, controlled yard waste and landscape material. After primary shredding, they produce a menu of mulch products, some of which are double-ground (or even triple-ground) fine to result in a premium product. Source-materials include southern hardwood bark, premium hardwood and leaf mulch.
DK says colour and texture is crafted through precision aging; although they recently added a dark red product to their collection as a result of strong local demand. Composts are produced with an initial grind, after which the material is windrowed and aged for two to three months. Heat, oxygen and moisture are constantly monitored; the piles are turned to replenish oxygen, and grass is added when additional moisture becomes necessary. The final product is screened for purity and sold in bulk.
For DK Organics, custom blended composts, mulches and soils can be crafted upon request, and are now mixed with precision in their Doppstadt SM trommel with the Star Screen Insert. Mariani has found that the strong agitation capability of the new star screen provides a perfect environment for producing a consistent, blended product.
As with any industry, staying on top means not standing still. Competition is always going to catch up, and marketplace demands constantly change. As standards rise and expectations become greater, DK Organics says they will always be thinking two steps ahead. It has been more than 20 years since they first realized the opportunity to gain an advantage in their Northern Illinois market, and the company is not about to let their guard down any time soon.