Microwave-induced pyrolysis is driving the advancement of chemical recycling
Greenback Recycling and Enval technology partnership provides solution for processing low-density plastic packaging waste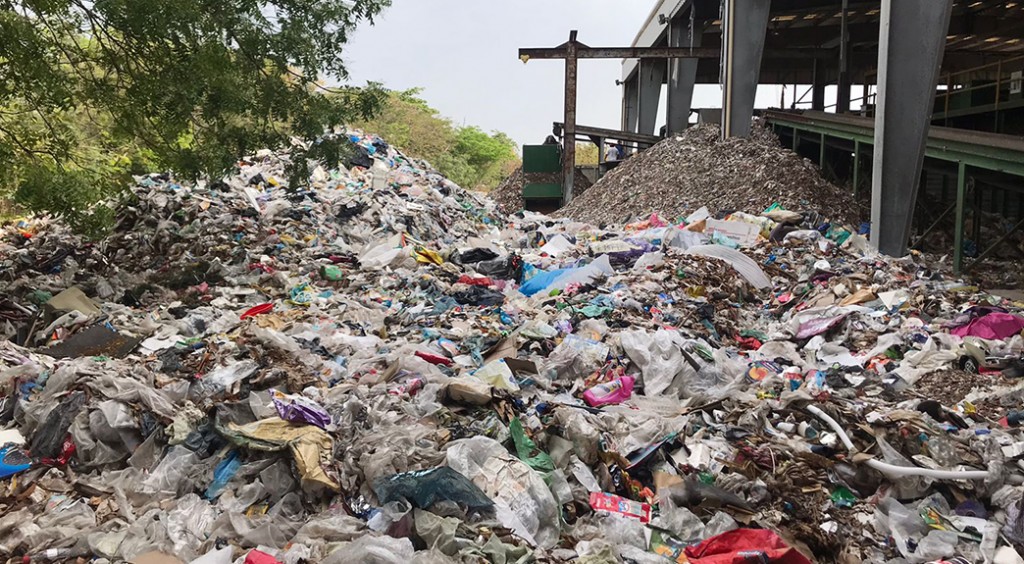 Greenback Recycling Technologies is on a mission to solve the global plastic waste crisis. The UK based company specializes in implementing scalable and distributed advanced collection and recycling solutions that offer brand owners and the plastics value chain fully traceable recyclate. Using blockchain-based evidence to trace and authenticate the provenance and composition of materials, it enables waste plastic to more efficiently be used as a feedstock for food-grade commercial packaging applications, at predictable prices and in dependable quantities.
"We are building a decentralised network of collection and recycling plants near sources of post-consumer plastic waste around the world," explains Philippe von Stauffenberg, Greenback CEO. "Through the use of smart contracts, we ensure a fair distribution of value to all actors in the supply chain, including the informal waste collection sector."
Recently, the company incorporated microwave-induced pyrolysis technology into its lineup of solutions for managing plastic and packaging waste. The process, developed by the UK-based chemical recycling technology specialist, Enval, is a proprietary solution for processing low-density plastic packaging waste, enabling thermochemical decomposition of organic material at elevated temperatures, in the absence of oxygen. According to von Stauffenberg, it has fantastic potential for recycling mixed plastic waste that cannot otherwise be economically physically separated and classed.
What is microwave-induced pyrolysis?
Enval's microwave-induced pyrolysis technology used by Greenback has been developed specifically for the recovery of complex plastic packaging, and can handle a wide range of materials, including multi-layer (foil/film) laminates. Von Stauffenberg explains that when carbon is exposed to a microwave field, it can reach temperatures of up to 1,000°C in just a few minutes. If shredded plastic waste is then mixed with the carbon, the energy absorbed from the microwaves is transferred to the plastic by conduction in a quick and efficient manner. As the packaging travels through the oven, the plastic, glue and ink layers degrade via the pyrolysis process to form a mixture of hydrocarbons, ranging from C3 to C20.
"This mixture, which is a gas inside the oven, exits and is then cooled down and separated into two fractions: gas and oil - referred to as Py-Oil," continues von Stauffenberg. "The gas is used to generate the electricity required to power the process, and the condensed oils can be used as the feedstock to produce new plastic." He adds that a single microwave-induced pyrolysis module can process 2.5kt per annum of hard-to-recycle plastic waste, and can scale in 2.5kt increments, to fit the size of the waste stream available.
"When the right technology is implemented and utilised, shifting to a circular economy creates new markets and opportunities for the recycling industry and consumer packaged goods companies," he says. "Additionally, a critical challenge for businesses and brands attempting to solve their plastics waste issues is securing legitimate sources of clean, recycled plastics, and verifying the provenance of materials - from the point of collection to use. This is particularly important for food packaging applications."
"Greenback recognizes that the world is facing a plastic waste crisis and that there is a critical need to reform today's systems for recycling. A new approach and mindset are required to deliver the scale, provenance and professionalism the waste collection and recycling industry requires to meet demand in the very near future.
"By working in partnership with Enval and CPGs to install innovative recycling technology, complemented by advanced digital solutions at landfill sites, Greenback is addressing the challenge head on."
Nestlé Mexico plant first in region to use microwave-induced pyrolysis
In September, 2021, Greenback announced a project partnership with Nestlé Mexico that will result in installation of the first plant in the country to achieve full circularity of food grade plastic packaging, using Enval's microwave-induced pyrolysis technology.
Nestlé Mexico, the first consumer goods company in Mexico to guarantee access to recycled food-grade plastics, and is the first outside Europe, to install a chemical recycling plant capable of processing flexible plastic packaging. According to Greenback, this will address the challenge of post-consumer plastic waste that is difficult to recycle in the country, thus contributing to promoting a circular economy. In the first phase, the project aims to process up to 6,000 tons of flexible plastic packaging in year one.
The new plant will employ innovative microwave-induced pyrolysis technology developed by Enval, to transform valueless plastic packaging into pyrolysis oil that can be used in the petrochemical industry to manufacture new products with post-consumer recycled content. According to Greenback, Enval's technology is unique in that it also allows the recycling of aluminum from ultra-effective but hitherto impossible-to-recycle packaging.
The ambitious project is expected to enable circularity of up to 6,000 tons of flexible plastic packaging in the first year, with expected sustained growth in both volume and installed capacity in the country. In addition, Nestlé will be investing in the adaptation to the Mexican waste ecosystem and market of Greenback's eco2Veritas Circularity Platform, which provides complete traceability of the neutralisation and recycling process.
"Making safe recycled plastics for food packaging is a huge challenge for our industry. Therefore, in addition to minimising the use of plastics and collecting waste, we want to close the loop and make more plastics infinitely recyclable," said Fausto Costa, CEO at Nestlé Mexico. "This project with Greenback and Enval fully supports the mission of ensuring that our plastic packaging is not only recyclable, but actually recycled; it ensures that we are drastically reducing plastic waste pollution and supports our work with local communities."
Philippe von Stauffenberg, founder and CEO of Greenback, commented: "This project in Mexico will tackle the unresolved problem of turning multi-laminate and mixed plastics that are difficult to recycle into a recyclable waste stream. The aim is to reduce the challenges that exist in packaging recycling, transforming these waste resources into pyrolysis oil that can be used for the manufacture of certified recycled food packaging."
Carlos Ludlow, founder and CEO of Enval, also commented: "This collaborative project with Nestlé Mexico and Greenback shows the importance of teamwork between companies from different parts of the value chain in facing the challenge of plastics in the environment. At Enval, we know that plastics are not the enemy but are materials that improve our lives but must not end up as pollution. We are very pleased to know that our first plant, in collaboration with a company as recognized as Nestlé and in partnership with Greenback, will soon be operational in Mexico."