New compact tracked horizontal grinder from Bandit increases capabilities in wood waste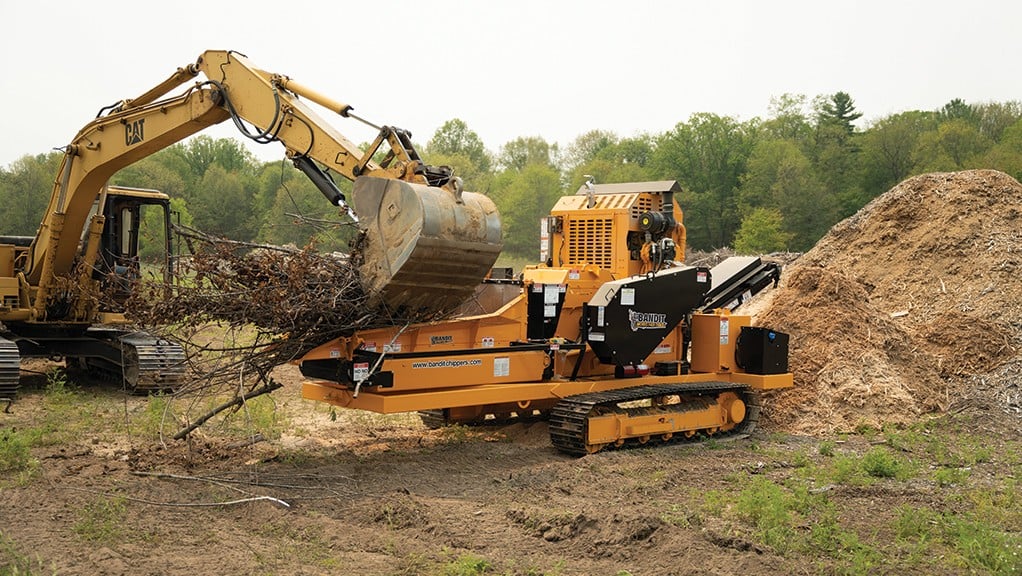 Bandit Industries' new Model 1425 Track is a highly productive and compact track-mounted horizontal grinder. According to Bandit, this model is equipped with many of the same features as the tow-behind version and by adding tracks, it substantially increases its capabilities in wood waste and other organics recycling and composting applications.
"Since introducing the 1425 at the TCIA show in 2018 many customers have asked for a track version" said Bandit Marketing Manager Jason Morey. "By making it available with tracks, it can now travel over a variety of landscapes with the durable Caterpillar steel track undercarriage."
The Model 1425 track is equipped with a 7-foot long x 24-inch wide steel or rubber belt infeed conveyor and a stationary discharge with a stacking height of 7'. To further enhance the machines capabilities, a grinder head or chipper drum can be ordered, giving it the ability to produce mulch or a dimensional chip.
When ordered with a grinder head, there are 14 cutterbodies with teeth, creating an aggressive, yet smooth grinding action. While the chipper drum features 4 chipper knives that will produce a chip ranging from ¼" all the way up to 1". Like our larger horizontal grinders, the 1425 track is offered with a variety of tooth and screen options.
"We have one engine option available on this model," Morey said. "Customers can now order this machine with a Caterpillar C4.4, 174 horsepower Tier 4 final."