Harvest Power launches North America's largest commercial-scale high solids anaerobic digester and compost facility
Richmond B.C. operation to convert up to 40,000 tonnes per year into clean energy and compost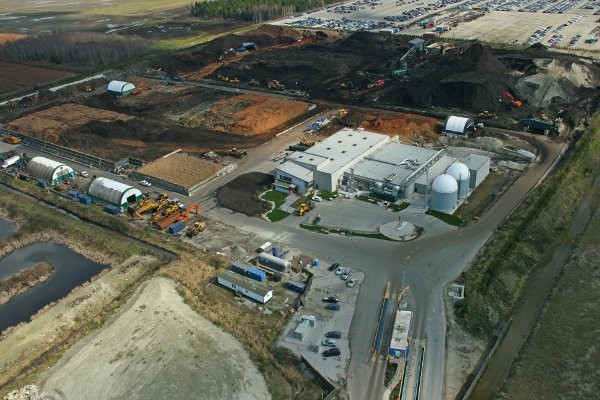 On September 11, 2013, Harvest, along with its partners, officially launched its Energy Garden in Richmond, British Columbia. The new facility is the largest commercial-scale high solids anaerobic digester in North America. The Energy Garden is located at Harvest's site in Richmond, B.C. and has the capacity to convert up to 40,000 tonnes of food and yard waste per year from area homes, businesses, restaurants and supermarkets into clean energy and compost.
"This facility represents the innovation, passion and commitment required to usher in the future of organics management," said Paul Sellew, Harvest Power founder and CEO. "We are excited to continue our partnership with the Metro Vancouver and the City of Richmond community to cost-effectively convert organic materials once destined for the landfill into clean energy and compost products."
Harvest's Energy Garden, which uses GICON's batch two-stage anaerobic digestion technology, is the largest of its kind in North America. The facility produces enough energy to power approximately 900 homes per year, and provides hundreds of thousands of cubic yards of top quality soil products to local farms, gardens and landscapes.
Harvest celebrated the opening of its Energy Garden and composting facility with two events: a "Cube of Food and Compost" tour and an opening ceremony. On Wednesday, Sept. 11, Harvest toured the region with a "Cube of Food and Compost" – an educational learning station that made stops at local venues to demonstrate how energy and nutrients are cycled through the community. At each stop, participants learned about sorting food scraps and received compost. On Thursday, Sept. 12, Harvest hosted a grand opening celebration with community leaders, government representatives and the business community.
"Our Government is supporting innovative projects across the country and positioning Canada at the forefront of clean energy technology to help protect our environment and create high-quality jobs," said the Honourable Kerry-Lynne Findlay, Canada's Minister of National Revenue. "Projects like this one not only support our local economy but also demonstrate how we can use clean technology to reduce greenhouse gas emissions."
"The City of Richmond is pleased to work with Harvest Power to manage and beneficially reuse our organic waste," said Malcolm Brodie, Richmond Mayor and Chair of the Zero Waste Committee for Metro Vancouver. "Together we are creating opportunities to reach our recycling targets while improving the soil for future generations and developing the increased use of renewable energy sources."
Harvest's services and products help reduce landfill-bound waste and greenhouse gas emissions associated with transportation while providing clean, local renewable energy and top quality soil products.
"We see an organic cycle of energy and nutrients: a pizza crust from last night's dinner gets turned into power today, and soil that grows tomatoes in tomorrow's garden," continued Sellew.
Financing for the Energy Garden was supported by a $4 million contribution from Natural Resources Canada and a $1.5 million contribution from BC Bioenergy Network. Proud supporters of this effort include BC Hydro, Metro Vancouver and member municipalities, Port Metro Vancouver, haulers, landscapers and local residents. The energy is sold back onto the grid under a power purchase agreement with BC Hydro.
Harvest Power creates a more sustainable future by helping communities better manage and beneficially re-use their organic waste through the production of renewable energy and soils, mulches and natural fertilizers. The company's vision is to find the highest and best use for the 500 million tons of organic materials produced in North America each year.
The company operates organics facilities in the Mid-Atlantic and West Coast of the U.S., and in Ontario and British Columbia, Canada. Harvest has grown rapidly since its founding in 2008 and has garnered awards for its business of energy generation and soil revitalization: the company has been named to the Cleantech 100 Top Global Cleantech companies three times and won Bloomberg's 2013 New Energy Pioneer Award.
British Columbia's fourth largest municipality, Richmond is an island community located in the mouth of Fraser River. Home to 200,000 people and one of BC's most robust local economies, Richmond has also preserved about half of its total area as open space, including farmland, park, environmentally protected areas and other green space.
Richmond is committed to being a Sustainable City that is "a healthy, safe and enriched island community with an innovative and prosperous economy and thriving natural systems, sustained for current and future generations." Richmond is considered a regional leader in promoting composting, the recycling of food scraps and other measures to divert waste from landfills.