Styro-Hybrid densifier from Brohn Tech built for cost-effective, mobile EPS recycling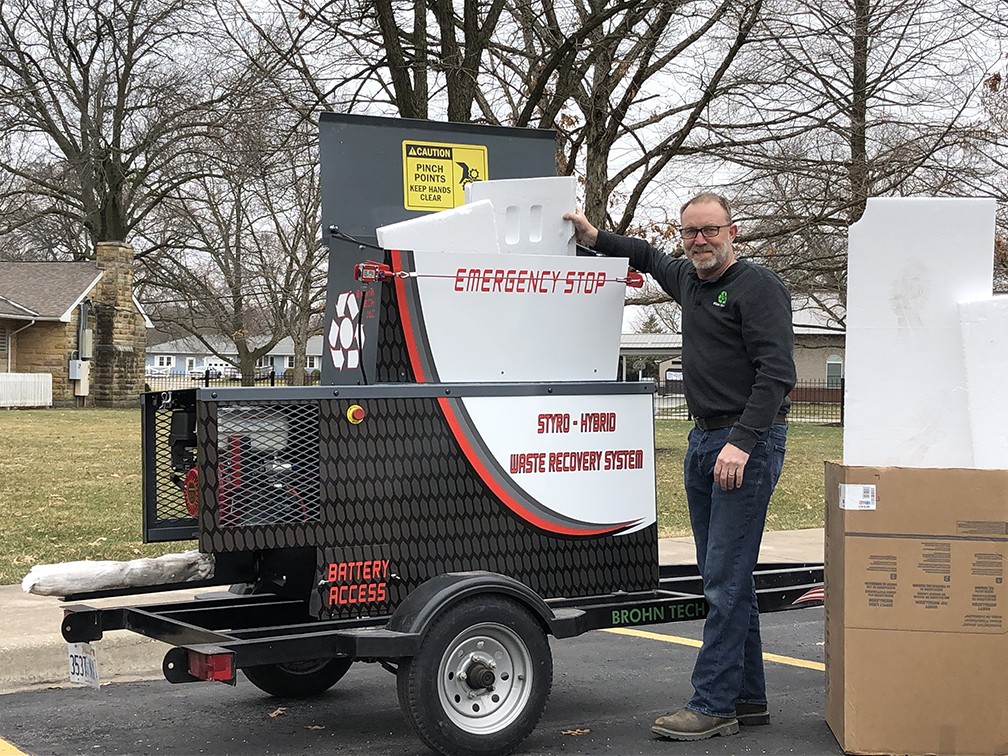 The Styro-Hybrid from Brohn Tech LLC was developed specifically to make EPS recycling efficient and cost-effective. According to Brohn Tech owner Brien Ohnemus, the biggest challenge with recycling EPS (expanded polystyrene, aka styrofoam) is the shipping cost. At 95-percent air in many cases, he says it is simply not cost effective to ship the material to centralized recycling facilities for processing.
The Styro-Hybrid offers a mobile on-site solution for densifying EPS so that it is cost effective to ship and recycle this recovered material. Once processed, condensed EPS material can go directly to material buyers directly for use in new products. As a mobile platform, these machines are ideal for events, construction/demolition sites, rural communities, and recycling at multiple locations. The machine can go to the source, and from community to community, or business to business, eliminating the need for a dedicated facility or individual units in multiple locations. Units are also ideal for use by environmental organizations for applications such as cleaning EPS from beaches, waterways and roadways.

Units require no electricity, can be configured for various throughput needs, and weigh only 700 pounds for easy mounting in, or on, most trailers or trucks. The Styro-Hybrid operates on a small Honda motor that offers effortless key start, for fast, easy processing of waste EPS.
"Recyclers can use the Styro-Hybrid as a tool to offer their customers additional service," says Ohnemus. "Charge commercial customers a fee to divert their EPS waste from the landfill, then sell the recycled material once densified with the Styro-Hybrid. There is no need for large trucks to haul the lightweight material back to a recycling facility. Process material on site and it is ready for buyers." Alternatively, once processed, the material can be stored outside until ready to ship to recycled material buyers.
In 2019, Brohn Tech LLC received the Equipment Innovator of the Year Award from the National Waste and Recycling Association for the Styro-Hybrid technology. LINK>