Foam Cycle EPS recycling system is growing in popularity
New Jersey pilot project is making picture frames from expanded polystyrene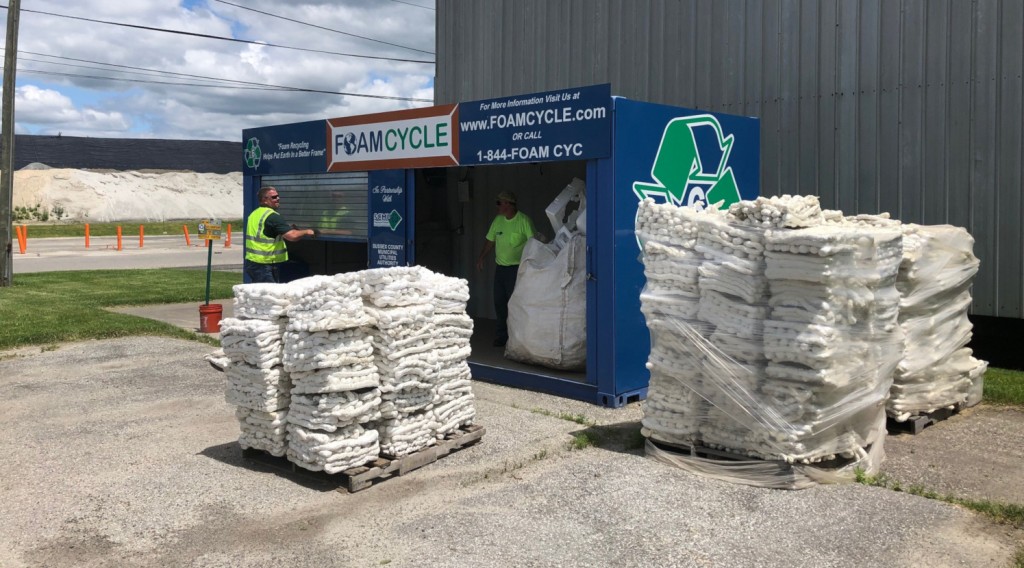 Foam Cycle is the first patent pending foam (aka. Styrofoam) collection and processing system specifically designed to be placed outdoors. It began as a test project in 2016 under a public-private partnership agreement between Foam Cycle and the Sussex County MUA, in New Jersey, which owns and operates a 250 acre on site landfill and recycling drop off collection center.
The Foam Cycle system is composed of a high efficiency heat densifier, electrical connections and air flow system which enables municipal and county recycling drop-off centers, colleges and universities the ability to efficiently collect, densify ( reducing the Foam size by 90%) , sell and ship the reduced foam called "ingots" to end user manufacturers.
(Foam is a term used to identify #6 packaging materials used to ship and secure TV's, electronics and furniture as well as foam products such as coolers. The technical name for Foam is Expanded Polystyrene (EPS) which is a material made up of 98% air and 2% polystyrene plastic.)
According to Foam Cycle, their system has grown in popularity and demand due to the verifiable impact it's has had on the Sussex landfill. Just recently a Green Team from Montclair University in NJ spent the summer investigating foam packaging's landfill impact and developing a closed loop picture frame made from Sussex Counties recycled foam.
The frame is called Better Frame, which if broken or no longer wanted, can be returned so the frame can be recycled and made into a new frame.
Since 2016, Foam Cycle has garnered significant attention and awards, including a SWANA Bronze Excellence award, and the EPS Industry annual recycling award.
Case study: StyroFoam Recycling 101
....Lesson Complete at MSU
This summer, Foam Cycle and the Sussex County Municipal Utilities Authority (SCMUA) were fortunate to have been awarded a Green Team from Montclair State University (MSU) to study the first patent-pending Foam Cycle Foam Packaging (aka Styrofoam) recycling system that has been in operation there since 2016. Of the hundreds of students from all over the country that applied for this competitive program, eight teams each made up of five students were chosen to address sustainability issues with the various public and private companies that applied for a team.
In Late May, The Foam Cycle/SCUMA Green Team took to the outside classroom and dug right in spending many days at the Sussex County landfill, operating the Foam Cycle system, tracking the recycled foam from point of generation to a moulding manufacturer, then to a picture frame assemble plant. The team completed a list of deliverables that will forever change the perception that Foam Packaging waste cannot and should not be recycled.
In the end the team helped advance a new product called "Better Frame"; a picture frame made from 100% recycled Foam Packaging waste that can be traced back to the very site where the foam waste came from. At the core of this concept is that if the frame is broken or no longer wanted, it can be sent back to Better Frame to be recycled and re-made into a new frame, keeping this waste material out of our landfills and waterways forever, as a true closed loop circular economy recycling product.
The Better Frame web site has launched and product is avaialable to purchase.
The Foam Cycle/SCUMA Green Team presentation can be found here. The MSU Green Team's final report, including site analysis data, more detailed information and a sample of the frame can be sent upon request. Just shoot us an email at [email protected].