Rapid growth and new equipment highlight Bandit 2013 Dealer Meeting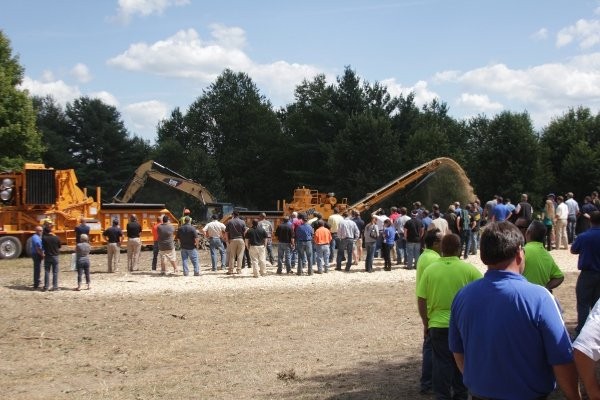 Over 250 dealer representatives from 19 countries assembled for the Bandit Industries 2013 Dealer Meeting, held August 13-15, 2013 at Bandit's headquarters near Mount Pleasant, Michigan. Usually scheduled every three years, this meeting was organized after just two years, the company says, due to the exponential growth and considerable product development Bandit has experienced since the previous event in 2011. The 2013 Bandit Dealer Meeting also coincided with Bandit's 30th anniversary.
According to Bandit, the last three years have seen the company's global workforce and sales volume double in size. The company's dealer network now spans more than 160 dealers worldwide, with 25 dealers joining in just the last two years. A vast majority of Bandit's dealer network was represented at the meeting.
"We are very grateful for the hard work our dealers do in representing Bandit and serving our customers," said Bandit Industries President Jerry Morey. "It's not enough to just have a good product. We have built a reputation over the last 30 years for taking care of our customers, and that would be impossible to do without a strong dealer network. We will continue to provide ongoing support for our current dealers as we expand, working with them and our customers to continually improve the Bandit ownership experience."
In addition to sales and service seminars, the three-day event gave dealers a behind-the-scenes look at the Bandit manufacturing process, as well as hands-on experience with equipment and a preview of new machines and technologies. The company was also honored Thursday morning with speeches from Michigan 99th District Representative Kevin Cotter and State Senator Judy Emmons, who recognized Bandit for 30 years of success as a Michigan company.
"We have invested considerable resources over the past two years to expand our dealer network, while expanding our lines of equipment and available options for customers in numerous industries," said Morey. "Our customers have really noticed our efforts, and they have responded by purchasing Bandit machines in record numbers. Working closely with our dealer network, we are looking forward to an even brighter future with continued expansion and innovative products, all backed by the best customer service in the industry."
Some highlights of the new equipment and technologies displayed at Bandit's 2013 30th Anniversary and Dealer Meeting included a new chipping drum option for XP-Series Beast Recyclers and a new Card Breaker System for drum-style hand-fed, whole-tree chippers.
Chipping Drum Option for XP-Series Beast Recyclers
Designed for companies that want to convert their Beast into a whole tree chipper, Bandit says their new chipping drum option replaces the traditional Beast cuttermill with a Bandit whole tree-style chipping drum. This allows Beast users to have the best of both worlds—high quality, screened dimensional wood chips from a traditional whole tree chipping drum.
Because of the large infeed opening in the Beast it can better process large, bulky material that would be difficult for whole tree chippers to handle. Chipping drums can be ordered on new Model 2680XP, 3680XP, and 4680XP Beast Recyclers, or retrofitted to older units.
New Card Breaker System for whole tree chippers
Bandit's Card Breaker system operates similar to a screening system in that it helps eliminate oversize chips to deliver a uniform, more desirable end-product. The Card Breaker installs in the discharge of the machine and catches larger sized chips exiting the drum housing. Because of the extreme chip velocity produced by Bandit chippers, the larger chips striking the Card Breaker are reduced in size as they flow through the discharge chute. The Card Breaker does not reduce the throwing power of the machine, and it can be added to any Bandit drum-style whole tree chipper.
Available soon
Also announced at the August dealer meeting, to be available soon, the Model 3750 Track Carrier / Forestry Mower is designed for operators needing a relatively compact machine with superior flotation for delicate surfaces. Based on the Model 3500, the Model 3750 features a larger 84" wide forestry mower attachment and a CAT® 315 steel track undercarriage with ultra-wide 800mm pads. In this configuration, the Model 3750 will crawl with an estimated ground pressure of just 3.9 PSI. Engine options up to 275 horsepower are available, and it features a deluxe, state-of-the-art operators cab with full climate control, external video cameras, fingertip joystick controls and electronic monitoring systems.
And finally, available soon in North America, the Model 2650 Stump Grinder is engineered to fill the gap between Bandit's Model 2550 and 2900 stump grinders. The Model 2650 offers engine options to 61 horsepower. It rides on an expandable track undercarriage or all-terrain flotation tires, and features beltless hydrostatic direct drive for reduced maintenance costs. It comes standard with manual controls and the Bandit Revolution cutter wheel, with wireless remote control an option.