Mt. Diablo Resource Recovery selects BHS for recycling system upgrade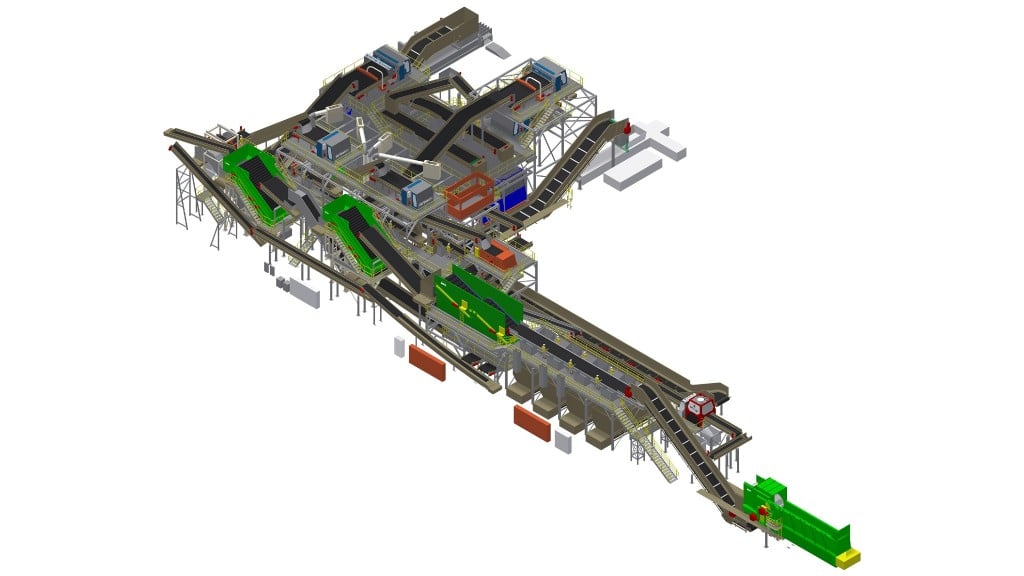 Mt. Diablo Resource Recovery (MDRR) has selected Eugene, Ore.-based Bulk Handling Systems (BHS) for a major retrofit of the company's Mt. Diablo Recycling Center (MDR) in Pittsburg, CA.
Originally commissioned in 2009, MDR currently processes up to 20 tons per hour (tph) of recyclable material. The renovated MRF will be operational in the second quarter of 2021 and process more than 35 tph. Through a creative installation strategy, MDR is anticipating just 35 days of downtime.
The enhanced design includes process upgrades and new equipment to increase throughput, recovery, purity and overall system efficiency. Included are BHS Tri-Disc screens, National Recovery Technology (NRT) optical and Max-AI artificial intelligence (AI) technologies. Max-AI technology identifies recyclables similar to the way a person does to direct both robotic and optical sorters, and collect and report material characterization information.
For MDRR, the Max-AI AQC (for Autonomous Quality Control) robotic sorter will work at the last chance position to identify and capture remaining recyclables before they exit the recycling process. The advanced technology will also work in collaboration with a NRT SpydIR optical sorter to identify and remove non-fiber from the Mixed Paper product.
"This major retrofit is an excellent example of a company like Mt. Diablo Resource Recovery adapting to change in the industry," said BHS CEO Steve Miller. "The new system features proven screen technology to increase throughput and precisely present material downstream to NRT and Max-AI sorters to maximize both recovery and product purity. We are thrilled to deliver this creative solution that meets our customer's business objectives and to have worked out an installation plan with our partners that minimizes system downtime. I want to thank the MDRR team for choosing BHS and we look forward to future collaboration."
Company info
Related products
Related Articles
Traditionally, waste management companies have operated using a simple "management of waste" approach to operating a MRF. Throughput targets and continuous operation (minimal downtime) were the main driving forces. The industry has changed however, and the focus moving forward is now on optimizing system performance and reliability, in conjunction with increasing recycling rates and a drive for a "greener" and more sustainable tomorrow.
When considering the addition of, or upgrade to, an "intelligent" MRF, for municipalities or private operators, the main factors should always be the client's (operator) current requirements, and evolving market needs, which include throughput, reliability, output quality, and adaptability. Equally important is a full understanding of what is really expected from any proposed system. Having an engaged and focused mindset for the project with the client from the beginning, will impact and drive the entire design process. This then impacts the overall project result, through to the productive, efficient, ongoing operation of the facility itself.