GFL's award-winning Winnipeg MRF using Machinex sorting technology among the most advanced in the industry
Using a 90 percent automated system including a SamurAI robotic sorter, this 80,000 square-foot facility is capable of 90 percent recovery on fiber and plastics despite high inbound contamination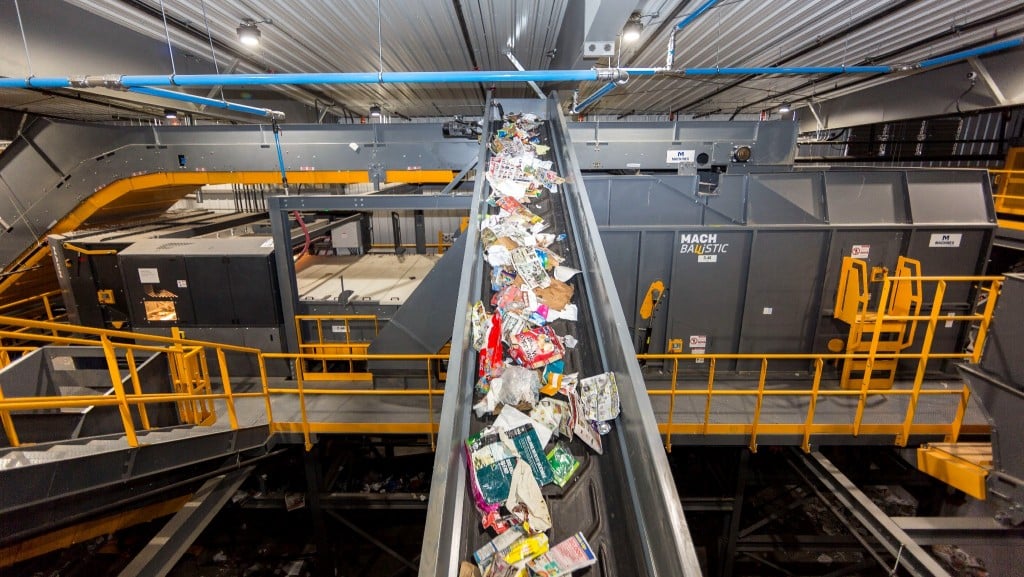 In September, the National Waste & Recycling Association (NWRA) awarded the 2020 Recycling Facility of the Year to GFL Environmental's Material Recovery Facility (MRF) in Winnipeg, Manitoba. With operations begun in October, the 80,000 square-foot single-stream facility uses a cutting-edge Machinex sorting system with advanced equipment and is projected to process over 50,000 metric tonnes of MSW material yearly.
According to Machinex, the new Winnipeg MRF is comprised of approximately 90 percent automated and 10 percent manual sorting and includes a SamurAI fully automated sorting robot. The facility now houses one of the most advanced fibre and plastic recovery systems in Canada and, despite current average contamination rates of approximately 15 percent for inbound materials, their recovery rate is at approximately 90 percent.

Machinex says the system design in Winnipeg has been optimized and expanded to become one of the most flexible, advanced and efficient new single-stream MRFs in North America. In addition, the approach, using optical sorters to replace traditional ONP screens, has turned out to be a great success, producing a very high quality of paper.
"We are also extremely pleased that GFL chose a highly automated system inclusive of SamurAI sorting robot," said Chris Hawn, CEO of Machinex Technologies. "The added value of Artificial Intelligence in a system opens the door to another level of data collection and thus, to analyze and optimize performance."
"As an example, the fiber line design incorporates multiple optical sorters and material diversion which allows the operator to change between ejection patterns for positive or negative sorting. This is just one small sample of the special designs to ensure efficient processing of future material streams and compositions," said Hawn.

The Winnipeg MRF has been built to operate for decades with a long-term vision from GFL, and as there will always be a concern of the evolving ton, both fiber and container lines are designed to be able to manipulate objectives. The facility was originally commissioned by the City of Winnipeg to handle residential recycling with additional capabilities to support province-wide recycling programs and meet evolving demands. To meet the city's needs, the goal of MRF experts from both GFL and Machinex was to develop and implement an efficient, flexible and innovative system that would manage potential shifts in material composition, maximize recovery rates and increase the value of recyclable commodities.
The NWRA says their Facility of the Year award recognizes leading recycling facilities in North America based on key factors such as innovation, sustainability and environmental impact. For more about this year's awards visit this link.

Commenting on the award, GFL's CEO and founder, Patrick Dovigi said, "We are honoured to be recognized as an innovator in our industry. Our partnership with the City of Winnipeg, combined with our state-of-the-art facility and best practice operators are further examples of this commitment."

In 2020, GFL projects the facility will recover over 52,000 metric tons of material from sources across Manitoba, resulting in approximately 121,385 tonnes of CO2 emissions avoided. The facility's education centre offers tours and sessions to school groups and other members of the public to increase public awareness of the impact of contamination of recycling streams, improve recovery rates and increase diversion from landfill.