Q&A: The current state of carton recycling in Quebec
Provincial recovery rate for aseptic and gable top cartons is 77.9 % and 54.9 % respectively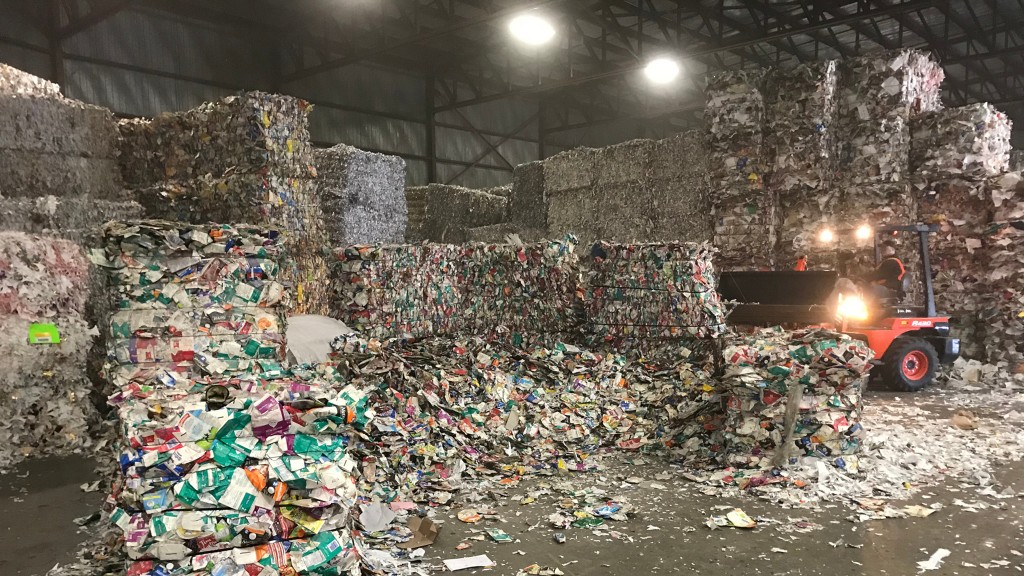 On November 4th and 5th, Québec's Réseau Environnement held its annual Waste Management Conference, online. The following includes attendee questions and answers from the Carton Council of Canada's Managing Director Isabelle Faucher, about the current state of carton recycling in the province.
Question from the Réseau Environnement Waste Management Conference (REWMC): Are the boards made from recycled cartons available for purchase in Quebec?
Carton Council of Canada (CCC): Unfortunately, the boards made using 100% recycled cartons (shredded and pressed together) by the company Continuus Materials with plants in Iowa and Philadelphia are not available for retail sale in Canada. Currently, the company has decided to focus exclusively on the US market.
The wallboards, however, are featured in the offices of three organizations across the country: Eco Entreprises Québec in Montreal, the Resource Productivity and Recovery Authority in Toronto, and Recycle BC in North Vancouver.
REWMC: Are wax-coated milk cartons recyclable?
CCC: All cartons are recyclable! Contrary to popular belief, the shiny coating present on cartons is not wax, it is plastic. When a carton is recycled at a paper mill, that plastic layer, along with the other non-fibre components, are separated from the fibre through the hydropulping process. When the carton is recycled at a factory that makes building materials, the plastic acts as the binding agent in the production of the board.
REWMC: What is your position on the expansion of the deposit system in Quebec? Will it make it "easier" to recover cartons?
CCC: We support curbside collection as the most cost-effective mechanism to collect recyclable materials for recycling. That being said, we respect the Quebec Government's decision to modernize its deposit system and to broaden it to all beverage containers. Through our participation in the Canadian Beverage Association, we are actively engaged in planning for the new system. Cartons are easy to sort, whether they are part of a deposit or a curbside program. Moreover, a portion of cartons - those that contain food (as opposed to beverages) such as soup, broth, and sauces - will continue to be collected in the curbside system.
REWMC: What happens to the non-fibrous materials (i.e. the plastic/polyethylene and aluminum layers, referred to as "poly-alu") when cartons are recycled at Fibres Sustana in Lévis?
CCC: Currently, the poly-alu by-product is disposed by the mill. However, the mill has plans to expand its system in the near to medium future, which would enable it to significantly increase its used carton throughput (from 4,000 tonnes to 15,000 annually) and to recover the poly-alu so it can be turned into new products by a third party.
Question: What happens to the straw?
CCC: If the carton is sent to a paper mill, the straw is separated from the fibre and follows the same process as the poly-alu component and the caps. If the carton is sent to a factory that makes building materials, the straw is incorporated into the product.
Question: What is the carton recovery rate in Quebec?
CCC: According to the latest Recyc-Quebec/EEQ province-wide curbside waste audits (2015-2017), the recovery rate for aseptic and gable top cartons is 77.9 % and 54.9 % respectively.
Question: What are some examples of MRF pilot projects you have supported?
CCC: Carton Council Canada has many ideas for this kind of collaboration, so if you are a MRF interested in learning more, please reach out to us!
Examples of pilot projects that we would support include:
Testing the addition of a sorter assigned to the manual sorting of cartons for a defined period of time (e.g. two-week period)
Equipment adjustments to enable sorting of cartons into its own grade (e.g. separating an existing bunker in two)
Installation of a vacuum system to increase the picking efficiency of cartons.
Targeted promotion and education campaigns (schools, social media, etc.)
As always, CCC stands ready to support MRFs and other industry stakeholders.
The Q&A portion of this article was originally published as a blog by Isabelle Faucher.
For more about carton recycling at Sustana Fibers.
More from Paper Recycling
Single-Ram and II-Ram High-Capacity Balers
At Machinex, we've been designing sorting systems for over 35 years, so we know how essential it is for MRF operators to have a baler they can trust and not worry about its operational reliability. This is why we design and manufacture reliable single-ram and II-ram high-capacity balers to specifically help optimize their operations.
Watch the video of our expert who presents the main features of Machinex balers delivering these important benefits:
Easy & accessible maintenance
Reduced maintenance & bale handling costs
Energy savings
Optimal bale density
For C&D recyclers, waste haulers, demolition contractors and landfills, there is a growing opportunity to profit from rethinking processes. Although every operation is different, by streamlining the front end of the C&D operation processes with purpose-built technologies, recyclers can tap into new end markets, accommodate higher material volumes, stay ahead of regulatory restrictions, increase recovery rates and add commodity revenue, while decreasing labor and other costs.
Download the new eBook to learn about:
Finding opportunities in the alternative to landfilling C&D
How facilities can increase their profits from C&D
Using the right C&D processing technology in the right locations