​First Canadian mill in decades to accept cartons a positive step for the circular economy
Sustana Fiber's new carton recycling operation in Quebec could inspire other mills according to Carton Council's Isabelle Faucher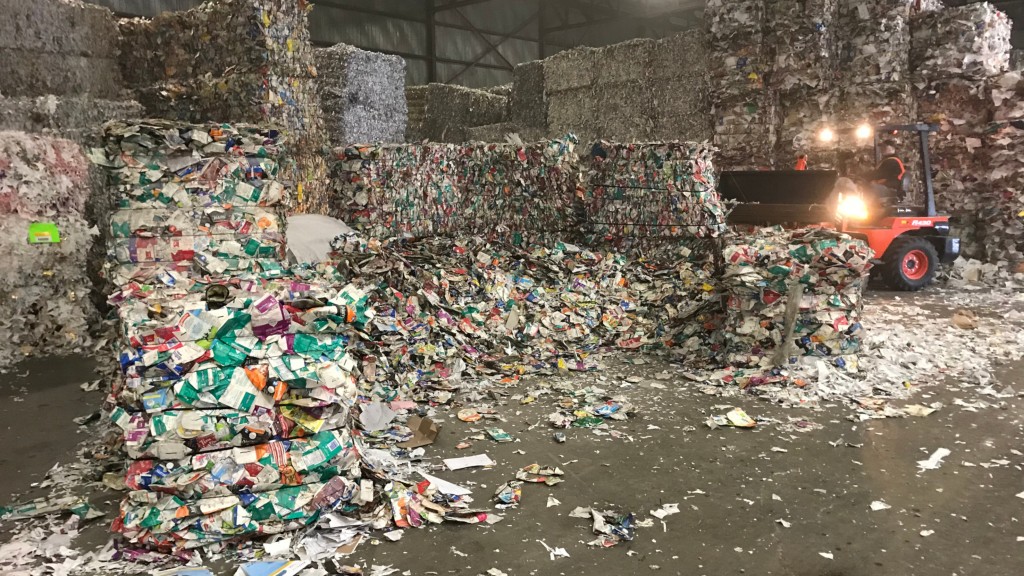 Sustana says the decision to begin accepting recovered cartons at their Lévis facility reflects their strategic commitment to innovation and sustainability, as well as an overall increased demand for paper products, such as toilet paper and paper towels. This demand has increased since the onset of COVID-19 in March 2020, and at the same time SOP (Sorted Office Paper) volumes have diminished significantly as businesses have slowed down considerably. Recovered cartons are a good alternative to SOP.
"By recycling alternative fibres, we are proud to enhance our support for a thriving circular economy and help conserve precious resources," commented Michele Bartolini, Sustana's senior marketing director. "We are also keen to do our part, supporting the supply chain working to make the products people need. By sourcing the cartons locally we reduce CO2 emissions and create new jobs locally."
According to Isabelle Faucher, managing director of the Carton Council of Canada, who has worked with Sustana Lévis in making the transition to carton recycling, "Local end-markets go hand-in-hand with the concept of a low-carbon, circular economy. While there are buyers for used cartons in other jurisdictions, having a recycling option closer to home further strengthens the sustainability of the carton recycling supply chain."
Faucher says Sustana's recycling of cartons in Quebec is significant environmentally, providing an added "pull" for domestic materials recovery and waste diversion. Economically it supports local jobs and contributes to the production of high-demand domestic paper products. It's also significant on a symbolic level. "It's carton recycling on Canadian soil," she says. "With cartons now being recycled in Eastern Canada, there's a good chance it could inspire recyclers in other parts of the country."

Currently Sustana is buying and processing positively sorted carton-only bales supplied by MRFs in Eastern Canada. They are running tests and are in the process of establishing how much they can process and what their capacity for this grade will be on a yearly basis.
"They already know they can probably take all of the positively sorted cartons generated in Quebec, and some of the volumes generated out of Ontario," says Faucher.
One question is: to what extent will offices and businesses in Canada resume pre-pandemic activities?
"If we see gradual return for offices and businesses to more or less what it was before the pandemic, then it won't be such a driver for additional mills to come on-line as carton recyclers, given cartons are an alternative feedstock for SOP," she continues. "But many observers are saying that we've now proved that there is an alternative way to work. People can work from home, in instances where they weren't being given that option before. So there may be a high chance that office activities do not resume to where they were before. Hence cartons are likely to remain an attractive feedstock alternative to mills."
Ultimately, the decision on what grades to work with is one the individual mills make.
In the U.S., Sustana Fibers' Wisconsin mill and Great Lakes Tissue in Michigan, have been taking cartons in recent years. Faucher says both made the business decision to use recovered cartons based on the demand for finished products and the value of the grade. "It makes sense for them, based on the cost to process it and the return."
"The second consideration for a mill is whether it is equipped to process cartons. Cartons are different from other fiber grades in that they consist of 20 to 30 percent non-fiber materials. Things like agitation time, pH levels, and water temperature, all have to be adapted. It requires some testing and some commitment on the mill's part to say, 'Okay, we're going to try this and work with it.' It requires an investment in time, and in some cases, equipment.
"From our experience, we do know that it's very possible to adapt the equipment that a mill already has, in order to pulp cartons. They don't necessarily need to buy a new pulper."
On the MRF side of the equation, as the suppliers of carton bales, Faucher says they are hoping the presence of a Canadian recycler like Sustana Fiber will act as an incentive to encourage those MRFs that are not currently sorting cartons to begin doing so.
"We offer resources to MRFs who want to go in this direction," says Faucher. "We can work with a facility to understand their process and suggest changes. Sometimes only very small changes are required to make positive sorting of cartons possible." RPN
Visit Isabelle Faucher's blog.
Related Articles
Traditionally, waste management companies have operated using a simple "management of waste" approach to operating a MRF. Throughput targets and continuous operation (minimal downtime) were the main driving forces. The industry has changed however, and the focus moving forward is now on optimizing system performance and reliability, in conjunction with increasing recycling rates and a drive for a "greener" and more sustainable tomorrow.
When considering the addition of, or upgrade to, an "intelligent" MRF, for municipalities or private operators, the main factors should always be the client's (operator) current requirements, and evolving market needs, which include throughput, reliability, output quality, and adaptability. Equally important is a full understanding of what is really expected from any proposed system. Having an engaged and focused mindset for the project with the client from the beginning, will impact and drive the entire design process. This then impacts the overall project result, through to the productive, efficient, ongoing operation of the facility itself.