Genesis Attachments expands demolition tool offerings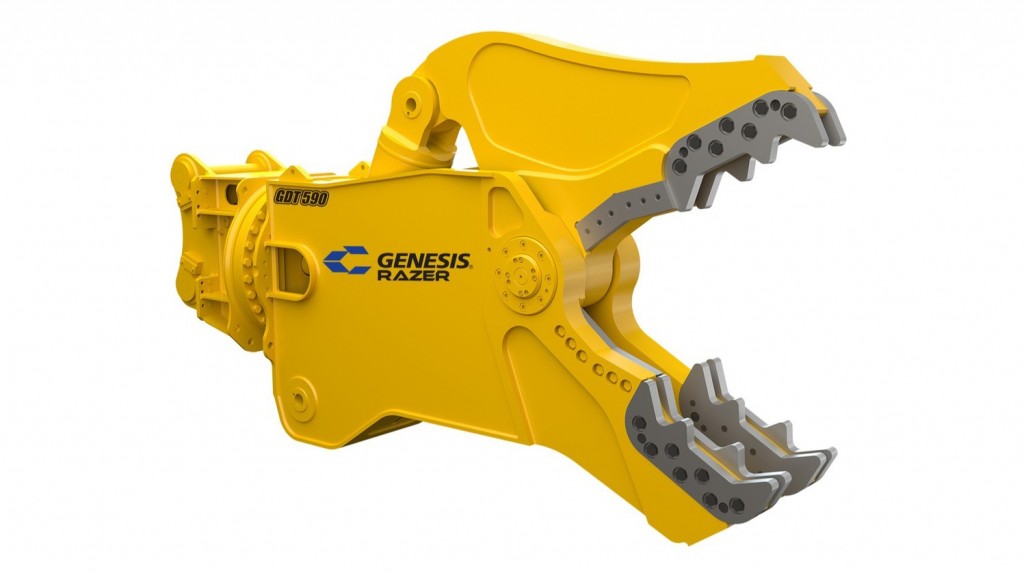 Genesis Attachments' new GDT 590, the largest Razer demolition tool in the line, is now available in four models.
Featuring a lighter-weight design, the GDT Razer is optimized to fit on standard and most high-reach excavators, and the GDT 590 extends the minimum excavator weight to 120,000 pounds, up from the 45,000, 66,000 and 90,000 pound minimum excavator weights of the GDT 190, 290 and 390 respectively.
The GDT 590 Razer also increases the line's versatility to meet customer demands in applications such as general and bridge demolition, concrete recycling and C&D processing with its 52-inch jaw opening, 46.5-inch jaw depth and over 12-foot reach.
To further enhance processing capability, the GDT's upper jaw passes through its lower jaw which has an open relief area that allows material to easily pass through and prevents jamming.
All GDT models feature a short, flat-top head with bolt-on bracket that simplifies installation and switching the Razer between excavators, customizable quantities and locations of crushing teeth, and interchangeable and front-to-back reversible bolt-on teeth for longer life and lower cost of operation.
Company info
Related products
More from C&D Recycling
But we've been successfully sorting paper on the front end with optical sorters since 2005. Why have we been so successful? Because we know it's not JUST about the optical. We focus on your entire operation, so you make the most of your fiber line. Is your optical sorter living up to its potential? Call us at 203-967-1100 for a free system evaluation.
Traditionally, recyclers across Canada have sent a huge percentage of their recovered scrap metal to Hamilton, Ontario, or Pennsylvania in the U.S., via open-top rail cars and truck trailers. The scrap is then melted down and turned into new steel. This is still the case for much of our scrap steel, but recently the growing trend toward containerization has introduced new opportunities for efficient, cost-effective shipping of both non-ferrous and ferrous materials to overseas markets.