Raising the bar on rubber recovery with new 10,000 pounds per hour colourizer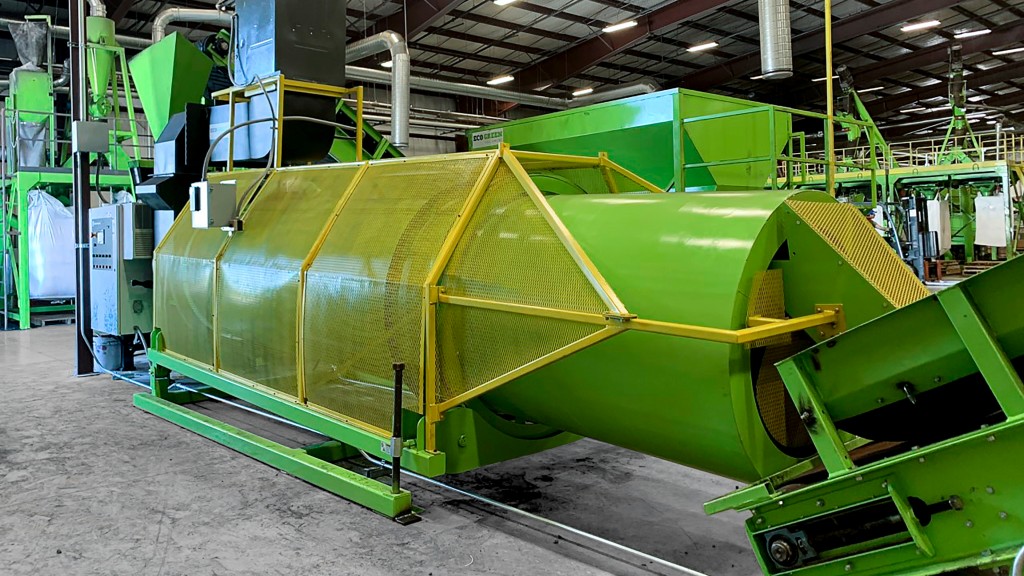 ECO Green Equipment has released its new Rubber Colorizer Equipment line, designed to handle rubber chunks, shreds and buffings efficiently, colouring up to 10,000 pounds of rubber per hour for use in mulch and surface construction.
"This is by far the most versatile and effective coloring line in the market," said Brad Swenson, ECO Green President. "In keeping with our company's goal to help our users do more with less, we are very proud of this innovation. Its high yield, efficiency and ease of use are like nothing else in the industry."
According to ECO Green, their tire recycling equipment facilitates a wide variety of applications for used, recovered industrial tires, including molded and extruded products, porous drainage pipes, pour-in-place flooring, tire derived fuel, new tires, athletic and playground surfaces, modified asphalts and sealants, landscape trails and walkways. Units are designed to provide low wear and maintenance costs while potentially adapting to new or existing tire recycling systems. ECO Green tire shredding machines, granulators and fine grinding mills are designed to deliver low wear and maintenance costs, with production efficiencies for a variety of rubber aftermarkets, including wire-free chips, TDS (tire derived shreds), rubber mulch, crumb rubber and rubber powder.
"It's very rewarding to be turning waste into something useful," said Swenson. "Old tires are now powering paper mills, beautifying parks and forming athletic surfaces for people to play on. The more we can keep out of the landfill, the better."
Related Articles
Traditionally, waste management companies have operated using a simple "management of waste" approach to operating a MRF. Throughput targets and continuous operation (minimal downtime) were the main driving forces. The industry has changed however, and the focus moving forward is now on optimizing system performance and reliability, in conjunction with increasing recycling rates and a drive for a "greener" and more sustainable tomorrow.
When considering the addition of, or upgrade to, an "intelligent" MRF, for municipalities or private operators, the main factors should always be the client's (operator) current requirements, and evolving market needs, which include throughput, reliability, output quality, and adaptability. Equally important is a full understanding of what is really expected from any proposed system. Having an engaged and focused mindset for the project with the client from the beginning, will impact and drive the entire design process. This then impacts the overall project result, through to the productive, efficient, ongoing operation of the facility itself.