Scrap paper prices for April up 40% over 2019, fiber faring better than other commodities during COVID-19
ISRI virtual spotlight reflects changing dynamics within different major scrap commodities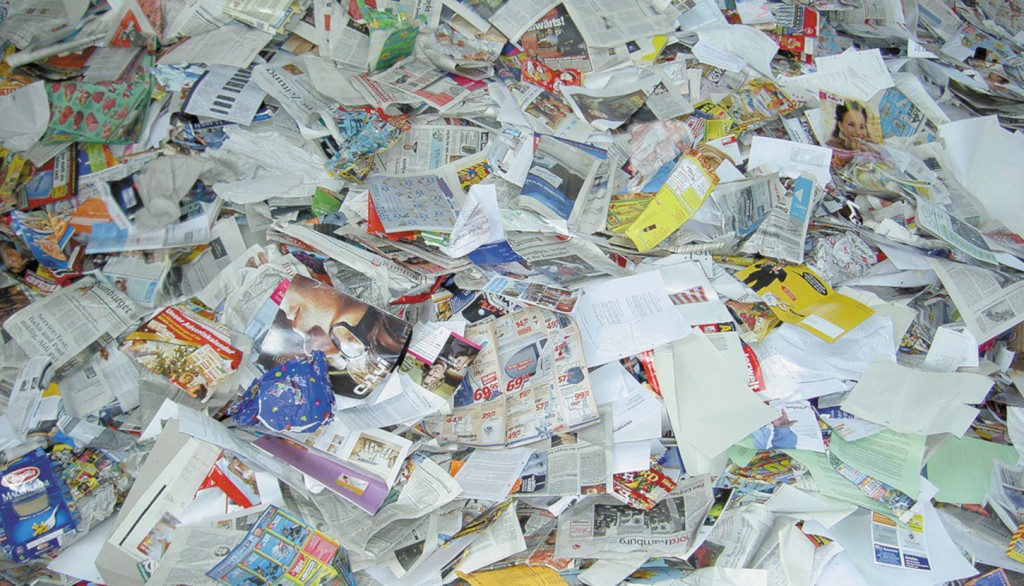 So far in 2020, according to Institute of Scrap Recycling Industries' (ISRI) Chief Economist, Joe Pickard, recovered paper prices were up 50% for April, compared to March, 2020, and up about 40% overall compared to April 2019 numbers, based on U.S. Bureau of Labor Statistics information.
"That's significantly different than other major scrap commodities that ISRI members are processing," said Pickard. "Most non-ferrous metal, including copper and copper-based alloys for example, are down about 21% as compared to this time last year. Aluminum based scrap is down about 20%, and iron and steel scrap are down almost 28%. Compare that to a 40% increase in recovered fiber prices, and it shows you a little bit of the changing dynamics that we're seeing, not just across the recycling stream, but within different major scrap commodities."

This year's ISRI Spotlight on Paper was held virtually on June 3, with the aim of providing valuable insights for paper processors, MRF operators and mills on how the COVID-19 pandemic is affecting commodity prices for containerboard, tissue, pulp and various recovered paper (RCP) grades.

Online attendees of the spotlight on paper were briefed on both short and longer term, including the effects we have seen so far on the pulp & paper and recovered fibers sectors, during the COVID-19 pandemic.
Joe Pickard started the session by providing an introductory overview of the recovered fiber sector so far this year, followed by a more in-depth sector-by-sector breakdown from industry analysts Jose Gonzalez and Sanna Sosa from AFRY Management Consulting.
According to Pickard, looking at the domestic market, numbers from the American Forest and Paper Association show that in 2019, about 49.2 million tons of paperboard was recycled, compared to about 52.7 million tons in 2018. Most of this decline is attributed to the drop in recovered paper exports, which were down to 13.6%, mainly as a result of China's import restrictions.

He went on to say that if we look at the big picture in terms of exports from the United States so far in 2020, by major commodity type, for the first quarter of 2020, paper and fiber exports were down 14.5%. But he said there's a large disparity within the different commodity grades. Pulp from recovered paper is up about 75% year over year, for the first quarter of 2020, as compared to OCC, which is down about 17%. He said comparatively, newsprint is down 23%, and mixed paper is down about 20%.
"We've got a couple of different market dynamics going on, both domestically and overseas," continued Pickard. "And then we've got all these other sources of resistance in terms of economic forces, but also in terms of society at large."
He said according to consultants John Dunham & Associates (based in New York), preliminary estimates on the potential impact of COVID-19 on the paper recycling industry in the United States are that direct employment, in terms of U.S. paper recycling, has declined by about eight, 8,000 jobs as a result of the pandemic.
According to Jose Gonzalez, senior principle at AFRY, based out of Atlanta, the change in consumer habits since March is a key factor that will most likely impact the recovered paper sector going forward, for all segments, including tissue, packaging, pulp and recovered paper.
He said while the outlook has changed frequently since the beginning of the outbreak in March, almost daily at the start, the majority of the time so far in 2020 prices have been on the downward trend.
Based on a combination of more than 60 different forecasts from leading investment banks, researchers and economists, Gonzalez said the median projection as of late May for GDP growth is -5.7% for 2020. This compares to April, when the median projection for GDP growth was -4%. "To put the numbers into perspective, during the financial crisis of 2008, the worst GDP decline that we had was 2.8%. For 2020, this will mean a significant contraction in the economy."
Gonzalez emphasized the significant effect COVID-19 has had on consumer habits. "The new COVID consumer is really what we all have been living during the last two months or so. For so many people unfortunately disposable income is lower, given job losses." He said more than 42 million people in the U.S., since the beginning of the pandemic, are out of jobs, many living with shelter in place orders. The stay at home mandate, he says, has led to a significant increase in e-commerce.
"If we continue to work at home and do all these things from home and limit our travel. All of these will have potential impact in many sectors," said Gonzalez. "The question is, what does it mean for our industry in the short term, in the medium term and long term."
According to AFRY's Sanna Sosa, also a senior principle at the company, based in Atlanta, "COVID-19 will have a dramatic impact for the pulp and paper sector in 2020, and potentially beyond that as well, as we navigate through a very challenging economic environment, worse than during the financial crisis (2007-2008).
However, she said, "We at AFRY are strong believers in the opportunities in this sector. Unfortunately, in our new normal we might be seeing a much smaller away-from-home sector for tissue, which is a big user of recovered fiber, versus the at-home sector..."
For packaging, she said booming e-commerce is great for packaging. "We trust it will definitely support a strong recovery and strong demand in the grocery channel for packaged food, and provide a boost for the cartonboard sector.
"We are very optimistic for the at-home sector," continued Sosa, but stipulated that there are clear concerns over the away-from-home sector, even after COVID-19. She said we could see a long-term scenario where people continue to work from home... and take classes online from home, and more people choosing to work, eat and entertain from home, and there may be less large, public events.
"We think the total tissue demand will continue to grow long term, but there is certainly a risk that the recycled fiber market for the away-from-home sector could be smaller than it was before the pandemic."
"Packaging is a dynamic sector where we expect a negative impact for containerboard, after this initial uptake that we have had in demand," said Gonzalez, adding that overall there are good prospects going forward for both containerboard and cartonboard, post COVID-19.
According to Sanna Sosa, "Already before the pandemic, there were a lot of concerns amongst analysts in general, that there might be over capacity developing in the North American containerboard market. For the market to absorb all current projects, containerboard demand would need to grow 2% every year. Last year, the demand was down by 1.3%, driven by trade tensions as well as trouble in the agriculture sector.
"As we move through the pandemic, we see some of projects at a high risk of delays and perhaps even cancellations."
She also said there have been some positives so far for containerboard. "The grocery channel is doing fantastic," she said. "And we have the e-commerce boom." However, she noted that the 1.3% 2019 demand decline reminds us that containerboard demand is still largely driven by the health of our manufacturing sector.
"I hear concern that there might be some significant losses in the manufacturing sector, some directly because of COVID, where people can't work and there are closures. But the big impact for manufacturing, will come from the direct loss of household income and demand."
"The range for the 2020 containerboard demand scenario is wide," Sosa continued, saying their worst-case scenario projection puts demand at about a 15% decline for the year.
According to Gonzalez, it is important to point out that during the financial crisis (2007-2008) containerboard demand dropped 13%, and the GDP declined about 2.8%. At that time, he says while the fundamentals were different, containerboard demand still took years to reach pre-recession levels.
"The hope here is that we're going to get a different pattern, a V-shaped pattern of recovery." Either way, he says it will take some time for recovery over the the next few years.
Cartonboard in comparison with containerboard, is a much more diverse market, according to Gonzalez, with about 10 million tons purchased in the U.S. yearly.
"It's 25 to 30% the size of containerboard," he said, adding that one hundred percent recycled coated recycled board (CRB) constitutes about 25%, or two and a half million tons of the total market.
"The good news is that cartonboard demand has a very high exposure to food and beverage packaging," added Sosa. "We estimate that 53% of all cartonboard is used in food and beverage. If we look at the latest sales data, just the past two months, items like frozen food is up 30%, and cereal (which has been in serious trouble for many years) sales are up 200%."
She said they could see a scenario for uptake in cartonboard demand, and especially for coated recycled board grade, as used in cereal packaging. However, she said there are also significant risks for depressed consumption overall, due to loss of household income. Sosa also pointed out that while food service has been a bright spot for cartonboard demand for many years, it has definitely taken a hit since March.
With respect to recovered paper (RCP) markets, including recycled pulp, according to AFRY, they will be impacted during COVID-19, but there are also positive indicators for post-COVID-19.
Graphic papers will be severely impacted, he said. "Since April, we've seen reports of anywhere from 30 to 40% decline on different grades. And as in previous recessions, we would expect that the demand will reset permanently to lower levels. So that's the downside for graphic papers.
He added that some specialty grade prices will likely decline in 2020, including envelopes and filter grades in wallpaper. "They're going to have a tough time during COVID-19. Some other grades will benefit that are linked to personal consumption, one example is labels. We also talk about the increase of eCommerce, so we'll see some positive aspects in some grades. But overall, on this segment we see the market for pulp will be negative volume wise. There are bright spots for market pulp, but we expect demand will decline in 2020, compared to 2019."
On the recovered paper (RCP) side of the market, Gonzalez said "COVID-19 has brought back volatility to prices. "They had been depressed for most of 2019, mostly driven by the China ban, and weak containerboard demand." He said prices in several regions earlier this year have spiked from almost record lows in 2019, to above one hundred dollars in a matter of weeks.
"What we expect is volatility to actually continue for the rest of the year, especially in Q-two and Q-three, given the increased risk of supply shortages, but also from the swing in demand of different grades, particularly containerboard, which has the downside risk of impact from COVID-19.
"However, given that China will continue with its full implementation of the RCP ban, it will leave a significant gap, and they will have to close this gap because they will need close to 15 to 20 million tons."
He said they have identified planned projects requiring close to five million tons of feedstock in the U.S. and in Southeast Asia, which will be focusing on serving China and which will consume significant amounts of OCC and mixed paper from North America.
"We actually expect more projects like these could be announced in the next month or year to come, to really offset the economy, as it gets back on track and China also increases consumption," he said.
As an example, Gonzalez said at one current project in Malaysia, the company has announced that they have entered into a framework agreement to buy more than 380,000 tons of imported recycled paper from various vendors, including in the U.S. "We expect that many of these projects will need a good quality and good source of fiber," he concluded. "Of course, in North America we have that source." RPN
For more on international paper markets news see our recent article: UAE bans ferrous and scrap paper exports...
For more on activity in the Canadian carton recycling sector, see our recent article: Quebec paper mill first in two decades to accept recovered cartons in Canada.
For a 2019 review of how MRFs are being affected by changing mixed paper markets, see our 2019 article by contributor Rick Zettler: Surviving the changing mixed paper market.