Focus on Granulators: Q&A with Granutech's Mike Graveman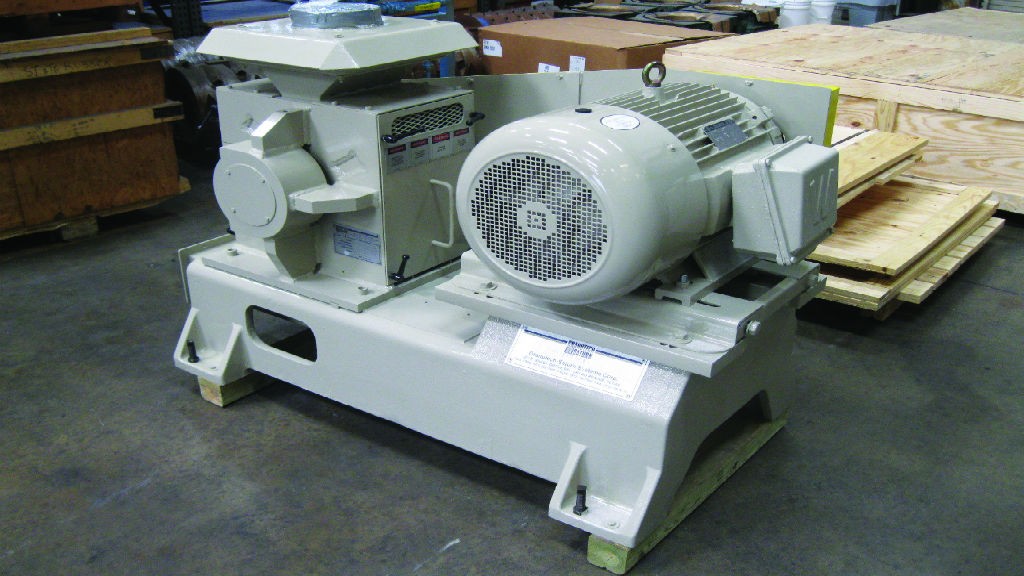 Simply put, a granulator is a high-speed rotor knife mill designed to reduce feedstock material (including plastics, tires and organics) to a very small particle size, as small as 0.177 mm or 1/8 inch (up to 5 cm or approximately 2 inches). But what more should recyclers know? We caught up with industry expert Mike Graveman from Granutech Saturn Systems/3tek Global for some quick answers.
Keith Barker: What is the basic operating principle behind a granulator?
Mike Graveman: Granulators typically feature a single rotating rotor with replaceable cutters and a stationary bed knife (or knives) built into the housing. The granulation action occurs when the incoming material is pulled into the rotor between the stationary knife(s) and rotating knives. There is a screen that retains the oversize material until it is small enough to fall through, ensuring sizing of the material. Granulators differ in machine diameter, speed, and number and style of cutters. Each will manufacture a product with a slightly different particle size and shape.
KB: How can the addition of a granulator benefit recyclers of plastics, tires and other materials?
MG: Granulators can help recyclers generate products that will open them up to different markets, giving them more options for their product as market conditions and demand change over time. This flexibility is what allows processors to follow market demands and trends, and maximize the value from their machinery investment.
KB: How are granulators and shredders best combined in recycling?
MG: A recycler would typically not choose one over the other, but use both in tandem as part of a recycling plant. After a shredder is a grinder or a rasper, which sizes material further, and more importantly liberates the majority of the steel from the rubber. This allows it to be separated using a magnet, and then the remaining material is fed to a granulator where it can be sized to very small specifications. Granulator infeed material typically must have a very low steel content because internal tolerances are quite small.
KB: What are the most recent advancements in this category of equipment from Granutech?
MG: Granutech Saturn has continued to develop new applications for the Grizzly M80 grinder, now featuring a configuration as a granulator. The M80 has proven itself as a primary grinder with hundreds sold over the last few decades. With the M80 in use as a granulator, it offers the same low cost of operation and ease of maintenance as a grinder. In addition to these advantages, the platform and design are familiar and offer standardized components for ease of stocking parts. In use as a granulator, the Grizzly M80 can process material up to 5 tons per hour and as small as ¼-inch crumb. Lastly, the design eliminates expensive and complicated air evacuation and cooling systems common on competitive granulators. This simplifies installation and the on-site commissioning required significantly.
KB: What are key considerations for a recycler who is thinking about the purchase of a granulator?
MG: When evaluating which machinery to invest in, a recycler should choose a machine that is well suited for their needs but it is also critically important to choose a machine that will offer the reliability they expect. This reliability comes in many forms, from purchasing a machine with the durability to withstand years of use, being easy to work on when maintenance and repairs are required, and also having good support and parts availability from a manufacturer. Ease of maintenance and durability are obvious when choosing equipment, but it can be very hard to understand the last item. A potential buyer should research things such as stocking levels for critical spares, stocking locations, and availability of support, including phone and email support and technicians who can assist with complicated repairs or offer training to employees.
This article was originally published in the January/February 2020 edition of Recycling Product News, Volume 28, Number 1.

Company info
201 E Shady Grove Rd.
Grand Prairie, TX
US, 75050

Website:
3tek.com
Phone number:
469-912-1946
Read more