On the front line of service
Reliable parts and service offerings are key component of Frontline Machinery's success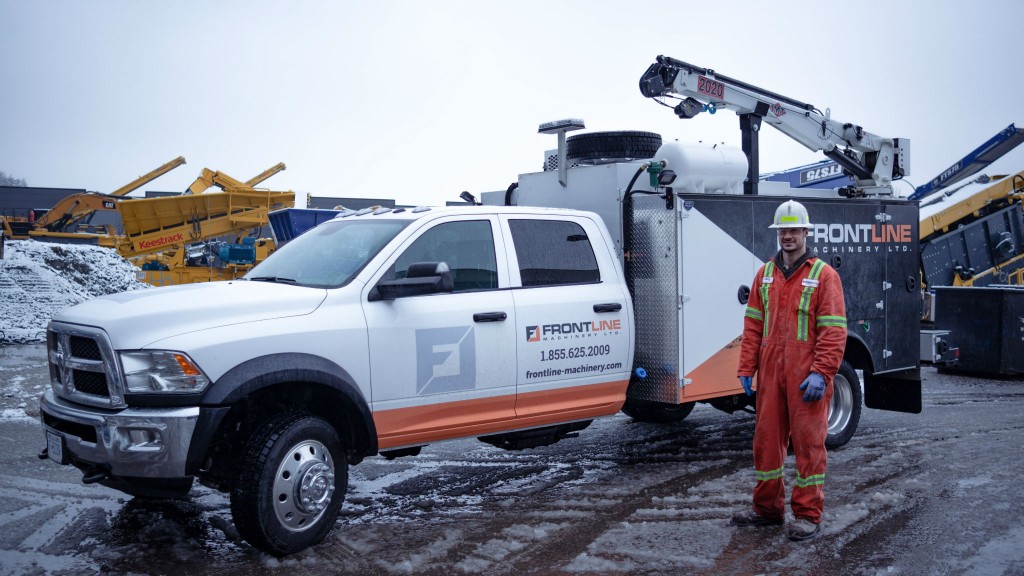 While maintaining uptime and hitting targets is vital across all sectors of the construction industry, logistical challenges posed by Canadian geography and the remote nature of many jobsites adds another degree of difficulty to the work of Frontline Machinery.
Frontline Machinery is a Canadian, family owned dealer that specializes in serving the aggregate processing, wood, biomass, and waste and recycling industries. Frontline Machinery's two main product lines are Keestrack and CBI; the company was formed in 2012 and retains its flagship location in Chilliwack, B.C.
Key to Frontline's operations is ensuring its customers have the parts and service that they need to keep their operations running and productivity high. "Downtime can cost customers so we don't have a culture of saying, 'Hey, sorry, we're closed. You'll have to wait until Monday,'" said Royden Todd, Vice President of Operations.
The company has expanded its operations significantly during the past year to meet the needs of its customers across the country. In addition to its main facility in Chilliwack, in 2019 Frontline Machinery opened its second location in Woodstock, Ontario.
Opening a second location in central Canada offers a number of benefits – a big one is that it serves as a base for service techs in Ontario who can take care of customers in neighbouring provinces. "It gives us a lot better reach," Todd noted. The time zone is also closer to European suppliers and includes some overlap within the day which enables easier communication.
Frontline Machinery's Chilliwack warehouse covers 10,000 square feet, which includes both shop space and parts stock, and the company has another couple thousand square feet for parts stock in Woodstock. Frontline Machinery's growth isn't slowing down – from the end of 2018 to the end of 2019 the company doubled its parts inventory and plans to expand its B.C. parts warehouse by 6,000 square feet in the next six to eight months. According to Loren Todd, Parts Manager, the company currently has roughly $3.5 million in spare parts inventory.
Technicians on the go
Frontline Machinery employs a full team of heavy-duty mechanics, with the majority currently based out of B.C. These mechanics travel across the country conducting repair and maintenance work as well as training customers on how to get the best production out of their machine. This requires the technicians to know how a machine is supposed to run – not just how to repair it. According to Royden Todd, the technicians require a lot of specialized knowledge to meet all of these needs so they typically specialize, working with one product line more than others.
Technicians spend a significant amount of time on the road. "We're travelling all over Canada," said Todd. "Whether it's by service vehicle as in a service truck, or in some cases we are flying into a site as well. It depends on timeline and the level of tools needed for the job."
Frontline technicians take travel packs of tools which they can check on a commercial flight. "We'll fly to the nearest centre and from there we're renting a vehicle and going to a site to perform repairs or maintenance. In the case that we do need more tools, we'll line up a subcontractor to work along with one of our factory-trained technicians. Sometimes we'll drive our own service truck to a site even if it's a 20-hour drive away just in order to have the equipment we need to do the repairs and maintenance," said Todd.
But it isn't always easy to make it to a jobsite quickly.
"A lot of our customers, especially the more remote they get . . . have to be a bit more resourceful because even just the travel to get to them can take [a bit of time]. Often we do help our customers over the phone, too. If they have a technician on-site that's capable we'll supply them with everything they need over the phone. Sometimes that is quicker for them than physically having someone travel out there to do the repair."
Given that many customers work in remote locations, Frontline Machinery recommends that they keep spare parts on hand. "We have developed spare parts packages and recommended spare parts lists for equipment, whether it's hydraulics or electronics or wear parts that we recommend to customers," said Todd.
When Frontline needs to be on a site quickly, they make it happen. Todd noted that Frontline Machinery had a customer whose generator had failed on their machine in Saskatchewan. "In that case, we learned about it midday and then we had a technician on a flight which landed in Regina late in the evening. That way we could have a technician on site first thing the next morning to wire up a standby generator to keep the machine running, because they were under pressure to supply gravel on a project and had no option but to keep producing."
This article originally appeared in the February 2020 issue of Heavy Equipment Guide. Check out the digital edition here.

Related Articles
(VIDEO) Vecoplan looks at the inner-workings of its VEZ 2500 shredder