Vermeer introduces TR6400 trommel screen
Compact, durable design ideal for compost, biomass and topsoil applications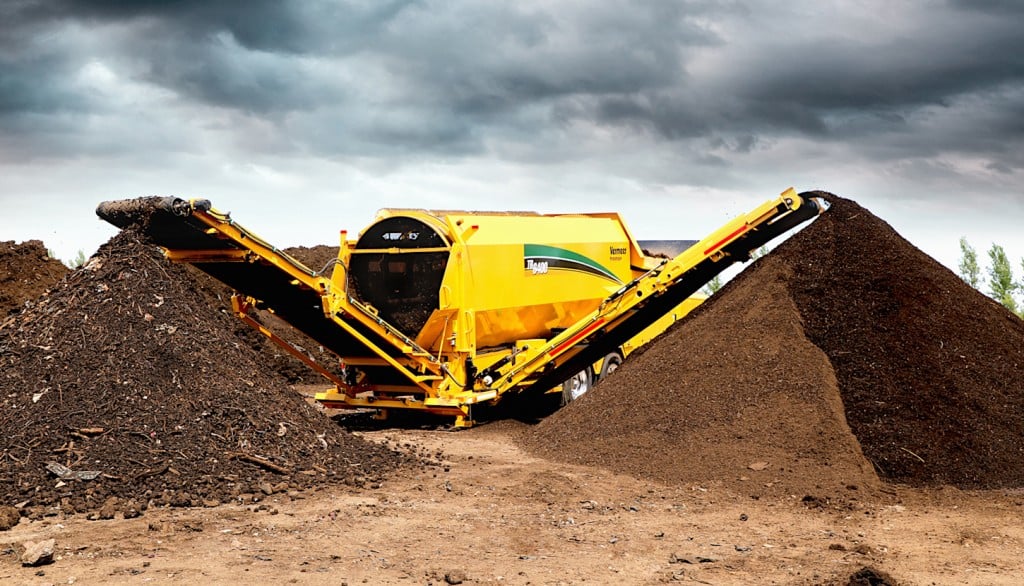 Vermeer continues to expand its trommel screen product line with the introduction of the new TR6400 model, capable of separating up to 180 cubic yards (137.6 cu m) of material per hour with .5-inch (12.7-mm) screens installed and a material moisture content of less than 40%.
This new portable screen provides a powerful 100-horsepower (75-kW) Deutz 3.6L Tier 4 Final (Stage IV) engine, a 6.5-foot (2-m) diameter screen drum with variable speeds of 0-33.1 gallons per minute (0-125.3 L/min), a low hopper infeed with a capacity of 6.5 cubic yards (5 cu m) and various service and operating enhancements. The new TR6400 complements the smaller Vermeer TR5300 trommel screen in the product line and is designed for topsoil, compost and woody biomass applications.
"The TR6400 trommel screen builds off the success of our recently introduced TR5300 model," explained Jeff Bradley, product manager for recycling and forestry equipment at Vermeer. "Its compact design allows for ease of transportation and maintenance. With a large drum diameter, hopper capacity and increased horsepower, teams will be able to produce large volumes of finished material with the TR6400 day in, day out."
The drum of the Vermeer TR6400 is designed for quick exchange with a side door that gives complete access to the drum body from the ground. Also, the unit's quick-change screen, with the ability to tension it around the drum to add rigidity, can accommodate smaller gauge wire to aid with overall production even when running wet materials. And with various access points to critical areas and a foldout motor compartment that provides access to the backside of the engine, servicing the TR6400 is efficient.
To further enhance the performance of the Vermeer TR6400 trommel screen, the user-friendly Vermeer ACS control system gives operators the flexibility to run the machine with the DP10 display mounted on the control panel or a handheld transceiver remote. From either control unit, the operator can adjust conveyor heights and drum speeds depending on incoming material and jobsite conditions.
More from Organics Recycling
Single-Ram and II-Ram High-Capacity Balers
At Machinex, we've been designing sorting systems for over 35 years, so we know how essential it is for MRF operators to have a baler they can trust and not worry about its operational reliability. This is why we design and manufacture reliable single-ram and II-ram high-capacity balers to specifically help optimize their operations.
Watch the video of our expert who presents the main features of Machinex balers delivering these important benefits:
Easy & accessible maintenance
Reduced maintenance & bale handling costs
Energy savings
Optimal bale density
For C&D recyclers, waste haulers, demolition contractors and landfills, there is a growing opportunity to profit from rethinking processes. Although every operation is different, by streamlining the front end of the C&D operation processes with purpose-built technologies, recyclers can tap into new end markets, accommodate higher material volumes, stay ahead of regulatory restrictions, increase recovery rates and add commodity revenue, while decreasing labor and other costs.
Download the new eBook to learn about:
Finding opportunities in the alternative to landfilling C&D
How facilities can increase their profits from C&D
Using the right C&D processing technology in the right locations