Hereford Quarries recycles 100% of inert waste with CDE wet processing plant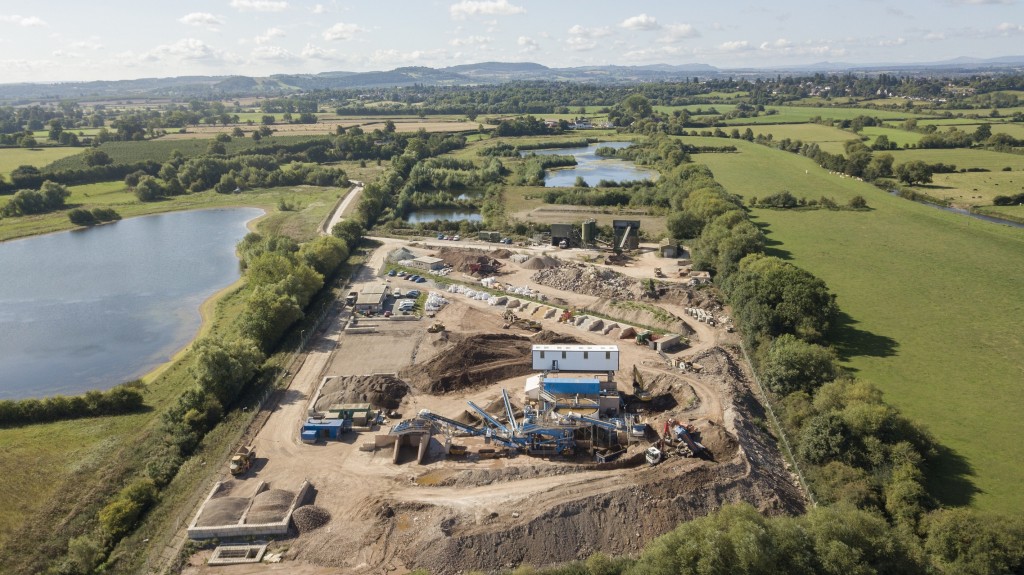 In 2015, Wye Valley Group, a leading trade waste recycling business in Herefordshire UK, established Hereford Quarries Ltd. Based at its new 10-acre Lugg Bridge site, Hereford's aim is to maximize local resources to reduce the county's reliance on imported virgin primary aggregates. The operation began with a mobile jaw crusher and screener to process construction waste into basic crusher run and hardcore materials, suitable for use as low-grade sub-base material.
Hereford Quarries Commercial Manager, David Ambrose said, "The rudimentary crusher runs and hardcore products we started with allowed us to recycle inert construction waste materials and subsequently helped us in meeting our sustainability objectives by processing material that was destined for landfill. However, the processed product was the minimum technical standard that could be accepted into the marketplace and, as such, would only command a price reflective of its quality."

One year into its operation, Hereford Quarries partnered with CDE, the industry-leading wet processing equipment manufacturer, who was commissioned to provide a bespoke solution to recover quality-assured construction aggregates that complied with European specifications.
The objective of the CDE wet processing plant was to support Hereford Quarries in maximising the value of its feed material by producing washed and graded recycled sand and aggregates including drainage stone, MOT Type 1 and 65F.
David said, "The CDE wash plant is adding significant commercial and technical value to our operations. We are now recovering recycled aggregates back to their highest potential added value and to a technical and quality standard that can compete directly with primary aggregates."
David went on to explain that the custom-built CDE wet processing plant can also process more challenging material.
"We are able to process much higher volumes and more challenging materials with the CDE plant compared to that which was possible with a mobile crusher and screen. The plant's high capacity provides the opportunity to up-scale our operations and throughput as the market grows, whilst maintaining the high product quality.
"At present, we are diverting 120,000 tonnes of construction and demolition waste from landfill annually. With the support of the CDE technology we are processing 100 per cent of material that comes into the site and converting it into saleable product.
"Sustainability is at the centre of our operation," David said. "Our circular economy approach, backed up by an efficient CDE plant, is reducing reliance on scarce natural resources in Herefordshire and surrounding areas. Most primary aggregates available in the local market are imported and carry a high carbon footprint. Hereford Quarries is responding to the demand for primary aggregates with a locally sourced, high-quality, recycled product."
David Kinloch, Regional Manager UK & Ireland at CDE, said, "Expert CDE engineers worked closely with the Hereford Quarries team throughout the design and commissioning process to not only understand what the business wanted to achieve from its plant, but to better understand the context of the local Herefordshire market.
"Since its commissioning in 2016, the cutting-edge wet processing plant at Hereford Quarries' Lugg Bridge site has, in a short period of time, fundamentally revolutionised its recycled aggregates operation and has put the company at the forefront of championing sustainability throughout Herefordshire.
"The recycled aggregates producer is maximising resources and profitability while minimising environmental impact through water conservation, CO2 emissions reduction and, ultimately, diverting many thousands of tonnes of construction and demolition waste from landfill."
Hereford Quarries is a sister company of the Wye Valley Group, which also has operations in demolition, construction, skip hire, scrap metal and waste management including the handling of contaminated and hazardous wastes.
For more information about CDE or its wet processing solutions, visit cdeglobal.com.