Recology adds Max-AI robotic sorting technology to Pier 96 Recycling Center in San Francisco
Watch the VIDEO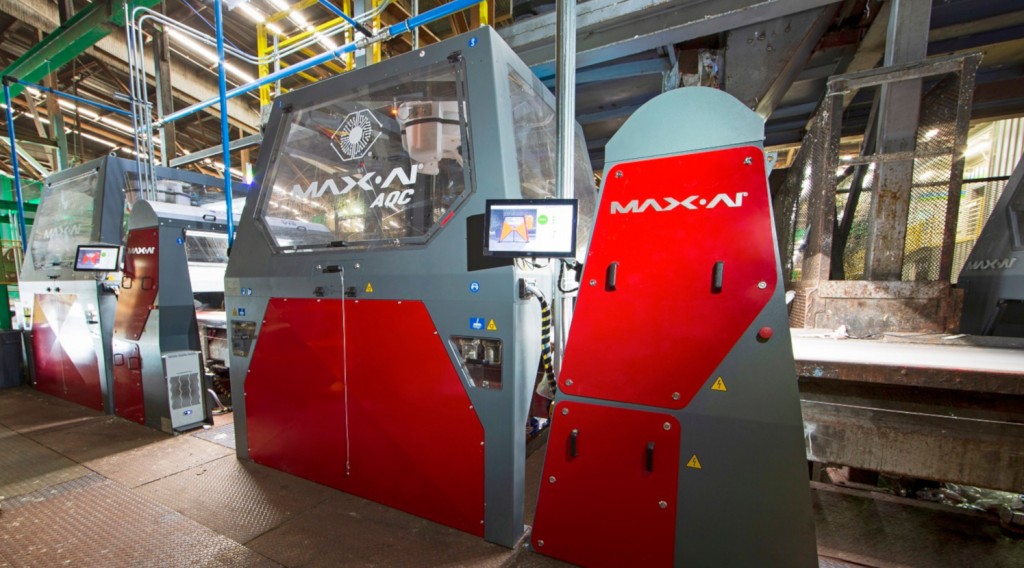 San Francisco-based Recology has added four Max-AI AQC (for Autonomous Quality Control) units and one VIS (for Visual Identification System) to Recycle Central, a 200,000-square-foot materials recovery facility (MRF) located at the city's famous Pier 96. (See a video of the technology in action below.)
Max-AI technology is supplied by Eugene, Oregon-based Bulk Handling Systems (BHS). The AQC units employ a camera-based vision system and Artificial Intelligence (AI) to identify recyclables and a robot to sort them.
According to Recology, the investment in the highly advanced technology aligns with the company's mission to produce even cleaner bales - and sustain San Francisco's recycling program.

One Max-AI AQC unit is in a PET quality control (QC) role to remove contamination and capture non-CRV PET. The other three monitor the plant's container line to boost recovery, capturing any remaining PET, HDPE and mixed plastics. VIS monitors the outbound residue, providing MRF operators with real-time and trending material composition of outbound material, allowing them to gage performance and adjust the system to optimize recovery.
Four robotic sorting machines are learning to identify different types of plastics, remove them from conveyor belts of mixed materials at rapid speed, and deposit them into appropriate categories for further sorting.
"Automation is the next step toward technological advancement in recycling," said Maurice Quillen, General Manager of Recology San Francisco, the operating company that runs Recycle Central.
"The magic of Recycle Central continues to be people utilizing the latest technology to recycle more materials while producing high-quality bales of sorted recyclables. The robotic sorting machines at Recycle Central will be used to perform some of the dirtier jobs, and employee-owners will be assigned more technical positions, developing new skills needed to manage and maintain high-tech equipment," Quillen said.
"BHS has a longstanding relationship with Recology as a supplier of MRF systems and equipment," said BHS Sales Manager Richard Sweet. "We're thankful that they chose BHS and Max for this important technology upgrade, which is one that the company's employees and community stakeholders can be proud of. Max is a new technology that allows for new sorting achievements; by adding four Max units to the Recycle Central MRF, Recology continues to show that it's a company that truly cares about maximizing quality and recovery," Sweet continued.
Designed and constructed by Recology in partnership with The City of San Francisco, Recycle Central opened in 2002 and serves as key infrastructure in San Francisco's recycling program, widely recognized as a top program in North America. Recycle Central sorts approximately 750 tons of material every day over two shifts. It is the largest shipper of recycled paper on the West Coast and sends more than 30 shipping containers of recycled commodities six days a week to paper mills, glass plants and other manufacturers that purchase recycled materials to create new products.
Recology is no stranger to innovation. Getting to zero waste necessitates creative solutions for resource recovery. The ever-changing plastic packaging industry has created new and evolving obstacles for recovering valuable commodities like paper and cardboard while low-grade plastics, like candy wrappers and chip bags, still make their way to landfill. Recology investments in robotic sorting, machine learning, and other innovative technologies provide critical opportunities for development of domestic recycling infrastructure. Other strategies for achieving zero waste will include policies like single-use plastic bans and recycled content mandates. It will take the collective efforts of recyclers, policymakers, and manufacturers alike to achieve a world without waste.
BHS Max-AI QC in operation at Recology's Recycle Central MRF in San Francisco, Pier 96.
Company info
Related products
More from Paper Recycling
Single-Ram and II-Ram High-Capacity Balers
At Machinex, we've been designing sorting systems for over 35 years, so we know how essential it is for MRF operators to have a baler they can trust and not worry about its operational reliability. This is why we design and manufacture reliable single-ram and II-ram high-capacity balers to specifically help optimize their operations.
Watch the video of our expert who presents the main features of Machinex balers delivering these important benefits:
Easy & accessible maintenance
Reduced maintenance & bale handling costs
Energy savings
Optimal bale density
For C&D recyclers, waste haulers, demolition contractors and landfills, there is a growing opportunity to profit from rethinking processes. Although every operation is different, by streamlining the front end of the C&D operation processes with purpose-built technologies, recyclers can tap into new end markets, accommodate higher material volumes, stay ahead of regulatory restrictions, increase recovery rates and add commodity revenue, while decreasing labor and other costs.
Download the new eBook to learn about:
Finding opportunities in the alternative to landfilling C&D
How facilities can increase their profits from C&D
Using the right C&D processing technology in the right locations