On the show floor with Scott Equipment at CWRE 2019
Scott Equipment was at Waste & Recycling Expo Canada 2019 last week in Toronto building business and showing off the latest food waste depackaging systems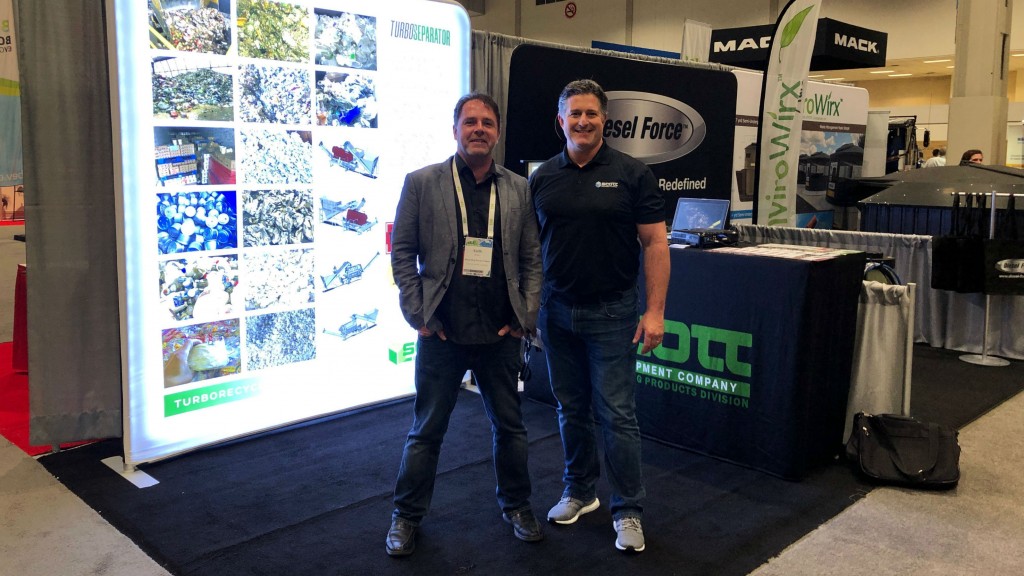 The Recycling Product News team was in Toronto last week for the Waste & Recycling Expo Canada (aka CWRE) annual trade show and convention. We interviewed representatives from some of the innovative companies exhibiting on the show floor.
Following is our brief interview with Kevin Pedretti, Scott Equipment Company.
Keith Barker: How long has Scott Equipment been in the waste and recycling industry?

Kevin Pedretti: Scott equipment has been in the waste and recycling industry for over 20 years now.
KB: What is the number one core competency of the company?
KP: Our depackaging technology separates food waste from packaging very efficiently. We started 22 years ago in the local canning industry, and now our machines are sold and used all over the world. They are used for composting, biogas and animal feed applications.
KB: What is Scott Equipment's latest innovation, the latest model available?
KP: We have our THOR Turbo Separator, a very robust, heavy-duty depackaging machine designed for waste or recycling operations that are processing about 100 tons to one thousand tons of source separated organics material per day.
KB: Tell us about your history at the Waste & Recycling Expo Canada, and how was the event for you this year?
KP: We've been coming for close to a decade. It's been very good this year. We have customers that come to the show, and customers that exhibit at the show. We also met new prospects this year and had an especially good end to the show on Thursday.
Company info
3200 Windy Hill Road, Suite 500 West
Atlanta, GA
US, 30339

Website:
cwre.ca
Read more
Related Articles
Traditionally, waste management companies have operated using a simple "management of waste" approach to operating a MRF. Throughput targets and continuous operation (minimal downtime) were the main driving forces. The industry has changed however, and the focus moving forward is now on optimizing system performance and reliability, in conjunction with increasing recycling rates and a drive for a "greener" and more sustainable tomorrow.
When considering the addition of, or upgrade to, an "intelligent" MRF, for municipalities or private operators, the main factors should always be the client's (operator) current requirements, and evolving market needs, which include throughput, reliability, output quality, and adaptability. Equally important is a full understanding of what is really expected from any proposed system. Having an engaged and focused mindset for the project with the client from the beginning, will impact and drive the entire design process. This then impacts the overall project result, through to the productive, efficient, ongoing operation of the facility itself.