On the show floor at CWRE 2019 with Paradigm Software
Paradigm Software is at Waste & Recycling Expo Canada 2019 in Toronto building business and showing off the latest innovative point of sale weighing software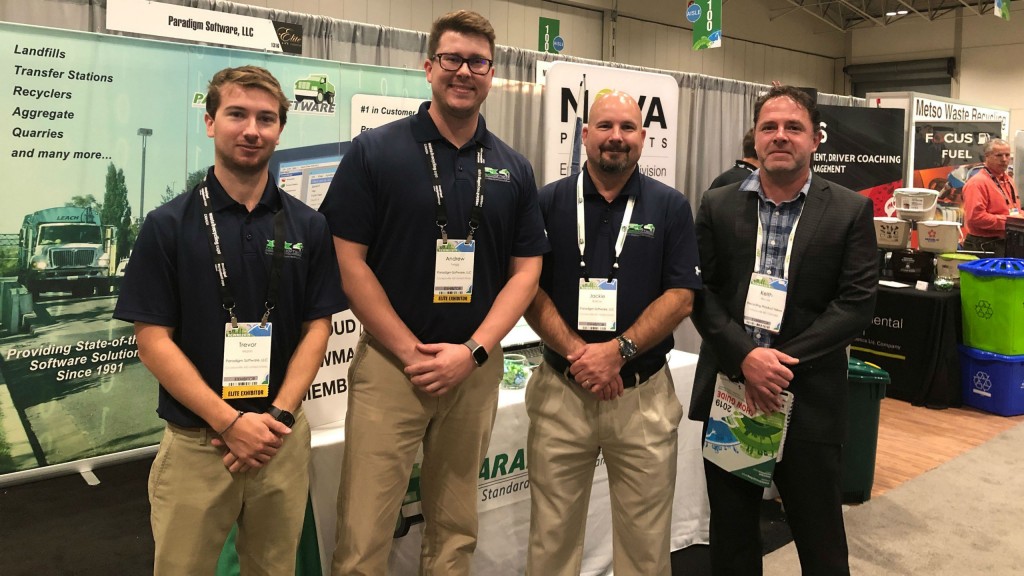 The Recycling Product News team is in Toronto this week for the Waste & Recycling Expo Canada (aka CWRE) annual trade show and convention. We interviewed representatives from some of the innovative companies exhibiting on the show floor.
Following is our brief interview with Jackie Barlow, Chief Operating Officer, Paradigm Software.
Keith Barker: How long have you been in the waste and recycling industry?
Jackie Barlow: I've been in the waste and recycling industry for 19 years. The company has been in the industry since 1991 so we've been around for a while doing a lot of solid waste.
KB: Where is Paradigm Software based out of?
JB: We're based out of Cockeysville, Maryland, which is just North of Baltimore.
KB: Can you explain what Paradigm Software does?
JB: We are a point of sale system for landfills, transfer stations and other facilities where we calculate weights on their way into the facility, and then we are certified to be able to charge fees based on the weights captured.
KB: Have there been any notable recent installations?
JB: We have a lot of customers in Canada, in Ontario, and we're starting to get a real strong presence in the Canadian market and all across North America.
KB: How long has Paradigm Software been coming to the Waste & Recycling Expo Canada and what are your impressions of the show from years past? What are your expectations this year?
JB: We've been at the show for 17 years now. First time we attended was in 2002. It's a great show for the Canadian market and for us to come up and network with current customers, locate new customers, and also talk to the other vendors and participants.
Related Articles
Traditionally, waste management companies have operated using a simple "management of waste" approach to operating a MRF. Throughput targets and continuous operation (minimal downtime) were the main driving forces. The industry has changed however, and the focus moving forward is now on optimizing system performance and reliability, in conjunction with increasing recycling rates and a drive for a "greener" and more sustainable tomorrow.
When considering the addition of, or upgrade to, an "intelligent" MRF, for municipalities or private operators, the main factors should always be the client's (operator) current requirements, and evolving market needs, which include throughput, reliability, output quality, and adaptability. Equally important is a full understanding of what is really expected from any proposed system. Having an engaged and focused mindset for the project with the client from the beginning, will impact and drive the entire design process. This then impacts the overall project result, through to the productive, efficient, ongoing operation of the facility itself.