On the CWRE 2019 show floor with Eagle Vision Systems
Eagle Vision Systems is at Waste & Recycling Expo Canada 2019 in Toronto building business and showing off the latest artificially intelligent curbside cart technology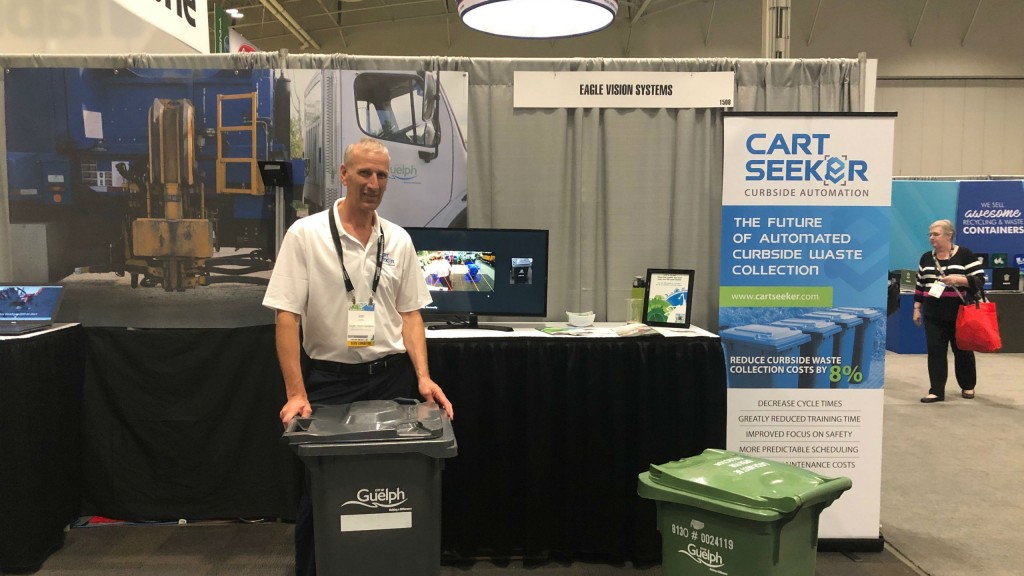 The Recycling Product News team was in Toronto this week for the Waste & Recycling Expo Canada (aka CWRE) annual trade show and convention. We interviewed representatives from some of the innovative companies exhibiting on the show floor.
Following is our brief interview with Jan D'Ailly, VP Business Development, Eagle Vision Systems.
Keith Barker: How long has Eagle Vision Systems been in the industry?
Jan D'Ailly: Our company, Eagle Vision, is five years old. The fundamental driver for Eagle Vision is to make curbside collection easier safer and more cost effective for the collection truck operator.
KB: What is the core competency of Eagle Vision?
JD: We provide AI Vision Recognition technology called Cart Seeker. If we can identify a cart, we put a bounding box around it, then we can define its X, Y, Z coordinates. Once you put a bounding box around it, then you can use our artificially intelligent technology to send the robotic arm out to grab a cart, dump it and replace the cart back where it was picked up.
KB: How will Eagle Vision's technology benefit waste management professionals specifically?
JD: It's really all about how easy, how effectively operators can pick up carts at the curbside. If residents put recyclable material into a standardized cart, our system enables a very cost effective way to automate pick up from the curbside and return the cart to the curbside. Our artificially intelligent Cart Seeker technology is currently being trialled in the City of Guelph and we're looking to work with other municipalities to implement the system.
KB: How long have you been coming to the Waste & Recycling Expo Canada?
JD: This is our fifth year here. We started from the very beginning to get a feel for the industry, what pros in the industry were looking for, and to understand what was really important to them. It's a great way to get our word out. It's a great show for us. Lots of our audience is here. We're very happy to be in Toronto at CWRE 2019.