On the show floor with Frontline Machinery at CWRE 2019
Frontline Machinery is at Waste & Recycling Expo Canada 2019 in Toronto building business and showing off the latest innovative equipment for organics and C&D recycling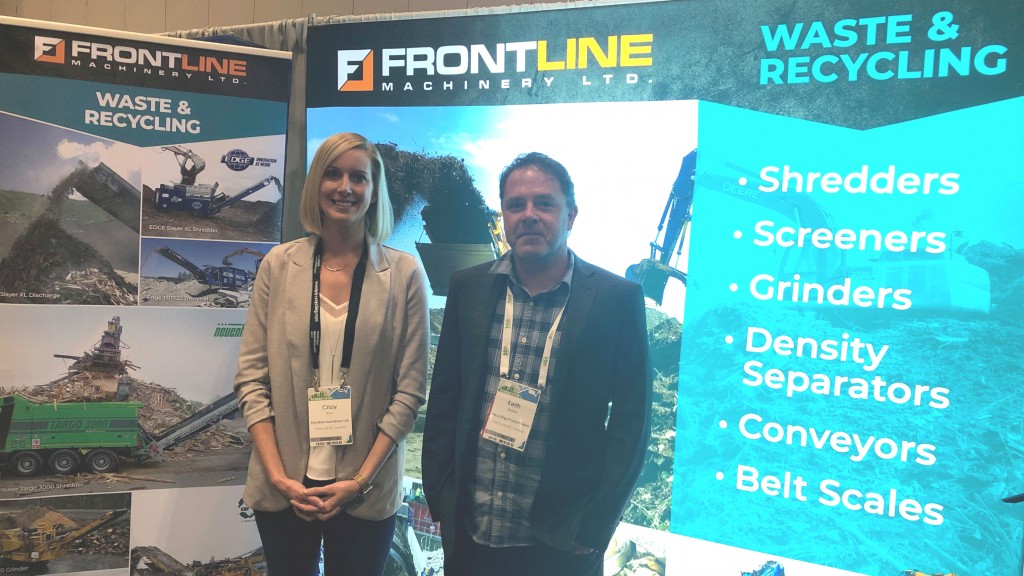 The Recycling Product News team is in Toronto this week for the Waste & Recycling Expo Canada (aka CWRE) annual trade show and convention. We interviewed representatives from some of the innovative companies exhibiting on the show floor.
First up: Crissy Ram, senior director, marketing & business development, Frontline Machinery Ltd.
Keith Barker: How long has Frontline Machinery been a part of the recycling industry and how long have you been coming to Waste & Recycling Expo Canada?
Crissy Ram: We've been providing equipment to the recycling industry since Frontline's inception, so about seven years now. This is our second year exhibiting. We decided to try it again and continue our efforts in the Ontario market.
KB: What's Frontline's focus here at the event this year?
CR: I think one of the key things is making our presence known with local communities. We recently expanded into the Ontario market and opened a new facility in Woodstock. The big message we're trying to convey here is that we've got local support, local parts and service field technicians. We are making the investment necessary for us to serve the market very well here in Ontario.
KB: What are the key brands of machinery that you represent?
CR: For this industry we offer CBI for wood and organics grinding, and Edge Innovate for shredding and material handling. For concrete and asphalt recycling and crushing we offer Keestrack. At Frontline we have the full turnkey solution. We offer everything from shredding to screening to grinding to crushing, and even material measuring and material handling solutions. It's about our ability to service all the material processing and handling needs for the waste and recycling industry. We are based in B.C. where our flagship facility is, with a second location now in Woodstock, Ontario. We service across the country with sales, service, parts and rental support.
KB: What are your impressions of the Waste & Recycling Expo Canada and what do you expect to get out of attending?
CR: What's nice for us is now we are starting to see some faces that we recognize as we continue to grow in this market. We were fairly new to the market last year and now we have existing customers we can connect with here - we are serving their material processing equipment needs so its starting to feel a little bit more familiar. A key benefit of our presence here is establishing awareness and building on relationships.
Visit Frontline Machinery's website for more about this innovative recycling construction and aggreagates industry equipment distributor.
More from C&D Recycling
Single-Ram and II-Ram High-Capacity Balers
At Machinex, we've been designing sorting systems for over 35 years, so we know how essential it is for MRF operators to have a baler they can trust and not worry about its operational reliability. This is why we design and manufacture reliable single-ram and II-ram high-capacity balers to specifically help optimize their operations.
Watch the video of our expert who presents the main features of Machinex balers delivering these important benefits:
Easy & accessible maintenance
Reduced maintenance & bale handling costs
Energy savings
Optimal bale density
For C&D recyclers, waste haulers, demolition contractors and landfills, there is a growing opportunity to profit from rethinking processes. Although every operation is different, by streamlining the front end of the C&D operation processes with purpose-built technologies, recyclers can tap into new end markets, accommodate higher material volumes, stay ahead of regulatory restrictions, increase recovery rates and add commodity revenue, while decreasing labor and other costs.
Download the new eBook to learn about:
Finding opportunities in the alternative to landfilling C&D
How facilities can increase their profits from C&D
Using the right C&D processing technology in the right locations