On the trail of Canada's first robotic sorters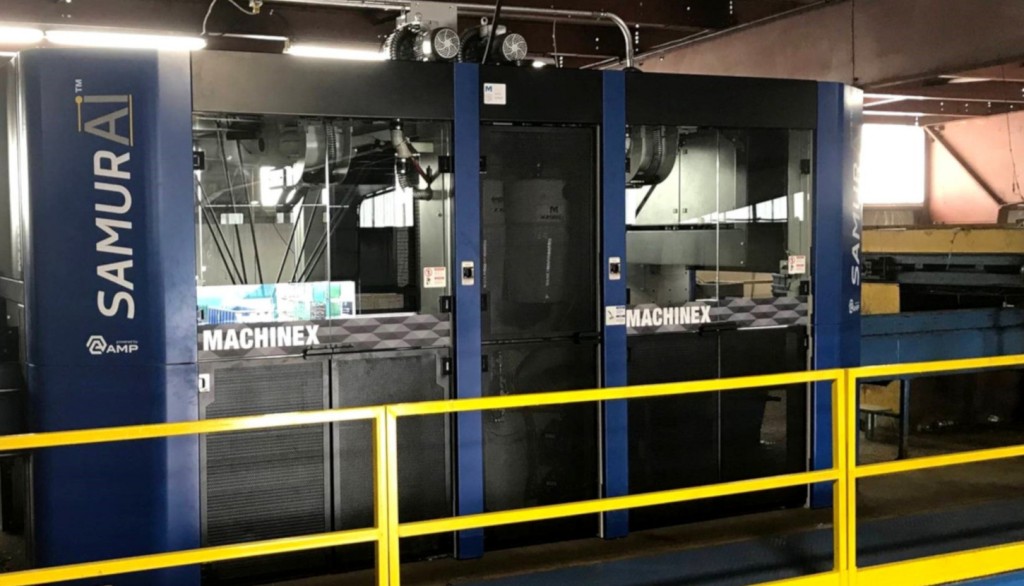 The first robotic sorting systems in Canada were installed in the Fall of 2018 by Machinex, at the Sani-Éco MRF in Granby, Quebec, and soon after, at the Chatham-Kent Recycling MRF in Merlin, Ontario. At both facilities Machinex installed a double robotic sorting system, using two SamurAI robotic sorting units placed in succession on a single line. This summer, Machinex installed three more robotic sorting units at a MRF in Toronto and one machine at a MRF in Winnipeg.

Chatham-Kent MRF operator Darren Kervoelen says their robotic sorters (shown here) are tasked with positively picking natural HDPE, coloured HDPE, tubs and lids.
According to Charles-Étienne Simard, Eng., Machinex project director, key benefits of SamurAI robotic sorting technology includes a pick-rate up to 70 picks per minute (compared to 30 to 50 for the average employee) and he says "robots do not take breaks or time off." SamurAI robots are also modular, adaptable to growth and changes at the MRF, and feature easy maintenance.
Besides increasing productivity on the sorting line, Simard says these new robots can provide peace of mind for their customers - as reliable labour can be hard to find, especially in more rural areas such as Merlin, Ontario.
At the Sani-Éco MRF in Granby, Quebec, the two SamurAI robotic sorting units were installed as part of a major facility upgrade completed in December 2018. The robotic sorters in Granby are working on positively sorting both cartons and PET/HDPE plastic.
Julie Gagné, operations director at Sani-Éco, says since their installation, they have seen improvements in capacity (about double, close to 17 tonnes per hour) and in purity of end materials. They have also noted increased peace of mind with respect to labour issues.
"Our first objective with this upgrade, with the robots, was to achieve clean output quality," said Gagné, adding that while they have not laid off any employees, the robots do alleviate some pressure with respect to the current labour shortage for new pickers in the region.
"At Sani-Éco currently, the robots currently pick 50 to 55 items per minute, so between the two of them, they are picking over 100 per minute," explains Simard. "Our system provides 90 percent efficiency, which results in up to 98 percent purity of fibre output. We do positive sorting of HDPE, aluminum cans and cartons."
Simard continues, "The more robots we have in the field, the more intelligent they become."
After the first year, recycling facility owners using SamurAI robotic sorting technology pay a yearly Cloud-based subscription fee to keep their robots updated, so they can recognize the latest types of containers and materials in the ever-changing input stream.
"What we see with these robots is the same as the human eye," he says. "New items need to be labelled in the system. We work with AI technology to teach the robots about new items in the waste stream. They are labelled and then the robots can recognize them.
"With every new sight, new knowledge of items," Simard concludes, "these robots get more knowledgeable." RPN
This article was first published in the September 2019 edition of Recycling Product News, Volume 27, Number 6.