Eriez UHF Eddy Current Separator helping Waukesha Iron & Metal recover metallic fines from ASR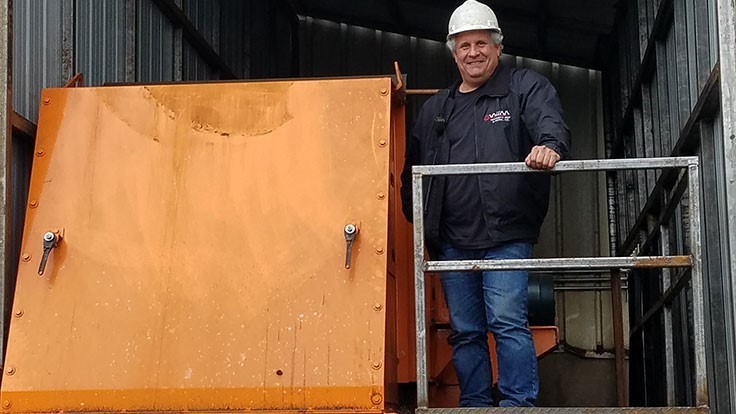 Eriez introduced its Ultra High-Frequency (UHF) Eddy Current Separator in 2016 as a way for its auto shredding customers to generate significant additional revenue by recovering aluminum, copper and other nonferrous fines that had formerly been lost within the larger auto shredder residue (ASR) stream.
Prospective customer Larry Erlich of Wisconsin-based Waukesha Iron & Metal Inc. purchased and installed one of the units in 2019. Just one month after doing so, according to Eriez, he has discovered that the marketed benefits of the UHF separator are genuine.
The sophisticated downstream sorting system at Waukesha already included an eddy current dedicated to recovering metallic fines, Erlich says, so the UHF was placed beyond that.
"The UHF eddy is positioned on the waste stream after our fines eddy, so the UHF recovers metals that are missed by a typical fines eddy.
"It recovers lost metals as small as 2 to 3 millimeters (0.075 to 0.112 inches)," Erlich says, confirming the device is performing exactly as specified by Eriez. The UHF uses a magnetic charge that seeks several valuable metallic elements.
"It easily recovers the aluminum, copper, brass, some stainless steel and even bare copper wire," he says.
The effectiveness of the UHF has shown itself in daily, weekly and monthly recovery figures Waukesha Iron & Metal tracks, Erlich says.
"We have gained an extra 2 to 3 percent recovery of microfine zorba material—from our waste!" He describes the newly recovered material as "very copper-rich due to the recovery of the bare copper wires."
The recovery of this material represents an entirely new income stream for Waukesha Iron & Metal. "This material was previously sent to the landfill as the technology was not available to recover the microfine zorba until recently," Erlich says.
Reconfiguring auto shredding downstream separation systems can be research- and labor-intensive for plant operators, in some cases causing substantial interruptions to their productivity. However, Erlich says adding an Eriez UHF to his system caused no such problems.
"The installation was very simple, and the machine has been trouble-free," he says one month after the installation was completed. For Waukesha Iron & Metal, the Eriez UHF has allowed it to increase its recovery rate and volumes with one easy step.
Company info
Related products
Related Articles
Traditionally, waste management companies have operated using a simple "management of waste" approach to operating a MRF. Throughput targets and continuous operation (minimal downtime) were the main driving forces. The industry has changed however, and the focus moving forward is now on optimizing system performance and reliability, in conjunction with increasing recycling rates and a drive for a "greener" and more sustainable tomorrow.
When considering the addition of, or upgrade to, an "intelligent" MRF, for municipalities or private operators, the main factors should always be the client's (operator) current requirements, and evolving market needs, which include throughput, reliability, output quality, and adaptability. Equally important is a full understanding of what is really expected from any proposed system. Having an engaged and focused mindset for the project with the client from the beginning, will impact and drive the entire design process. This then impacts the overall project result, through to the productive, efficient, ongoing operation of the facility itself.