Doppstadt introduces next-generation shredder - the AK 640 K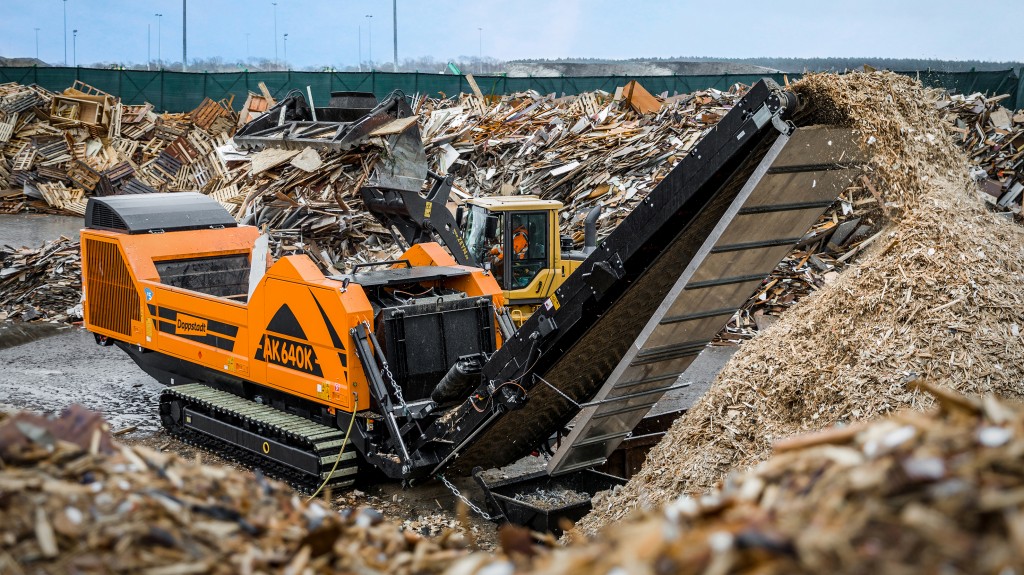 Recycling waste wood can be a profitable business. This largely depends, however, on high material quality, compliance with ever-increasing environmental requirements and ensuring maximum flexibility and cost-effectiveness of the solution.
Doppstadt has introduced the new model AK 640 K. The company says they were quick to start equipping machines with the latest engine and exhaust emission technology to satisfy the EU's Stage V. The latest models have also been further optimized for easy maintenance and wear resistance. The rear belt can be lowered almost completely to the ground, thus offering quick and easy access to the flail drum, tools or shredding basket for servicing. The flail tips are easy to replace thanks to our patented Dopp-Lock technology and have also been further optimized for useful service life, ensuring that they are able to last up to 20 % longer.
3D basket technology for perfect structure in waste wood
Fine particles are just as undesirable as oversized chunks in mulch as end product. To resolve this challenge, Doppstadt utilizes, among other things, 3D rear baskets. These were developed specifically for processing waste wood and make a significant contribution to ensuring that the mulch produced is a homogeneous end product of high quality. Compared to the results achieved using standard baskets, there are both less fines and less large chunks. The different screen sizes ranging between 80 and 300 mm allowed us to optimally adapt the AK 640 K to different requirements.
Off-road capability with more ground clearance thanks to tracklaying chassis
Off-road capability is required whenever a mobile shredder is to be deployed in close proximity to areas being cleared. And if you would like to ensure maximum flexibility, we recommend opting for a chassis with considerably more ground clearance for our tracked AK 640 K. The off-road version of this mobile shredder can be used flexibly wherever other shredders are no longer able to find a secure footing or guarantee safe operation.
Entire AK series has been further developed
At the RecyclingAktiv trade show taking place in Germany at the beginning of September, Doppstadt will present all models of its AK series with the latest engine and exhaust emission technology based on the EU's Stage V. All new machines can be easily recognized by the e5 logo, which stands not only for standard environmental and climate protection but also for the numerous other technical innovations. For instance, a drive system which is separate from the scraper floor and floating feed-in drum ensures optimized supply of material.
The cooling capacity is higher than the previous model, and at the same time, the cooler control system is more effective so that the operating temperature is reached faster. In addition to that, fire safety has been improved as well: the exhaust system and the AGN box are made entirely of stainless steel and are thermally shielded with the highest quality integral insulation.