​Dem-Con MRF retrofit to be complete this summer with addition of MSS CIRRUS optical sorters
Advanced technology resulting in increased recovery and quality while reducing operations costs for Minnesota recycler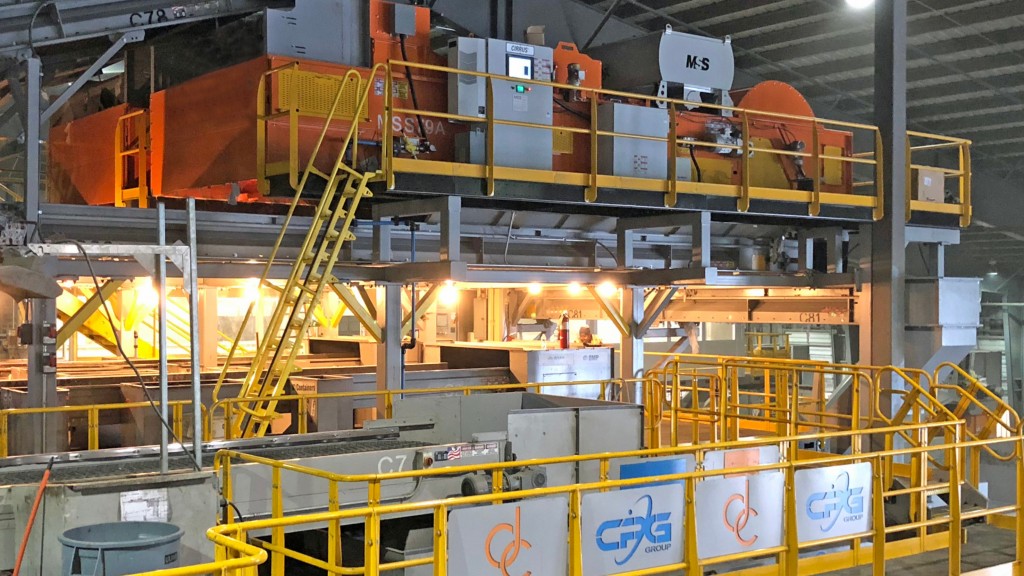 Between summer 2017 and 2018, Dem-Con Materials Recovery in Shakopee, Minnesota retrofitted their single-stream MRF with three new MSS CIRRUS optical sorters for fiber from CP Group. The units increase recovery, improve product quality and reduce sorter headcount on the fiber QC. A fourth MSS CIRRUS sensor is currently in production and will install this summer.
"The result of the retrofit has been that we are able to diversify and solidify our end markets while decreasing our operations costs. We are able to establish a high quality reputation in the market for selling paper. We have also realized the ability to recover cleaner containers from the paper screen and maximize the container value," stated Mark Pahl, Dem-Con co-owner.
The 2017 retrofit included a MSS CIRRUS optical sorter on the tail of the CPScreen before the container line. The 2018 retrofit included two MSS CIRRUS FiberMax optical sorters on the fiber QC lines. The CIRRUS at the beginning on the container line positively sorts any remaining 3D fiber and sends it back to the fiber lines while simultaneously cleaning the containers. The two FiberMax units on the fiber quality control lines negatively sort fiber (positively ejects non-fiber) in place of human sorters.
MSS CIRRUS FiberMax optical sorters run at 1,000 feet per minute, which is higher than the industry standard for belt speed. This lightens material on the belt and increases accuracy by decreasing collateral damage. The higher belt speeds also increase picks per minute. MSS uses their patented PrecisionFlow™ eject hood in combination with air-assist systems for precise material handling of flexible material.
Dem-Con is currently in the process of retrofitting their MSS Aladdin optical sensor on the container line to the newest MSS technology, an MSS CIRRUS PlasticMax. This new optical sorting unit will positively sort PET.
MSS CIRRUS units combine high-resolution near-infrared color and metal sorting which allow a wide variety of materials to be sorted on a single machine including color and metal.
"We continue to work with CP because they are responsive, listen to our needs, and always deliver on time. CP's team, through many variations of design showed patience and a commitment to find the best retrofit design. We had a lot of teamwork between our companies throughout the design process. CP always has innovative and facility specific ideas and we really value the relationship," continued Pahl.
Dem-Con's 20 tph MRF was originally installed by CP in 2013 and serves the Twin Cities and greater Minnesota.
"Dem-Con is a very progressive company. They adapt and create opportunities as material streams and markets evolve. We always enjoy working with this group and are proud to call them a long-time customer," said Ashley Davis, Director of Sales and Marketing of CP Group.
Dem-Con Companies is a third generation family owned and operated facility that has been responsibly handling twin cities waste materials since 1965. Mark Pahl and Jason Haus are co-owners of Dem-Con. They purchased the business from Joe Pahl in 2001, and building on a solid reputation and business integrity, many important changes and improvements in operations have taken place. Currently, Dem-Con Companies consists of several divisions serving the solid waste and recycling space.
Company info
300 Oceanside Drive
Nashville, TN
US, 37204

Website:
magsep.com
Phone number:
615-781-2669
Read more
More from Paper Recycling
Single-Ram and II-Ram High-Capacity Balers
At Machinex, we've been designing sorting systems for over 35 years, so we know how essential it is for MRF operators to have a baler they can trust and not worry about its operational reliability. This is why we design and manufacture reliable single-ram and II-ram high-capacity balers to specifically help optimize their operations.
Watch the video of our expert who presents the main features of Machinex balers delivering these important benefits:
Easy & accessible maintenance
Reduced maintenance & bale handling costs
Energy savings
Optimal bale density
For C&D recyclers, waste haulers, demolition contractors and landfills, there is a growing opportunity to profit from rethinking processes. Although every operation is different, by streamlining the front end of the C&D operation processes with purpose-built technologies, recyclers can tap into new end markets, accommodate higher material volumes, stay ahead of regulatory restrictions, increase recovery rates and add commodity revenue, while decreasing labor and other costs.
Download the new eBook to learn about:
Finding opportunities in the alternative to landfilling C&D
How facilities can increase their profits from C&D
Using the right C&D processing technology in the right locations