Mack LR and Granite featured at Waste & Recycling Expo Canada 2018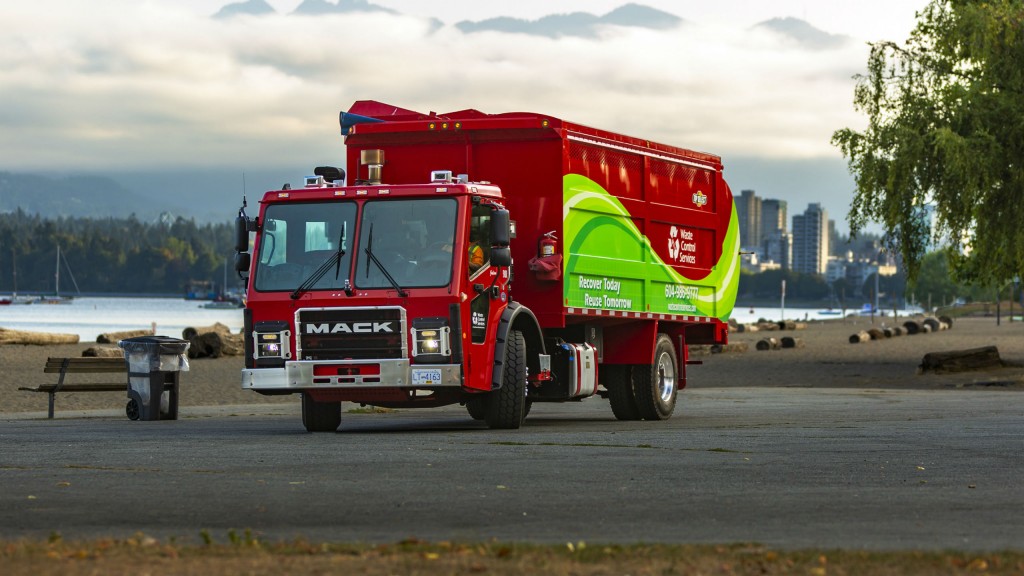 Mack Trucks will feature its Mack LR and Granite models in its booth at the Canadian Waste and Recycling Expo 2018, Oct. 24-25 at the Enercare Centre, Toronto.
Featuring a comfortable yet functional driver-focused design for improved productivity and enhanced visibility for increased safety, the LR model is available in two configurations: A 6x4 configuration and a 4x2 configuration for a lighter and more maneuverable option. The LR can be powered by diesel or natural gas.
The LR model featured in Mack booth No. 1600 features the new multi-position seat, developed exclusively for Mack Trucks by Sears Seating. The seat is engineered to improve driver comfort and ergonomics for operators in a right-hand stand-up/sit-down drive configuration. The Granite model in the Mack booth also features Sears Seating.
Mack Over The Air (OTA) is also now available on refuse vehicles, including the LR and Mack Granite models equipped with 2017 or newer Mack engines. Mack Over The Air enables software updates for powertrain components and vehicle parameters like road speed limits.
Mack Over The Air is powered by Mack's fully integrated telematics solution, Mack GuardDog Connect, which delivers software updates directly to customers when it's convenient for their operations.
GuardDog Connect proactively monitors truck performance, detecting fault codes and enabling real-time diagnosis of issues that could lead to unplanned downtime. Working with the Mack ASIST online service management system and Mack OneCall uptime agents in Mack's 24/7 Uptime Center in Greensboro, North Carolina, GuardDog Connect maximizes customer uptime by scheduling repairs and confirming that needed parts are in stock and ready to install, all while the truck is still on the road.
All of Mack uptime services are a part of Mack Connect, a comprehensive suite of tools that integrates intelligent software, predictive analytics and driver assist technologies to help customers manage productivity and profitability.
Refuse vehicles in the Mack booth at the Enercare Centre include:
Mack Granite Axle Back

Roll-off application
Engine: Mack MP8-425M, 425 horsepower, 1,560 lb.-ft. of torque
Features: Mack UniMax FXL20 20,000 lb. front axle; Mack Cornerstone chassis; Mack Power Leash engine brake; Sears high-back driver's seat
Mack LR
Side loading application
Natural gas
Engine: Cummins Westport L9N near zero natural gas, 320 horsepower, 1,000 lb.-ft. of torque
Features: Mack UniMax FXL20 20,000 lb. front axle; Mack S462 46,000 lb. rear axle; Mack SS462 Camelback rear suspension; Mack ControlLink II body interface; Sears multiple-position seat for right-hand operation; Sears C2 mid-back left-hand seat
Company info
3200 Windy Hill Road, Suite 500 West
Atlanta, GA
US, 30339

Website:
cwre.ca
Read more
Related products