SBM REMAX 400 mobile impact crusher designed to take crushing on the road with ease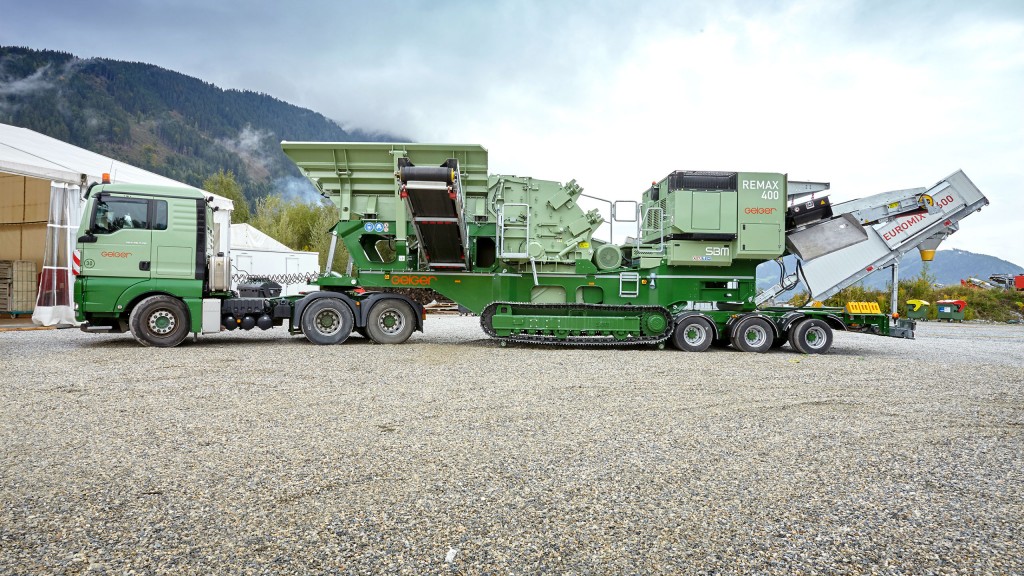 The REMAX tracked mobile impact crushers made by SBM Mineral Processing offer efficient and unique features that make them popular among operators, according to the company. Recently, the models have another update. The SBM REMAX 400 is a performance-optimized, medium-class crusher for quarries and recycling of construction materials. In comparison to the previously well-established REMAX 1312, the new model has received improvements to key components such as the crusher, drive system and transportability. In addition to its outstanding technical features, the REMAX 400 is also an excellent choice for transporting on the road.
Quick and easy transport on the road
The SBM basic-equipment, medium-class impact crushers without secondary screen have a total weight of less than 40 tons. The dimensions of the previous model have been optimized resulting in a reduced transport height of 3.60 m and a maximum width of 3 m, allowing SBM to achieve greater overall transport flexibility.
For Geiger Unternehmensgruppe from Oberstdorf, Southern Bavaria, transportability was the key factor in purchasing this plant. "On average our plant changes its location every two to three weeks. To profitably transfer the plant in an economic period of time, the complete weight of the truck must not exceed 60 tons. Our aim was to obtain a permanent transport permission in Germany, and we succeeded!" explains Raphael Müller, production manager of Business Field Construction Materials and Recycling.
Weight and performance go hand-in-hand at SBM
The new version of the REMAX 400 is equipped with SBM's well-established Dolly system. A weight-optimized, three-axle construction is now sufficient for transportation – so to say on an axle of its own. With this, SBM supplies a simple and cost-efficient solution to allow quick and easy relocation. This high-performance tracked impact crusher plant is roadworthy straight away without requiring any conversions, dismantling or authorization procedures – and that ensures profitable operation even on smaller building sites. That is not the first SBM plant Geiger Unternehmensgruppe opted for. "There is no comparable plant in the market that combines transportability and performance in such a perfect way. The REMAX 400 plant is not too heavy, and we do not throw away crushing performance," describes Müller. The plant is used to recycle construction materials as well as for gravel and in quarries. Geiger Group covers almost all areas in the field of construction and has some 2,500 employees. Core markets are Germany, Austria, Romania and France.
Outstanding performance
The strong performance of the SBM REMAX 400 is based on the powerful 1300 crusher designed around a forged rotor shaft. The performance available at the rotor can be quickly increased up to 170 percent due to the electric generator drive. To produce any desired final product the crusher is provided with two impact aprons and an adjustable crusher speed. The four impact bars of the rotor in REMAX 400 can be installed at different heights due to offset locking grooves. Changing the impact bars is simple and very easy, and they can also be turned and rotated in their supports which considerably increases their utilization degree to up to 60 percent. Thanks to these features, the upgraded peripheral equipment and the inlet opening of 1,260 x 800 mm, REMAX 400 offers an output capacity of up to 400 tph. All transfer points have dimensions that prevent bottlenecks from the crusher outlet to the material discharge conveyor. The optimized vibrating discharge chute of the SBM impact crusher is lined with wear-resistant stainless steel.
Flexible operation
The core technology of SBM's mobile impact crushers is the sophisticated drive concept. The REMAX 400 can be operated with diesel-electric drive or fully electric as an option. For the operator, these two options allow the machine to adapt to the logistics of the jobsite. The plant can be operated either independently or supplied by the power grid directly. As a pioneer in this field, SBM says that they have been developing this technology for more than three decades to achieve an unparalleled level of efficiency and operational safety – sturdy, stable and maintenance-free.
This technology offers even more practical benefits, as it affects not only the drive system, but the control system as well. The rotor is driven by a large electric motor without a clutch. The resulting fully electric control of the crushing process allows for reaction times in milliseconds – e.g. for the necessary load-dependent control of material flow and feed quantity – and this strongly affects production capacity. The company says that exerting such a direct influence on the crushing operation is systemically impossible for diesel-hydraulic or direct-clutch-drive systems.
Optimum equipment for every application
The REMAX 400 is suited for a multitude of various applications due to numerous sophisticated extensions or options designed by SBM especially for this impact crusher. These options cover the grinding system, a secondary screening unit in one-deck design ensuring precise separation of the end product due to the special banana form of the screen deck, and a wind sifter for the oversize grain.
Another outstanding feature for recycling applications is the over-band magnetic separator with automatic height adjustment. The plant can be simply controlled by remote control, options include tele-maintenance via modem and external visualization via tablet.
Company info
Related products