American Baler's latest model horizontal single-ram combines quickness and high force for up to 30 tph capacity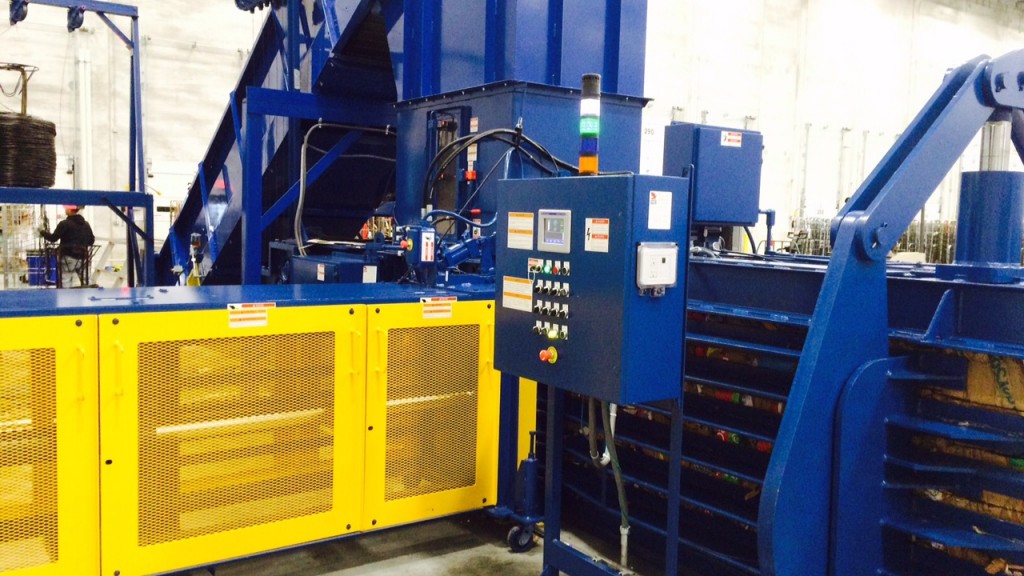 According to American Baler Company, the 8043 horizontal single-ram model has proven itself as a workhorse in hundreds of recycling centres around the world.
The latest generation, model 8043-11225 single-ram baler, features a large feed opening (80 x 43 inches, up to 80 x 70 inches) and up to 30 tons per hour capacity processing OCC. Other key features include: export bale capability, laser ram positioning, a cylinder drive inserter system and Category-3 safety.

"We have combined the quickness of our 10-inch compaction system with the force of a 12-inch cylinder - also combining a new 225 hp unit," explains Mike Schwinn, American Baler's sales manager.
According to Schwinn, American Baler Company made their first horizontal baler for the paper industry in 1945.
"Single-ram balers are most productive in paper because the ram is pretty much always in compaction mode," says Schwinn.
"Bale weights can be 2,000-3,000 pounds, with very fast tie cycles compared to a two-ram. "As the packaging industry grew, so did American Baler Company as we developed machines to make heavier bales, automatic-tie balers, and larger recycling balers that can be used for a variety of materials besides paper," Schwinn continues. By adding additional retainers, for material springing back into the bale chamber, as well as other methods to increase friction, he says it can be key for baling materials such as heavy plastic.
For textiles, he adds, they provide a full package that minimizes damage to product while baling.
"But for some grades of plastic containers and non-ferrous metals - the quality of the bales and weights produced by single-rams will lead users back to two-rams," says Schwinn. "Also safety is a big consideration," he adds.
"Category-3 balers with trap key systems and better guarding are increasingly in demand to improve the safety of baler operators. The tension system design on single-ram balers is typically most critical," he continues.
"American Baler Company uses a single-cylinder 4-way free-floating bale chamber tension control system that yields the heaviest bales, even when processing 'harder' bale products that are slick, or with lots of memory."
See American Baler as part of our focus on single-ram horizontal balers.
Company info
Related products