​A-1 Sandrock paves the way with recycled asphalt shingles and Terex equipment
North Carolina and surrounding states used more than 150,000 tons of recycled shingles for highways in 2017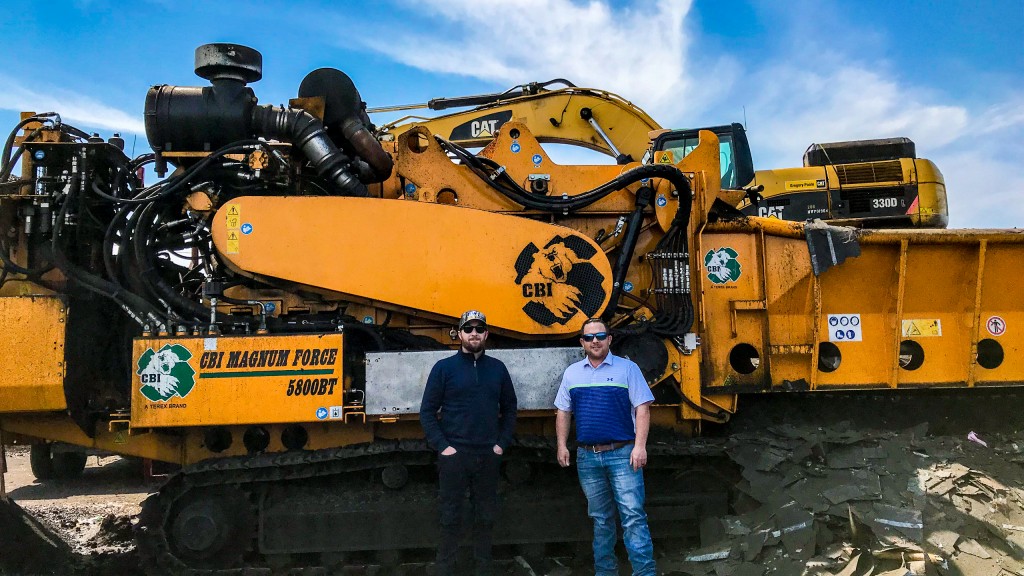 With 12 million tons of tear-off roofing material being generated each year in the United States, and increased regulations, the industry demands efficient recyclers. Efficiency is second nature to A-1 Sandrock. The company has rose to the challenge over the last few years, growing their shingle disposal program into a massive operation that's convenient for roofers, communities, North Carolina, and the surrounding states.

A-1 opened their Greensboro, NC site back in 2007 after noticing a higher need for recycling with less waste going into landfills.
"I'd be confident saying we're grinding at least 80 percent of the shingles going in the road in North Carolina," said Jimmy Petty, General Manager of Mobile Operations at A-1 Sandrock. "The shingles are mainly tear offs from your regular home roofing jobs. Most of the sites you're taking them in, piling them up, and then they call us to come in and grind them. It's all about getting in, getting the job done, and getting out while giving customers a product that will pass state specs."
Meet the state specs while producing a high-volume—it's that easy to be successful... but it's also that hard.
In 2014, North Carolina made it a regulation that all recycled asphalt shingles had to be screened to 3/8" minus to go into a recycled mix for the highway road surfaces. The regulation didn't bother A-1 because they were trommel screening everything long before the state required it.
Being ahead of the quality curve gave them a sustained edge.
"When we first got started we were trommel screening everything with the Phoenix 2100 Trommel Screen," Petty said. "We wanted to make sure we were giving them the right product. We decided the safer route was to screen it all and know that it was good to keep it all consistent."
A-1's longstanding relationship with Powerscreen Mid-Atlantic (PSMA) has been critical to their growth. Two Terex Ecotec Phoenix 2100 trommel screens and a Phoenix 3300 trommel screen have significantly increased production while creating a premium end-product.
"Basically we're in the same town as PSMA, our shop is 20 minutes away from theirs, so it's great to work with PSMA locally," Petty said. "As far as getting parts and service, it's really convenient for us."
Powerscreen Mid-Atlantic, Inc. offers an array of crushing, screening, grinding, chipping, material handling, and specialty equipment. They serve customers in North Carolina, South Carolina, Virginia, and West Virginia and have been in business since 1996.
When Terex Corporation acquired Continental Biomass Industries (CBI) in 2015, Powerscreen could now offer world-class horizontal grinders at the local level, with local service. During this time, A-1's business had been expanding. They had to expand the crew and grinding production to meet the growing demand of multiple large highway customers. After seeing live demos of horizontal grinders, they decided in the end to add the CBI 5800BT back in June of 2017.
They added another 5800BT four months later.
The 5800BT Horizontal Grinder was purpose-built for power, maneuverability, and easy transportation between jobs. With minimal transport restrictions, the grinder's compact dimensions have been great for A-1 as they move from job to job between a dense cluster of highway customers. Known for grinding biomass materials like whole trees, storm debris, slash, stumps, and regrind, the 5800BT's new shingle grinding configuration lets Petty switch between grinding gnarly wood and tough reject shingles. They've been impressed with how the 5800BT handles real-world grinding.
"I was really surprised how fast the 5800BT can pull a whole tree through it," Petty said. "When you put in a thirty foot whole pine tree, the 5800BT will pull the whole thing through in less than a minute. It amazes me how fast it pulls it through and spits it out. We had a pile of logs sitting in our yard for the last seven years on site that our other grinders couldn't handle. We put our 5800 in there and pretty much ground it all except the pieces that were so wide they wouldn't fit."
While versatility for wood waste is nice, the majority of A-1's work is geared towards recycling asphalt shingles.
"For shingles, we do 80 percent tear offs which are old shingles right off the roof," Petty said. "They can be 30-40 years old--dried out and brittle--they are fairly easy to grind. There's not as much aggregate because it washes off with the rain over the years. Then you got reject shingles which come directly from the factory and they have a whole lot more aggregate in them. That can be really tough on the machine just because there's more material on the shingle—it's almost like trying to grind a bubble-gum type material. The 5800BT really handles it well."
Led by their five Terex machines, they ground 150,000 tons of shingles in 2017 with all of it going back into the roads of North Carolina and the surrounding states.
Recycling a large amount of asphalt shingles year after year has an obvious environmental advantage. The National Asphalt Pavement Association's (NAPA) 2016 industry survey estimates that the 2016 construction season saw more than 76.9 million tons of reclaimed asphalt pavement and nearly 1.4 million tons of recycled asphalt shingles go into new pavements in the United States, saving American taxpayers more than $2.1 billion.
Data for 2017 construction season is still being collected, but T. Carter Ross of NAPA contextualized savings per ton based on the most recently available data.
"For 2016, we calculate that every ton of RAS used is equivalent to about $74.026 in savings," Ross said.
Based on that 2016 figure of $74 in savings a ton, A-1 Sandrock's 150,000 tons in 2017 represents $11.1 million in economic impact for customers, states, and local taxpayers.
It all comes down to efficiency.
"You can easily run 120 tons and hour through the 5800BT," Petty says, but mentions that a lot of the day requires setting up each mobile site, so it depends on the job."
The grinder is equipped with an over band magnet that pulls nails off the discharge belt and disposes them into a separate container. A clean end product is loaded into the trommel to be sorted into a refined pile that meets North Carolina's spec.
Shingles are a whole different animal than pine trees. A-1 checks the tips every three hours and changes them as needed. Fast and thorough maintenance is another area where they optimize production time.
"The way the CBI 5800BT opens up and you're able to get to the teeth is very nice and easier on the guys—they can stand up while they're doing it, they don't have to crawl into something," Petty explains. "I think that's great. The screens are easy to take out and put back in. We're using the tall tips. With other machines they stop at two and a half hours, with a CBI we give it an extra thirty minutes that we feel comfortable running, which gives us more production time. The way we schedule our day, with the teeth changes and everything, if you take a CBI next to an older machine it's going to bury it."
Maintaining machines during reject shingle grinding is always a challenge because the dust flies everywhere. Taking covers off engine compartments and other parts of a grinder becomes redundant throughout the day and results in lost time. It's been an annoyance for A-1 in the past with other grinders but the open design of the 5800BT saves them maintenance time on the back-end. Manufacturers, too, relentlessly adapt to help end-users stay profitable.
"With the 5800, you've got everything open and you can get to the hoses and clean everything out a lot easier, without having to move three or four covers to get to what you're trying to clean," Petty said.
Beyond the high-production, good old fashioned customer service for both Terex brands gives them peace of mind. Quality local service through Powerscreen Mid-Atlantic can't be beat. A-1 called on a Friday towards the end of the day to replace a bearing on one of their machines, a service tech from PSMA stopped by on Saturday and had the job done in two hours, they were running on Monday no problem.
"That's the kind of service you get and you can't beat that," Petty said.
Company info
Related products