New orange-peel grapples from Cat designed for a range of applications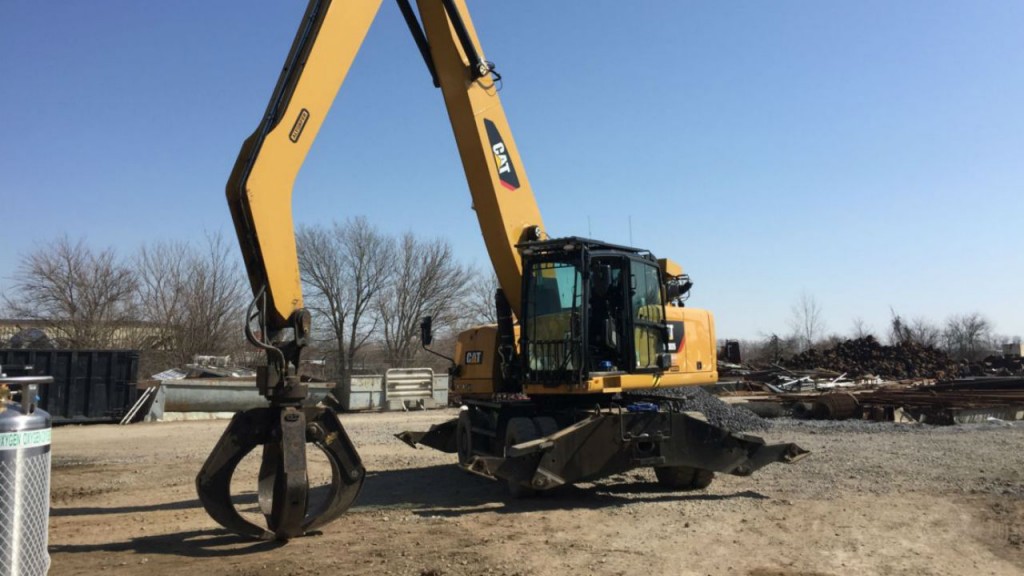 The new Cat GSH420 and GSH520 orange-peel grapples, replacing the GSH15B Series grapples, are designed for a wide range of applications, including handling shredded scrap, such as long structural beams and car bodies; handling rocks at construction sites; and waste at recycling and transfer stations. The performance and efficiency of the new Cat grapples help waste-handling operations, in particular, meet the challenges of increased environmental regulation, growing pressure to recycle a mix of materials, and stringent budgets.
The new grapples feature horizontal placement of the cylinders, thus creating a profile that allows for effective material penetration and efficient bulk-material handling. The design enhances the strength, reliability, and durability of the new grapples, which are available in four-tine and five-tine shell configurations and in closed or semi-open versions. In addition, the GSH420 and GSH520 feature a redesigned rotation system. The new grapples are designed to work with the Cat MH3022, MH3024, and MH3026 material handlers.
The design of the GSH Series grapples features construction of high-grade, impact-resistant steel that protects vulnerable areas, such as hydraulic cylinders. For added durability, high- quality bushings with lubrication grooves and hardened pins are used in all pivot points. Tines are configured with replaceable cast tips made from BHN 445-555 material that resists wear.
In addition, solid hinge-point construction and robust end-stops ensure long service life, and routing hydraulic hoses within the tines reduces hose wear. All mounting brackets feature a solid pin to keep the bracket in an upright position for ease of installation. Also, the new GSH grapples feature a standard lifting eye on the bottom of the housing for expanded versatility, such as mounting a magnet.
The new HR10 rotation group, featuring a new swivel, significantly reduces hydraulic restriction by increasing return-flow capacity by 160 percent and by increasing open-flow capacity by 30 percent. Less restriction results in faster cycles and lower fuel burn.
Company info
Related products
More from C&D Recycling
But we've been successfully sorting paper on the front end with optical sorters since 2005. Why have we been so successful? Because we know it's not JUST about the optical. We focus on your entire operation, so you make the most of your fiber line. Is your optical sorter living up to its potential? Call us at 203-967-1100 for a free system evaluation.
Traditionally, recyclers across Canada have sent a huge percentage of their recovered scrap metal to Hamilton, Ontario, or Pennsylvania in the U.S., via open-top rail cars and truck trailers. The scrap is then melted down and turned into new steel. This is still the case for much of our scrap steel, but recently the growing trend toward containerization has introduced new opportunities for efficient, cost-effective shipping of both non-ferrous and ferrous materials to overseas markets.