"Future-Proofing" the MRF
MSS fiberMax optical sorter is proving itself after a year on the job: cutting costs while handling challenging materials and optimizing output quality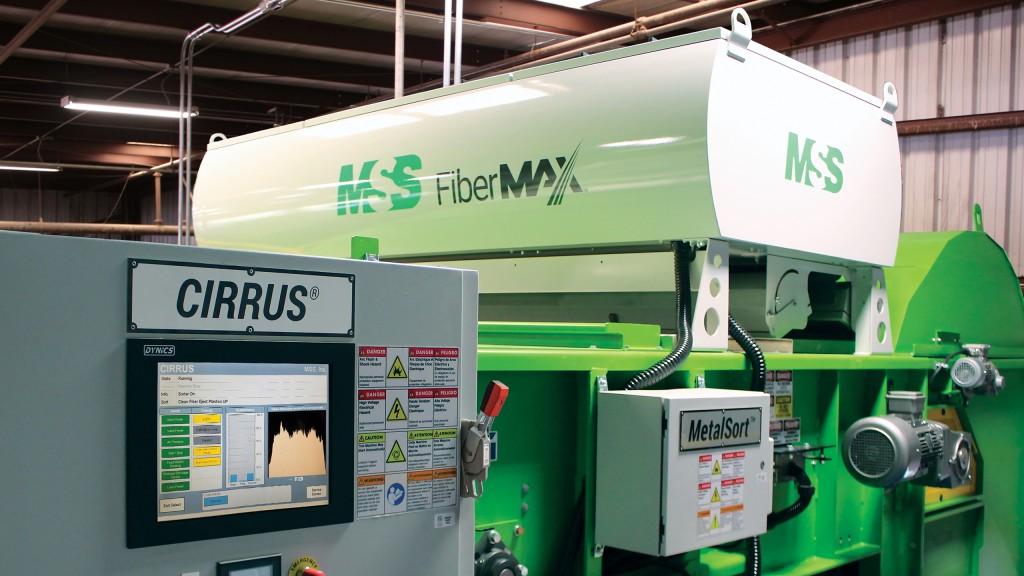 MSS, Inc., part of the CP Group, based in Nashville, Tennessee, has supplied a over 28 CIRRUS FiberMax optical sorter units for customers across North America, and says more units are on order. According to Greg Thibado, MSS vice president, "Since it was unveiled a little over a year ago, the FiberMax optical sorter has been a very popular choice for MRF operators who want to optimize fibre quality and reduce manual sorter head count at the same time, providing the cleanest fibre at high volumes."

Thibado says a single FiberMax unit can replace up to 25 manual sorters as it performs up to between 800 and 1,000 picks per minute, versus only about 40 picks per minute for a manual sorter.

This is made possible by a high conveyor speed of 1,000 feet-per-minute, which is twice the speed of conventional optical sorters.

According to MSS, in one recent installation, FiberMax decreased the level of prohibitives in a residential mixed paper stream from over 10 percent to less than 3 percent, consistently. Additionally, it reduced the sorter head count by 12.

"We are very pleased with the success of the FiberMax and so are our customers," says Thibado. "FiberMax's ability to handle challenging materials like thin flexible plastics packaging and lightweight single-serve PET bottles 'future-proofs' MRFs and paper sorting facilities against foreseeable changes in the ever evolving material stream."

Thibado adds that it is advanced scanning technology and software algorithms that truly give FiberMax the edge.

"With its ClearLight technology, FiberMax doesn't use gratings or light beam splitters, so detectors receive the maximum amount of reflected light possible," he says, adding that besides prohibitives, it is able to positively sort a variety of other materials such as ONP, mixed paper, OCC and SOP.

"FiberMax has changed the game," adds Thibado. "And we look forward to many more customer success stories."
This article was originally published in Recycling Product News, April 2018, Volume 26, Number 3.
Company info
Related products