Alliance Tire launches new line of rugged Galaxy OTR tires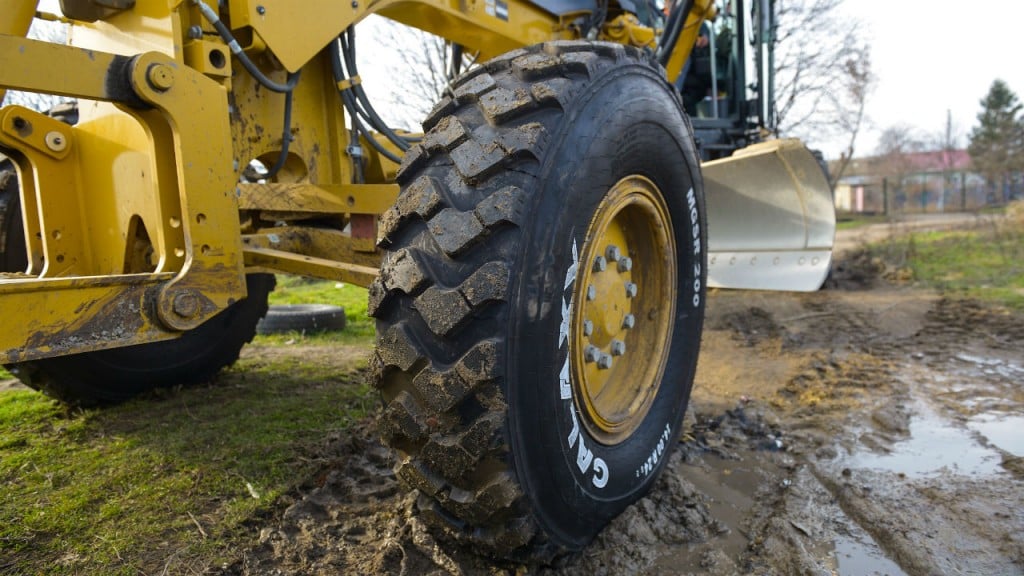 Company info
Related products
Alliance Tire Americas, Inc. (ATA) launched a rugged, new line of Galaxy brand radial off-the-road (OTR) tires at Waste Expo in Las Vegas. Built for the special demands placed on loaders, dozers, backhoes, foklifts, articulated dump trucks and graders, the Galaxy radial OTR line features all-steel radial construction for puncture resistance and reduced heat buildup, as well as special compound for longer service life, according to Brian Sheehey, Vice President of Marketing for ATA. The result is a line of tires that deliver outstanding performance and a lower total cost of ownership.
Because their flexible sidewalls create a larger, more even footprint, radial tires deliver a wide range of benefits on heavy equipment, Sheehey notes.
"The larger footprint of a radial tire puts more of the tread in contact with the ground, which transfers more horsepower," he explains. "We get more traction and better flotation with that larger footprint. We also see more even wear across the tread surface, which allows the Galaxy radials to last longer than bias-ply tires, which tend to crown in the middle.
"Radial tires are also a lot better on the bottom line," Sheehey says. "For starters, lower rolling resistance results in better fuel economy. The flexible sidewalls absorb more impact than stiffer bias-ply sidewalls do, which reduces impact on welds and joints on the machine. And we have engineered and constructed the steel-reinforced sidewalls with a special belt package and compound that reduces heat build-up, extending tire life."

The long-lasting, puncture-resistant tires can help significantly reduce downtime, he adds.
Sheehey points out that the new Galaxy radials feature innovative stepped lugs, which boost traction by providing more biting surfaces on each lug. As the tread wears down from one step to the next, the lugs get wider, increasing the rubber-to-void ratio and slowing wear.

The stepped lugs, along with the precisely engineered tread patterns, also contribute to excellent self-cleaning.
The Galaxy radial OTR launch kicked off with four tread patterns in a total of 12 popular sizes. The new tires include:
LDSR 300, a loader/dozer tire with an S-shaped tread pattern, available in 17.5R25, 20.5R25, 23.5R25 and 26.5R25 size.
HTSR 400, with a long-wearing array of bulky block lugs for articulated dump trucks, manufactured in 23.5R25, 26.5R25 and 29.5R25.
MGSR 200, an S-pattern grader tire released in 14.00R24 and 17.5R25 sizes.
Yardmaster Radial, a radial version of the popular Galaxy design with massive lugs and high rubber-to-void ratio for forklifts, in 10.00R20, 12.00R20 and 12.00R24.
The next phase of releases will include all-steel radials purpose-built for rigid dump trucks, forklifts, and container movers.
Longer-lasting tires and improved operating efficiency add up to a lower total cost of ownership for the new Galaxy ROTR line, points out Sheehey.
"Whether you're in a waste handling facility, on the construction job site, or moving containers at a port, your key metric is the total cost per hour," he notes. "With our competitive pricing for Galaxy tires, the efficiencies they add in operation, and their long service life, these Galaxy radial OTRs are a significant new offering for us and a tremendous value to our customers."
More from Maintenance & Management
Power management company Eaton has announced the launch of the GH100 and GH101 hoses for high-percentage biodiesel blend and high-temperature oil applications. Unlike standard fuel hoses that only last 1-2 years, Eaton's GH100 and GH101 solutions are engineered for maximum performance in systems with a variety of fuel types, featuring a unique polymer that more effectively resists degradation.
Petro-Canada Lubricants, has reformulated its HYDREX line of hydraulic fluids to deliver leading wear protection, greater energy efficiencies, extended oil life and strong performance in wide temperature ranges. Customers have come to know HYDREX, an industry leader for more than a decade, as a high-performance fluid that exceeds the demands of today's advanced hydraulic systems – even in harsh environments.