VecoBELT a true all-rounder for transporting bulk materials
Vecoplan's latest optimised conveyor belt ideal for conveying materials over long distances either horizontally or on a slight incline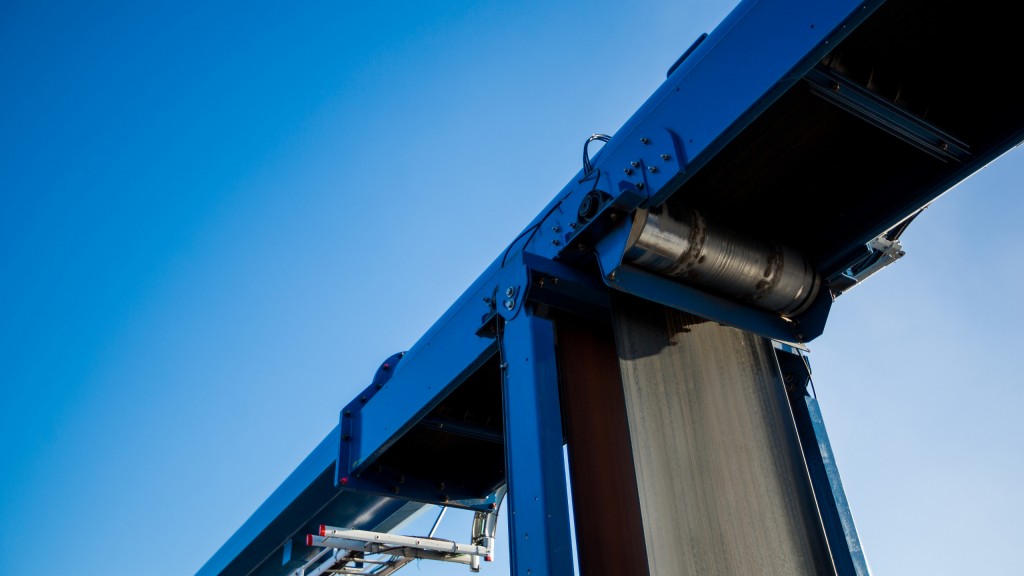 With high operational reliability and flexible application possibilities, conveyor belts are indispensable for the transport of all types of bulk goods, including recyclable materials. Transportation lines and material streams are important aspects of every production plant. They need to be cost-effective, efficient and above all reliable in continuous operation. A true all-rounder in transport systems for bulk materials is the recently introduced VecoBelt pipe conveyor from Vecoplan.

The VecoBelt is ideal for conveying materials over long distances either horizontally or on a slight incline. The components transport all kinds of bulk materials such as wood chips, refuse-derived fuels, meat and bone meal or wood shavings. The forward-moving VecoBelt conveyor runs inside a tube and not on rollers like with normal conveyor belts. The belt runs on cushion of air, guaranteeing low friction losses and quiet operation, and the fully enclosed system is particularly suited to the safe transportation of dust-laden materials.
In recent years, Vecoplan has made some optimisations to the components and further developed the technology of the VecoBelt series (500/800 and 1000 belt width). The return belt now also runs in an enclosed housing, supported by a return air duct. This gives customers 100% certainty that no material can fall or trickle down, for example in the area of the return rollers.
Another new addition is that Vecoplan equips the VecoBelt with two scrapers at every drive station. The pre-head scraper and hard metal scraper can be adjusted from the outside, and tensioning the scraper with the ratchet is quick and easy to do. The pre-head scraper is flexible, yet stable enough to remove impurities on the belt. The hard metal scraper prevents substances such as resin from sticking to the belt.
A further technical improvement has been added to the weight tensioning stations. Additional scrapers on the drive stations have been added here too to prevent impurities from adhering to the belt. For customers, these measures mean fewer maintenance costs, fewer downtimes and less material carry-over on their conveyor line.
Vecoplan also offers customers an optional bunker attachment filter. At material transition points, where material is passed to the next conveyor and loaded into this, a radial blower has been installed to extract air containing dust.
To date, these conveyor components have built transportation lines worldwide covering a total length of more than 10 kilometres. The longest stretch is 430 m long and is driven by two 30 kW geared motors.
The VecoBelt conveys bulk materials over a distance of up to 450 meters and with a capacity of up to 1260m3/h at 2.5 m/s. The conveyor belt is quick and easy to assemble and it can span inclines up to 20 degrees, with individual support struts spaced up to 75 metres apart. In addition, the power consumption of the VecoBelt is only about half that of similar conveyor belts.
Company info
Related products
More from Organics Recycling
Single-Ram and II-Ram High-Capacity Balers
At Machinex, we've been designing sorting systems for over 35 years, so we know how essential it is for MRF operators to have a baler they can trust and not worry about its operational reliability. This is why we design and manufacture reliable single-ram and II-ram high-capacity balers to specifically help optimize their operations.
Watch the video of our expert who presents the main features of Machinex balers delivering these important benefits:
Easy & accessible maintenance
Reduced maintenance & bale handling costs
Energy savings
Optimal bale density
For C&D recyclers, waste haulers, demolition contractors and landfills, there is a growing opportunity to profit from rethinking processes. Although every operation is different, by streamlining the front end of the C&D operation processes with purpose-built technologies, recyclers can tap into new end markets, accommodate higher material volumes, stay ahead of regulatory restrictions, increase recovery rates and add commodity revenue, while decreasing labor and other costs.
Download the new eBook to learn about:
Finding opportunities in the alternative to landfilling C&D
How facilities can increase their profits from C&D
Using the right C&D processing technology in the right locations