​From the UK to China; the right baler is helping recovered fibre bales reach global markets
Kadant PAAL Konti 600 Baler helps Welsh recycler achieve higher throughput rates and reduced energy consumption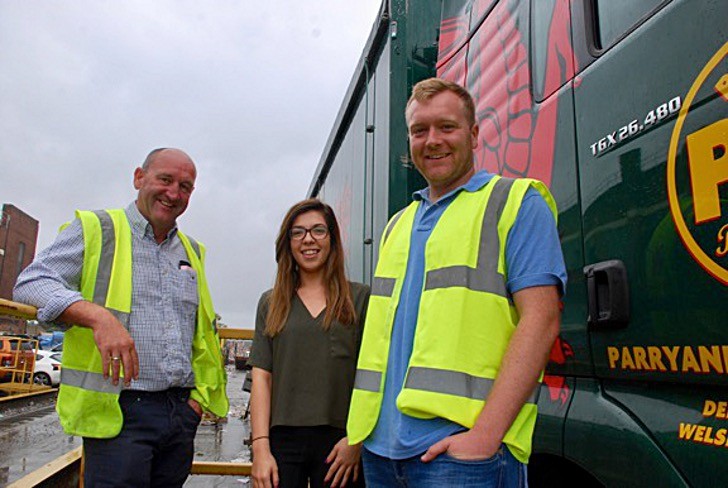 Back in 1961 Maurice Parry and Jack Evans went around to local farms in Wales and began recycling farmer's hessian sacks. Today, Parry & Evans provides over 120,000 bales annually of premium-recovered fiber across the globe. Various grades of board, OCC, paper and newsprint become the next generation of paperboard packaging to protect goods, making yet another trip or more around the world.

"Can you imagine that Parry & Evans bales shipped to China could return to the UK as the packaging board for mobile phones, and then be reprocessed by us, and sent on the journey again to Asia?" comments Steve Evans, the 2nd generation of Evans' in this business.
In fact, Steve Evans and his sons play a critical role in waste management in Wales, operating more than 30 vehicles with more than 200 skips deployed across the UK. Grades of materials recycled range from a variable mix of cardboard, office waste, newspaper and brochures, white grade one paper and plastic bottles.

Grades designed to match needs
The core of their operations is sorting and grading of waste paper, processing it and baling and storing on site, ready for transport to paper mills across the world. The company has sophisticated specialized processing machinery for preparing materials for their return into useful materials. Custom equipped hook-lift vehicles exchange full paper and cardboard banks from a wide range of locations such as supermarket car parks, village community halls and local authority and commercial premises and hospitals.
"Our new Kadant PAAL Konti baler was a major investment, but essential to our commitment to being a provider of top quality materials. Our customers pay a premium for recovered fiber, which must remain in tact for long journeys and then perform well on advanced paper machines," says Lee Evans.
Adds Lee Evans, who is also on the board of the UK Recycling Association, "Chinese customers have raised their expectations for quality, and we are meeting and exceeding what they demand. With half of the UK's recovered paper going to China, this is important for fellow suppliers and us. Every bale we ship matters."
Collection across Wales & beyond
Parry & Evans skips can be spotted in major council, community and supermarket car parks for the disposal of cardboard and paper. Where a larger skip is required, Parry & Evans provides an 'open bin' which is loaded from the top by forklift or similar loader or a 'closed bin' that is loaded through a rear lockable access door.
So whatever the type, quantity, form or location of fiber-based material, the company is equipped to collect and reprocess it for re-use again.
Parry & Evans works closely with the local authorities and with the help of local communities, the company is working to reduce the amount of waste that is land filled and reclaim as much as possible, to the benefit of the environment and the local economy.
Says Steve Evans, "We collect various grades of materials to be recycled - cardboard, newspapers, magazines, brochures, office waste, printer waste, white off-cuts and surplus. We can either collect in bulk, or customers can deliver to us on-site. Everything is sorted and graded at our specialist facilities, making sure everything goes where it should."
Better Bales of High Value Recovered Materials
Recently, Parry & Evans reinvested into their business by upgrading their Deeside on-site baler. Says Steve Evans, "Our Kadant PAAL Konti 600 Baler, installed in September of 2016, achieves higher throughput rates and reduced energy consumption. Smooth operations get the job done in only 14 hours of each day, instead of around the clock, freeing up operators. Ease of operation for multiple grades requires far less maintenance.
Adds Lee Evans, "This type of investment into the business contributes to improved service for our customers across Wales and the border counties. The Kadant PAAL Konti baler allows us to pack more waste in to each bale, which benefits our customers and improves our operational efficiency. Four tons more going onto each lorry adds up to a lot of value."
According to Jason Greatorex, sales manager with Kadant PAAL, "We have worked closely with the Parry & Evans team to define their recipes. Depending on the mix of OCC, cardboard, brochures, newsprint, and mixed office waste, for example, presetting is done automatically. In each case the PAAL Konti has the ability to process a broad range of materials, running smoothly and continuously."
The PAAL Konti baler is equipped exclusively with axial piston pumps. The power-regulated control of these pumps leads to higher throughput. Significantly lower drive power is required at the same throughput, for example only 55 kW instead of 75 kW.
The tried and tested cutting system was further developed to provide even more efficiency. The optimized blade shape and the adaptation of the clearance space above the fixed knife results in a significantly reduced cutting force, thus less energy consumption.
In addition to the highly accessibility of the press chamber by the two very large doors, the access to the tying unit has been improved. This was achieved by the addition of a three-sided platform with ladder at the tying unit of the large-format baler making it easier to insert the binding wire and ensuring easy access to all components for service and maintenance in the now completely open tying unit.
Kadant PAAL was founded in 1854 in Osnabrück, Germany. Since its introduction of the first continuously operated horizontal baler in 1960, the company has delivered more than 30,000 machines and today is the #1 channel baler manufacturer in Europe. Their first baler in the U.S. is in Monterey, California at a regional waste recovery facility.