Legacy Building Solutions achieves Canadian certification for steel building systems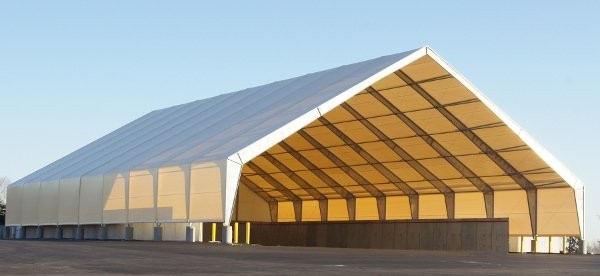 Legacy Building Solutions, a leading designer, manufacturer and installer of tension fabric buildings, has achieved recognition through the Canadian Standards Association (CSA) A660 certification program for steel building systems. Legacy says they introduced the concept of incorporating structural steel framing into tension fabric structures, replacing the hollow-tube, open web truss frames that traditionally have been used in the industry.
The CSA-A660 standard requires that steel structure manufacturers comply with applicable engineering criteria and building codes. It was developed to assist code enforcement officials in reviewing submissions for building permits incorporating a steel building system, and to help purchasers obtain a quality building.
To be certified, building manufacturers must maintain production facilities, staff and quality assurance systems that are consistently capable of producing quality steel buildings. To ensure these design and production standards are met, the CSA-A660 standard requires a manufacturing facility to obtain documented approval from a licensed professional engineer.
Legacy Building Solutions fabric buildings utilize the proven engineering of rigid frame, structural steel design, affording a high level of flexibility for waste or recycling transfer stations, processing and sorting facilities, and storage buildings for equipment or materials.
Legacy buildings can be precisely customized to length, width and height required, and straight sidewalls allow for the utilization of every available square foot, while also making it simple to add large overhead doors. These buildings are corrosion-resistant, are easy to ventilate and are energy efficient.