Smallest shredder in Doppstadt's AK range now offers greater power and drop height
New AK 310 EcoPower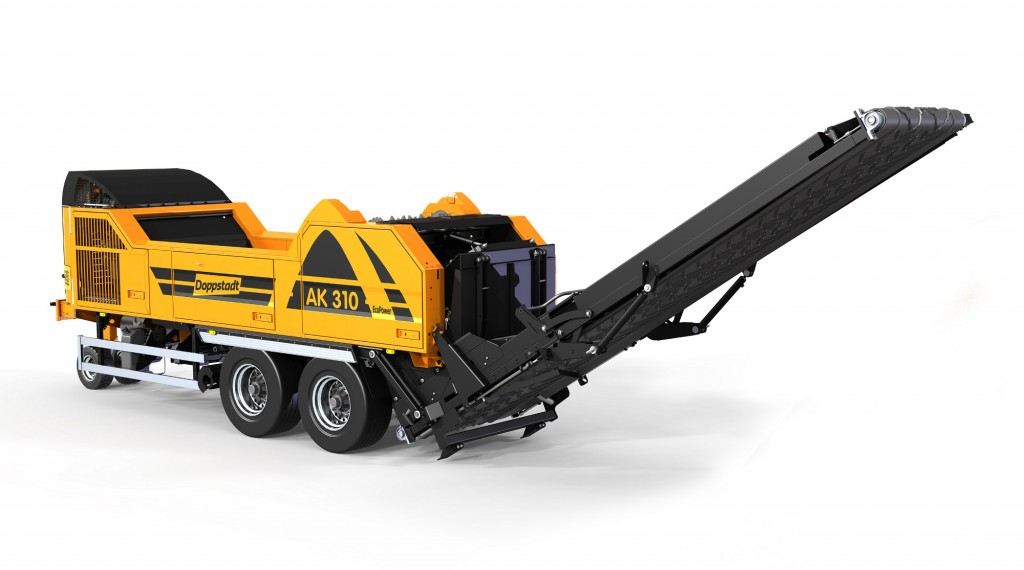 At the recycling yard, compost plant or for agricultural contracting: the new Doppstadt AK 310 EcoPower shredder is at home everywhere. It processes preshredded trunks, roots and waste wood just as reliably as green waste or organic waste, and is great for substrate processing for turnips, potatoes and dung. The compact, versatile shredder (total weight 16 tonnes) is designed for on-road use and is brought to the work site by truck. On site, it can be moved around by wheel loader - even when there is not much space. The machine is fed by wheel loader, excavator or the front loader on the tractor.

Its new rear conveyor has increased the shredder's drop height to 3.5 meters, enabling it to produce bigger piles of processed material, or fill feed hoppers, much more easily. This shredder can be used together with other combined Doppstadt machines to create application-specific solutions: For waste wood processing, it can be combined with a Doppstadt screening machine to transfer the material straight to its hopper, or work as a supplementary shredder after a Doppstadt single-shaft shredder, to perform the necessary fine processing.
Powerful drive technology
Efficient, environmental protection regulation-compliant engine technology is standard at Doppstadt: The internationally active environmental technology company equips its machines with low-emission technology that uses resources efficiently. That's also true for the AK 310 EcoPower, the smallest mobile shredder in the Doppstadt AK range: This compact all-rounder, which replaces its predecessor model, the AK 235 Profi, meets the legally required Euromot Stage IV final emission requirements. A 3A motor variant is also available for new markets. Consequently, the AK 310 EcoPower not only works in an environmentally friendly way, but also produces more output than its predecessor: The MTU 6R1000 310 HP diesel engine produces more torque, with constant driving power, while using relatively small amounts of fuel. The machine's drive train and engine have been designed to achieve more throughput, to suit the new types of work it is intended for.
Equipment option: Rear basket with 3D design for waste wood
Doppstadt can provide a rear basket option for waste wood shredding applications, a feature which improves the uniformity of the end product. Excess lengths are reduced, while material structure is improved. The basket is resistant to contaminants and protects the rear conveyor: contaminants can no longer impact it directly. This also minimises the risk of return belt blockages. The waste wood rear basket is available with different mesh sizes.
The new AK 310 is now ready to be ordered. Doppstadt specialises in the treatment and processing of reusable materials obtained from waste, biomass, earth, sand and gravel. Its portfolio includes machines that are easy to maintain and use for the most complex and challenging process technology applications in areas of recycling such as crushing, separating, sifting, mixing, splitting, wet preparation and conveying. The company employs 700 people in locations all over the world to work on its machines, processes and solutions. The Group has an international network of dealers, with 42 partners in 45 countries. Founded in 1965, Doppstadt has sites in Velbert, Wülfrath, Calbe and Wilsdruff in Germany, Vienna in Austria, and Rockville near Washington in the USA.
More from Organics Recycling
But we've been successfully sorting paper on the front end with optical sorters since 2005. Why have we been so successful? Because we know it's not JUST about the optical. We focus on your entire operation, so you make the most of your fiber line. Is your optical sorter living up to its potential? Call us at 203-967-1100 for a free system evaluation.
Traditionally, recyclers across Canada have sent a huge percentage of their recovered scrap metal to Hamilton, Ontario, or Pennsylvania in the U.S., via open-top rail cars and truck trailers. The scrap is then melted down and turned into new steel. This is still the case for much of our scrap steel, but recently the growing trend toward containerization has introduced new opportunities for efficient, cost-effective shipping of both non-ferrous and ferrous materials to overseas markets.