Selecting the Right Solid Tires for Industry Specific Applications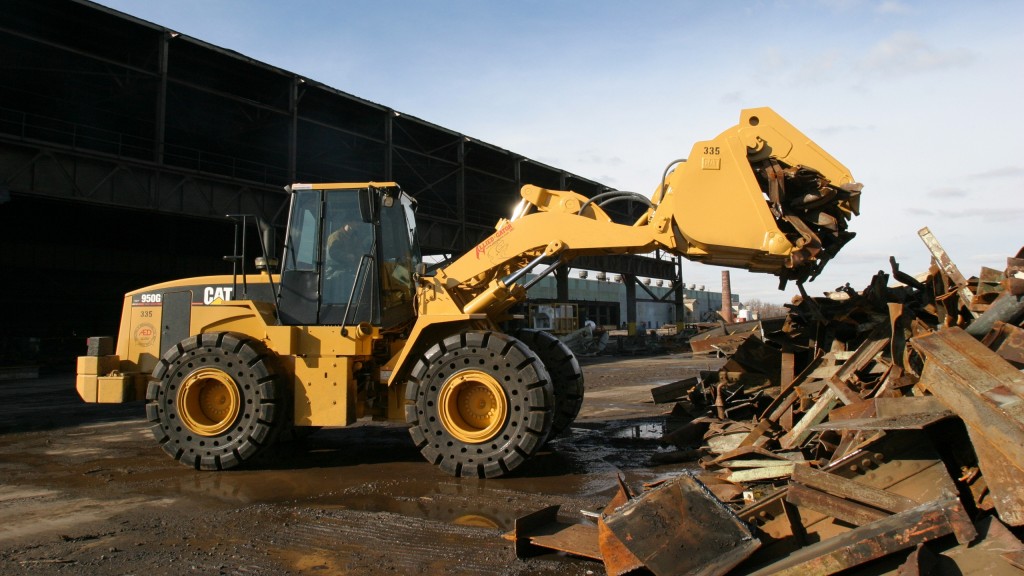 Approximately twenty years ago, those of us working in the off-road heavy equipment industry regularly witnessed a high amount of failures in machines operating on cement or other hard surfaces. Extended steel rims were used with small, hard, rubber wheels. When these rubber tires chipped and chunked, vibrations and bouncing sent shockwaves into the machine, causing shortened life and expensive repairs, not to mention stress on operators. Drivetrain components (U-joints and articulation joints) in particular often suffered from stress cracks caused by vibrations and a bouncing machine.

It was also common that many tires did not meet rollover protective structure limits, weighing too much, and thereby becoming a hazard to operators in the event of a rollover.
Since the 1990s, the scrap, demolition, recycling and waste industries have expanded dramatically - and with that expansion has come the need for tires with good shock absorption, excellent resistance against abrasion and lower lifetime operating costs.
Over the last several decades, TY Cushion Tire, out of Ontario, California, has greatly expanded the company's solid tire product line for "industry-specific" applications in scrapyards and waste handling, as well as mining, drilling, slag mills and foundries. Machine applications for solid tires include: skid-steer loaders, forklifts, container handlers, wheel loaders, wheeled excavators, underground equipment, terminal trucks and trailers.
TY Tire's solid tire structural design provides better shock absorption than pneumatic or foam-filled tires and anti-skid characteristics make these tires ideal for wet and muddy yards at scrap and recycling facilities, transfer stations, and for climbing ramps or operating on icy surfaces. We utilize an OEM split rim wheel, or can supply our own rims with tires mounted, and non-marking options are available for inside facilities.
The TY solid tire is engineered with one or two rows of aperture structures, built into the sidewall, reducing overall weight, and providing better shock absorption than pneumatic tires. The benefits of cut resistance for sidewalls and reduced surface "chunking" is achieved through the use of a high quantity of natural rubber in manufacturing. In addition, TY tires have low heat generation, leachate resistance, low rolling resistance (which reduces energy waste) and feature organic oil resistance. These solid tires also achieve up to 2.5 to 4 times the life of a pneumatic tire and are available in a complete line of tread patterns.
Following are three key areas to consider when thinking about a first-time purchase or replacement of solid tires. These tips include the information manufacturers need from buyers in order to provide the right tire for scrap, recycling or demolition applications.
1.) Do a job walk to verify your current skid steer, wheel loader or forklift's average daily working distance, working hours, working speed (without load) and determine the maximum distance travelled per day.
Measure the wear on each tire to see if they have been rotated for even wear. Travel to left will cause more wear on the right side and vice versa. Even wear will ensure maximum tire life. Spinning the wheels or skidding will accelerate tire wear and cuts in the circumference of the tread, causing a rough ride and maintenance issues for machines.
The initial job walk is a great time to determine whether your operation has been using and maintaining tires properly, and whether procedures need to be changed. Your tire manufacturer can help with this.
2.) Check to see if the tires you are using are Level 1, 2, 3 or other. The higher the load, the higher level number is needed, whether tires are pneumatic, solid, foam-filled, or otherwise, for maximum life in your application. Also you should check the brand, model number and year of manufacture of your machine to make sure ROPS (roll over protective structure) limitations are met when you put on new tires and wheels. (Each manufacturer's performance handbook is a good source for this information).
3.) Note the characteristics of your application. Note your ambient working temperature. Is there risk of oily, wet or chemical damage? Are there signs of scraping or peeling on existing tires? Are there sharp objects present? Are surfaces flat or graded? Are there combination surfaces, such as mud-to-concrete in the yard?

If you work in mud primarily, for example, there is directional tread available, which allows the capability to power-in for bucket loading and power-out for exiting with a full load.
With all of this in mind, the last step when considering solid tires for your scrapyard or other recycling application is to provide all of your information to the tire manufacturer. The more information provided, the better tire manufacturers can help the user identify the most suitable tires and compounds for their specific application. Maximizing a solid tire's suitability to the application at hand will provide maximum tire life and the lowest operating cost per hour.

This article was originally published in Recycling Product News, October 2017, Volume 25, Number 7.