​MSS Announces Next Generation of Metal Recovery Technology
New MapLine Algorithm Improves Material Targeting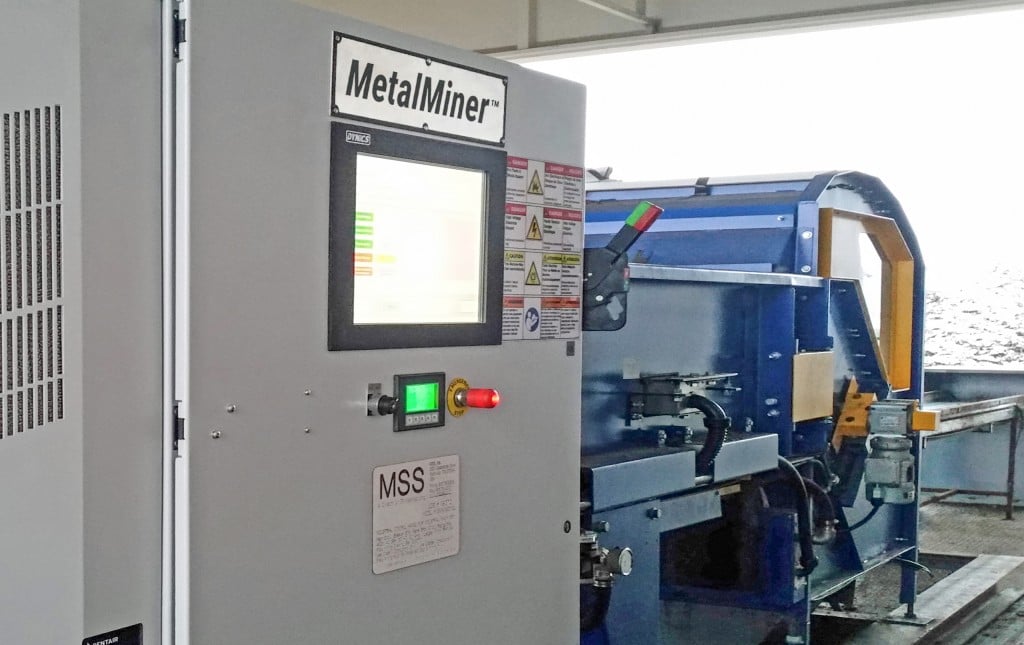 Nashville, TN - MSS, Inc., the optical sorter division of CP Group, has introduced MetalMiner, the next generation of induction-based true all-metal detectors. MSS has designed and built induction metal sorters for over 40 years, and this latest iteration was designed specifically to handle auto shredder residue (ASR), electronic scrap, plastic flake and glass cullet applications. One of the most relevant new technical features of the MetalMiner is the patent pending MapLine algorithm.

"MapLine allows users to target specific metal types or objects by amplifying the sensitivity for non-ferrous metals, especially wire, while simultaneously reducing it for ferrous dust," says Felix Hottenstein, MSS Sales Director. "MetalMiner is exceeding our customers' expectations. We've found up to 15% higher recovery rates for Zurik when directly compared to other vendors.
Hottenstein continues, "Additionally, MetalMiner reduces cross contamination with ferrous-dust-covered wood, plastics, and foam. This creates a noticeably cleaner product."
Greg Thibado, MSS Vice President, says, "In addition to the technological advances, we've implemented new manufacturing techniques that allow for MetalMiner to become even more competitive, especially for the wider units."
The MetalMiner is manufactured up 112"/2800mm wide as either a stand-alone model in a conveyor configuration or it can be integrated as an upgrade to the MSS CIRRUS NIR and L-VIS Color optical sorters. Depending on the application, different induction coil configurations and spacings are available.
For certain small particle applications such as plastic flake or glass cullet, MSS also offers the MetalMiner in a slide configuration which provides an even higher sensitivity and sorts ferrous, non-ferrous, and stainless steel down to 1mm in size.
Company info
300 Oceanside Drive
Nashville, TN
US, 37204

Website:
magsep.com
Phone number:
615-781-2669
Read more
More from Electronics Recycling
Single-Ram and II-Ram High-Capacity Balers
At Machinex, we've been designing sorting systems for over 35 years, so we know how essential it is for MRF operators to have a baler they can trust and not worry about its operational reliability. This is why we design and manufacture reliable single-ram and II-ram high-capacity balers to specifically help optimize their operations.
Watch the video of our expert who presents the main features of Machinex balers delivering these important benefits:
Easy & accessible maintenance
Reduced maintenance & bale handling costs
Energy savings
Optimal bale density
For C&D recyclers, waste haulers, demolition contractors and landfills, there is a growing opportunity to profit from rethinking processes. Although every operation is different, by streamlining the front end of the C&D operation processes with purpose-built technologies, recyclers can tap into new end markets, accommodate higher material volumes, stay ahead of regulatory restrictions, increase recovery rates and add commodity revenue, while decreasing labor and other costs.
Download the new eBook to learn about:
Finding opportunities in the alternative to landfilling C&D
How facilities can increase their profits from C&D
Using the right C&D processing technology in the right locations