Smarter Trucks and Cleaner Fuel
Trucks for Waste and Recyclables Hauling and Collection just keep getting more intelligent and environmentally-friendly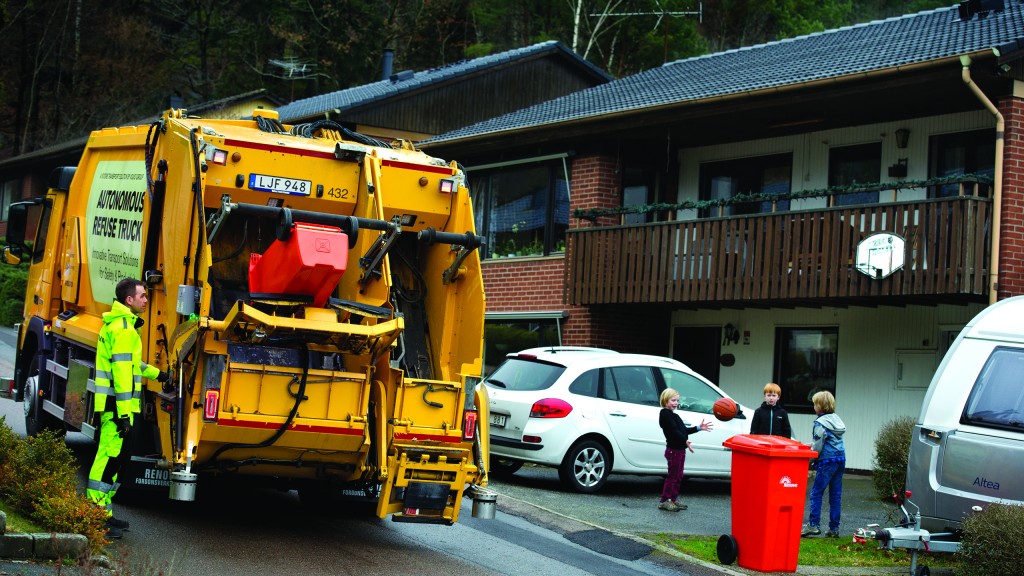 The technological capability behind the vehicles that collect and haul waste and recyclables is advancing very rapidly. One of the major themes at this year's Waste Expo, held May 8-11 in New Orleans, was the trend towards "smart" technology and improving use of data. The latest vehicle telematics technologies mean that efficiencies, maintenance and safety can all be maximized to a level never before seen for fleet owners and their operators. Beyond vehicle monitoring and management, we are now at the point where artificial intelligence technology means that the prospect of the driverless refuse/recyclable collection truck, on roads in Europe and North America, is a very likely reality.
Besides artificially intelligent automation and the progress of telematics for managing collection and hauling vehicles, the advancement of Compressed Natural Gas (CNG) fuel systems is among notable recent advancements in the hauling and collection vehicle sector.
Following are some of the key announcements so far in 2017.
The autonomous truck
In the latest research and development in self-driving vehicles, Volvo Group, together with Swedish waste and recycling specialists Renova, is testing a pioneering autonomous refuse truck that has potential to be used across the urban environment. Volvo says the project explores how automation can contribute to enhanced traffic safety, improved working conditions and lower environmental impact.
"There is amazing potential to transform the swift pace of technical developments in automation into practical benefits for customers and, more broadly, society in general. Our self-driving refuse truck is leading the way in this field globally, and one of several exciting autonomous innovations we are working with right now," says Lars Stenqvist, chief technology officer, Volvo Group.
This autonomous refuse truck is designed to make driving safer in built-up areas, not least when reversing. Sensors continuously monitor the vehicle's vicinity and the truck stops immediately if an obstacle suddenly appears in its path. The route is pre-programmed and the truck drives itself from one cart, or bin, to the next. The driver, who walks ahead of the reversing vehicle, can focus on refuse collection and does not have to climb into and out of the cab every time the truck moves to a new bin.
"One important benefit of the new technology is a reduction in the risk of occupational injuries, such as wear in knee joints - otherwise a common ailment among staff working with refuse collection," explains Stenqvist.
The autonomous truck also offers major environmental upsides. Gear changing, steering and speed are constantly optimized for low fuel consumption and emissions.
Onboard scales in the cloud
Keeping track of material volumes from commercial waste bins being picked up day after day, whether refuse or recyclables, and making the most efficient use of that data can be a daunting task.
AirWeigh has introduced the company's first onboard scale with accessible cloud-based data storage. BinMaxx XL is a next-generation front-end loader weigh-in-motion arm scale designed as a cost-effective, hassle-free solution for the refuse and recycling industry to better manage productivity and profitability. Arm-mounted for durability, BinMaxx XL captures commercial bin weights and has the ability to store up to 1,000 lifts.
With its new cloud-based storage capability for all recorded lift data, the scale captures every lift and downloads data automatically to an office PC through Bluetooth, allowing automated collection of data that can be easily accessed from anywhere at any time.
The BinMaxx XL scale kit, scheduled for release this summer, contains a complete BinMaxx scale, a GPS receiver and Bluetooth transmitter to be installed in the truck cab, and a Bluetooth receiver to set up the connection to the office computer.
"This is an exciting product that is going to serve the industry well," says Air-Weigh CEO Martin Ambros. "It's an opportunity for customers to better understand who is over-utilizing and who is under-utilizing their services, which is invaluable knowledge to have."
What a rush
Once data is captured, following up on that data, sharing it and using it to provide metrics that can be beneficial for an organization's bottom line is the next, very important step.
Rush Enterprises has announced several product enhancements as part of its premium telematics offering, including full integration with RushCare Service Connect, access to Geotab training and Marketplace, a soon-to-be introduced universal harness, as well as reporting and logging capabilities. (Geotab is an Ontario-based global leader in telematics, providing open platform fleet management solutions.)
Rush Truck Centers' telematics offering is now fully integrated with RushCare Service Connect, a state-of-the-art service communication system that provides customers with two-way communications with service advisors and an online on-demand, as well as transparent 360-degree view of the service process for vehicles in Rush Truck Centers' service departments.
"Our customers are responding positively to our telematics platform and the benefits it provides their fleets," said W.M. "Rusty" Rush, chairman, CEO and president, Rush Enterprises. "By integrating with RushCare Service Connect, our powerful telematics products give our customers the tools to not only monitor their fleet's performance, but take action as needed to stay up and running."
Within RushCare Service Connect, telematics customers have visibility to all Geotab faults on their fleet vehicles and can schedule service within the portal at the Rush Truck Centers service shop of their choice.
Controlling the lift axle
IMI Norgren and Aktv8 has introduced the iLift intelligent lift axle control system designed to autonomously deploy and proportionally control the lift axle. This keeps trucks load-legal without driver intervention and is designed to boost the capabilities and efficiency of commercial vehicles used throughout the waste management industry.
"iLift is the perfect combination of Aktv8's patented iAir technology and the patented IMI Norgren LACM (Lift Axle Control Module) to deliver performance and peace of mind for fleets using lift axles," said Aktv8 CEO Gary Meyer. "It brings smart technology and monitoring to the simple, but critically important life axle system, simultaneously improving performance, safety and cost efficiency."
Enabled by a patented electronic control module and a flexible software platform, iLift offers several industry firsts to commercial vehicle fleets and operators, including automatic lift and deploy for driver focus and consistency; optimized load on drive axles for improved traction and braking; overload alerts; and a Bluetooth configuration tool.
GuardDog Over the Air
Mack's latest software updates for powertrain components and vehicle parameters are available through Mack OTA (Over The Air), which capitalizes on fully integrated Mack GuardDog Connect telematics hardware, introduced at the end of 2016, to deliver software updates directly to customers with minimal interruption to operations.
GuardDog Connect comes standard on every Mack model equipped with a Mack engine, including the most recently introduced Mack LR in a 2x4 configuration, and provides proactive monitoring and repair planning, enabling real-time diagnosis of issues, scheduling of repairs, and confirmation that needed parts are in stock and ready to install. GuardDog Connect can also be combined with Mack ASIST and Mack's live OneCall uptime agents.
Momentum gaining on CNG
Momentum Fuel Technologies has made multiple key announcements this year, including the addition of a 115 diesel-gallon-equivalent (DGE) tailgate system to its lineup of compressed natural gas (CNG) fuel system solutions for Class 6 to Class 8 trucks. According to the company, this tailgate system has the largest fuel capacity on the market.
"We set out to design a system for E-Z Pack that could contain the same or increased fuel capacity as their old system but with reduced weight, to keep costs in check," said Mike Zimmerman, Momentum's GM. "We were able to increase capacity from 105DGE to 115DGE using only three tanks, and this system is 400 pounds lighter than E-Z Pack's previous system. The system is also designed to be scalable, with a smaller, two-tank 75DGE system."
Momentum also introduced a new 175 DGE back-of-cab system for CNG fuel systems for Class 6 to 8 trucks, and earlier this year, announced that its complete line of CNG fuel systems are compliant with software requirements expected for 2018 (OBD2018) and are able to integrate with Cummins ISL-G and ISX12G natural gas engines. All Momentum fuel systems are also fully integrated with Rush Truck Centers' telematics platform.
In addition, Momentum has launched a new CNG fuel management module (FMM) drop-in replacement. Momentum's FMM houses the electronics, fuel filter and fuel-fill receptacles, and features custom bolt-on brackets to match most existing bolt holes. It is also able to integrate with the vehicle's J1939 communication network, providing improvements to engine and fuel system diagnostics as well as improved driver feedback.
Geotab recently announced support for CNG fuel level and temperature on all Momentum Fuel Technologies' CNG fuelling tanks and systems. A breakthrough for the industry, fleets with CNG vehicles can now have the powerful visibility into their fuel usage and driver behaviour that is already offered to other vehicles using Geotab's fleet management solution.
This integration addresses the industry's limited ability to use telematics to report CNG level from the vehicle for accurate fuel level readings.
Moving to zero
At the beginning of May, Cummins Westport, based out of Vancouver, announced its 2018 dedicated natural gas engines for regional haul truck/tractor, vocational and transit, school bus, and refuse applications. The 2018 ISX12N heavy-duty natural gas engine is now certified to EPA and California ARB optional low NOx Emissions standards of 0.02 g/bhp-hr.
According to Cummins Westport, the ISX12N and L9N will be the lowest certified NOx emission engines available in North America, with NOx exhaust emissions 90-percent lower than the current EPA NOx limit of 0.2 g/bhp-hr, and the engines also meet or exceed the 2017 EPA greenhouse gas ("GHG") emission requirements. CWI natural gas engines have met the 2010 EPA standard for particulate matter (0.01 g/bhp-hr) since 2001.
All CWI engines offer customers the choice of using compressed natural gas (CNG), liquefied natural gas (LNG) or renewable natural gas ("RNG") as a fuel.
"Our 2018 product line demonstrates an important milestone in product development for Cummins Westport, creating a move to zero emissions strategy for our customers and industry," said Rob Neitzke, President of Cummins Westport. "This move to zero emissions strategy means our customers can choose the most affordable path to zero-equivalent emissions with no commercial constraints on supply or technology readiness." RPN
This article was originally published in Recycling Product News, July/August 2017, Volume 25, Number 5.