BKT TIRES designed for recycling operations
BKT has developed special tires ideal for loaders and material-handling equipment in the recycling sector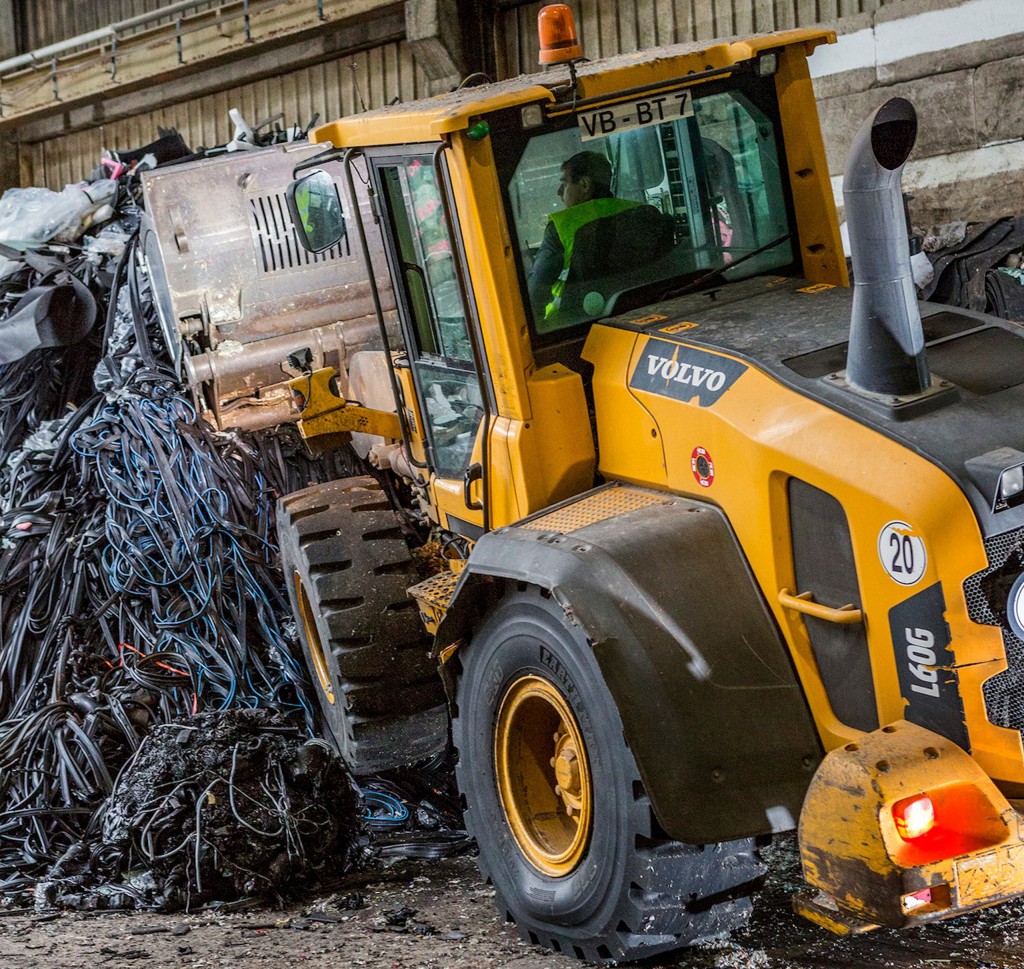 As one of the leading Off-Highway tire manufacturers worldwide, BKT has been able to find solutions even for the most demanding and toughest operating conditions in recycling applications by means of specially designed products for loaders and material-handling machinery. This sector and any related application areas appear to be fairly interesting in terms of tires that are subject to severe strain. Not only do they have to meet the requirements as far as resistance and durability are concerned, but they must also offer stability to the equipment and thus a certain level of comfort to the operator.

At material storage sites, it is also essential that the vehicles employed are robust and offer good maneuverability. In this like many other applications, the tire is the key to enhance equipment functionality, allowing it to easily move even in narrow spaces, achieving speed in line with productivity, and not least keeping in mind the budget thanks to both time and fuel savings.
BKT has met also this challenge and studied during the developing stage of BK-Loader 53, Earthmax SR 43, Earthmax SR 53 and Earthmax SR 55 all specific details for material-handling operations even on notably rough and irregular surfaces. As a result, they are particularly suitable for sites where waste disposal and material-recycling operations take place.
Top of the list and product novelty is BK-Loader 53, an aramid-belted tire specially developed to equip loaders in industrial applications. It is particularly suitable for recycling operations thanks to its special tread design ensuring optimum lateral stability, and to an extra-deep tread providing extraordinary resistance against tears, cuts and punctures. In addition, BK-Loader 53 stands out for its exceptional self-cleaning properties as well as excellent grip and traction on both wet and dry surfaces. BKT's brand-new product is available in size 405/70 R 20.
www.bkt-tires.com/en/pattern/b...
Earthmax SR 43 is the ideal radial tire for all loading and material-transport operations in storage, collection and recycling sites, as well as in caves, open pit mines and scrap yards. Its distinctive features are high resistance and an extended life-cycle thanks to the reinforced sidewall. Moreover, the unique tread design provides enhanced traction and stability, while extraordinary self-cleaning properties facilitate the rapid ejection of debris - a frequent issue during recycling operations. The result is puncture prevention and reduced machine downtime. Earthmax SR 43 is available on the market in size 29.5 R 29.
www.bkt-tires.com/en/pattern/e...
There are also the well-known Earthmax SR 53 and Earthmax SR 55 tires, which perfectly combine all requirements needed for recycling operations.
The first tire is particularly suitable for loaders and dozers under extreme operating conditions as you can find on the harsh and rocky grounds at mines, or the surfaces at metal recycling industries. The deep L-5-class tread significantly reduces tire wear and shows excellent self-cleaning properties. Lastly, the special tread compound offers additional resistance to cuts and heat. Earthmax SR 53 is available in the five sizes 17.5 R 25, 20.5 R 25, 23.5 R 25, 26.5 R 25 and 29.5 R 25.
www.bkt-tires.com/en/pattern/e...
Likewise, for the toughest tasks and the most insidious challenges in the world of recycling, BKT has designed Earthmax SR 55, which stands out for both robustness and strength. The smooth surface of its extra deep, L5-S-class tread allows this tire to best withstand peak productivity with reduced downtime. Stability, safety and driving comfort make it particularly suitable for loaders operating at severe conditions during loading and levelling operations. This tire is presently available in six different sizes: 12.00 R 24, 17.5 R 25, 18.00 R 25, 26.5 R 25, 29.5 R 25 and 29.5 R 29.
www.bkt-tires.com/en/pattern/e...
Accordingly, the recycling sector is a field representing true challenges on site that BKT has been able to fully master by means of continuous research and cutting-edge solutions. Achieving increasingly better results and performance is the overall goal. This can be reached pursuing the same path, i.e. providing innovative and application-specific product solutions as a response to critical user requirements.
Balkrishna Industries Ltd. (BKT) is an India-based tire manufacturer. The BKT group offers a large and always updated production range of Off-Highway tires specially designed for vehicles in the agricultural, industrial, earthmoving, mining, ATV and gardening sector. BKT's innovative solutions designed for the most differing user needs include more than 2,400 products sold in over 130 countries worldwide. Visit www.bkt-tires.com.