Ontario Tire Stewardship announces 100 million tires recycled
100 percent of province's tires are being efficiently and responsibly recycled into new products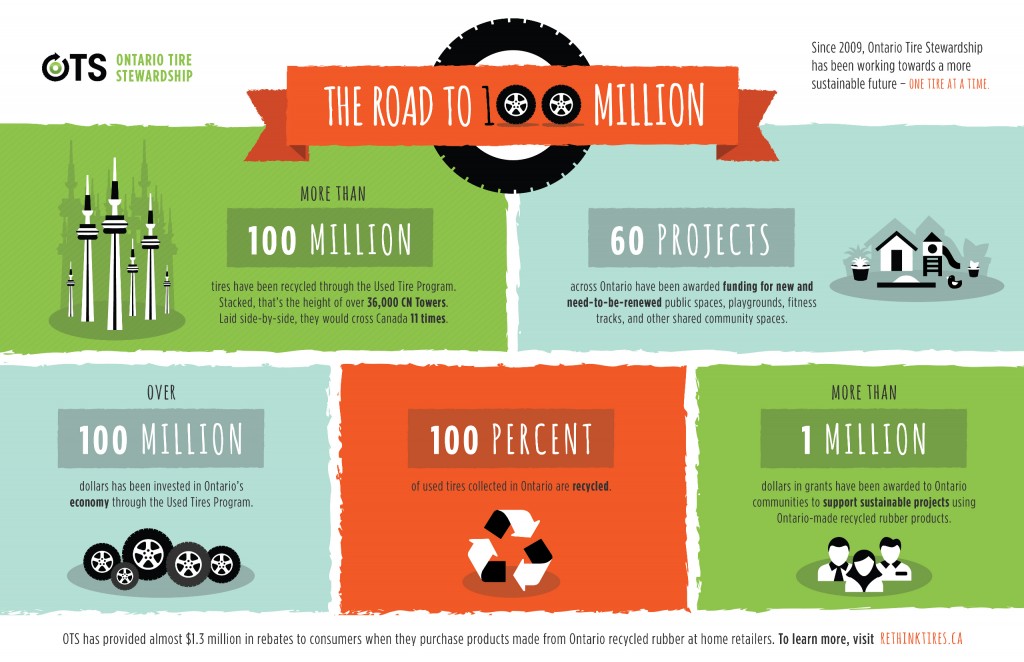 Ontario Tire Stewardship's (OTS) Used Tires Program has reached an incredible milestone: the recycling its 100 millionth tire since the program opened in 2009. To put this astounding accomplishment into perspective, 100 million tires stacked on top of one another is the equivalent height of over 36,000 CN Towers. Before the implementation of the program many of these tires ended up in landfills across the province or accumulated into tire piles, which pose serious environmental and safety risks. Through the Used Tires Program 100 per cent of scrap tires generated in Ontario are recycled into high value, sustainable products - and importantly, no tires are burned, disposed of in landfills or are illegally dumped.
"Since its inception, the Used Tires Program has accomplished a number of things, chief among them, the waste diversion rate," said Andrew Horsman, Executive Director of OTS. "This milestone would not have been possible without the help of Ontarians across the province and the commitment of our industry partners."
OTS's network of over 700 Stewards, 7000 Collectors, almost 100 Haulers, and group of 30 Processors and Recycled Product Manufacturers are building a sustainable future for the province and supporting the circular economy. Through these planet-positive partnerships, old tires are now redesigned into eco-friendly products like patio tiles, rubber landscaping mulch, gym flooring, playground surfacing, floor underlay and more.
"Along with its numerous partner organizations, OTS is committed to bringing new life to scrap tires, supporting the Ontario economy, local communities and the environment," said Horsman. "Because of the Used Tires Program we have been able to create the conditions to support the circular economy. By ensuring there was a consistent supply of scrap tires for Ontario recyclers, as well as investments into new manufacturing, we now have a new generation of recycled tire products available for consumers and businesses."
Every used tire in Ontario now has a longer life because of the more than $100 million of investment provided by OTS into Ontario's economy. This includes research and development and investments in new markets that have led to the creation of hundreds of jobs across the province.
The program continues to have a positive and lasting impact in communities across Ontario. For example, through OTS's Community Renewal Fund (CRF) grant program, a total of 60 projects have been awarded over $1 million in funding for new and need-to-be-renewed public spaces, like playgrounds and fitness tracks. All of this encourages earth-friendly building and development, improves the lives of Ontarians and boosts the local economy.
OTS is committed to ensuring all tires in the province of Ontario are responsibly recycled and successfully diverted from landfills. For more information on OTS and where to find the registered tire collector closest to you, visit rethinktires.ca. Or download the "ReThinkTires" app from the App Store® and Google Play™.
Established in 2009, Ontario Tire Stewardship (OTS) is an Industry Funding Organization (IFO) incorporated under Ontario's Waste Diversion Act, to implement and operate the Used Tires Program. According to the organization, OTS is transforming the relationship Ontarians have with the lifecycle of their tires, through a comprehensive approach that takes into account our environment, our economy and our quality of life. Through the Used Tires program, 100 percent of Ontario tires get efficiently and responsibly recycled into new products, leading to more livable communities and a growing green economy in this province.