Drum cutter attachment for demolition robot line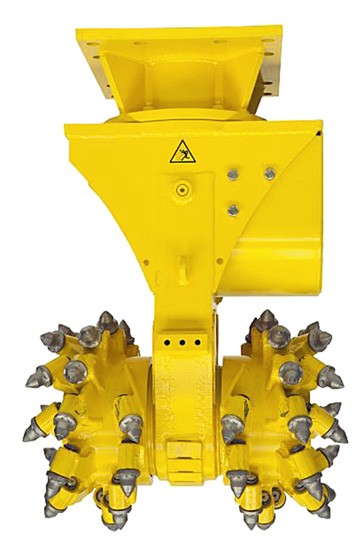 Husqvarna introduces the DC 200 drum cutter, a new attachment for the DXR demolition robot product line. The DC 200 is a versatile attachment made for surface profiling rock or concrete, trenching, excavating frozen soil, soft rock excavation in quarries, demolition and dredging. The 56 tungsten carbide-tipped picks on each side of the machine rotate and chip away at the surface material to the desired depth or complete removal. If the material is not completely removed, a smoother, more uniform surface results as well as smaller, finer grain sizes so material can be removed more easily or used as back fill without additional crushing. The DC 200 is suitable for use on restricted jobsites and sensitive urban areas due to the low noise and low vibration levels.
MAIN BENEFITS

Versatile - excellent choice for trenching, surface removal and profiling in rock, concrete or hard soil

Improved efficiency - unique software solution enables sufficient flow and pressure for maximum working efficiency and mobility

Low noise and vibrations - suitable for use in sensitive areas

Precise - produces an even surface and smaller grains

TECHNICAL SPECIFICATIONS

Total width cutting head, in (mm): 20 (500)

Diameter of cutter drum, in (mm): 9 (240)

Number of picks: 56

Max cutting force @ 5,075 psi, lbs (kg): 2,835 (1,286)

Max torque @ 5,075 psi, lbs (kg): 1,900 (862)

Max rock hardness, psi: 2,900

Service weight, lbs (kg): 441 (200)

Company info
Related products
More from C&D Recycling
Single-Ram and II-Ram High-Capacity Balers
At Machinex, we've been designing sorting systems for over 35 years, so we know how essential it is for MRF operators to have a baler they can trust and not worry about its operational reliability. This is why we design and manufacture reliable single-ram and II-ram high-capacity balers to specifically help optimize their operations.
Watch the video of our expert who presents the main features of Machinex balers delivering these important benefits:
Easy & accessible maintenance
Reduced maintenance & bale handling costs
Energy savings
Optimal bale density
For C&D recyclers, waste haulers, demolition contractors and landfills, there is a growing opportunity to profit from rethinking processes. Although every operation is different, by streamlining the front end of the C&D operation processes with purpose-built technologies, recyclers can tap into new end markets, accommodate higher material volumes, stay ahead of regulatory restrictions, increase recovery rates and add commodity revenue, while decreasing labor and other costs.
Download the new eBook to learn about:
Finding opportunities in the alternative to landfilling C&D
How facilities can increase their profits from C&D
Using the right C&D processing technology in the right locations