Peterson introduces latest Drum Chipper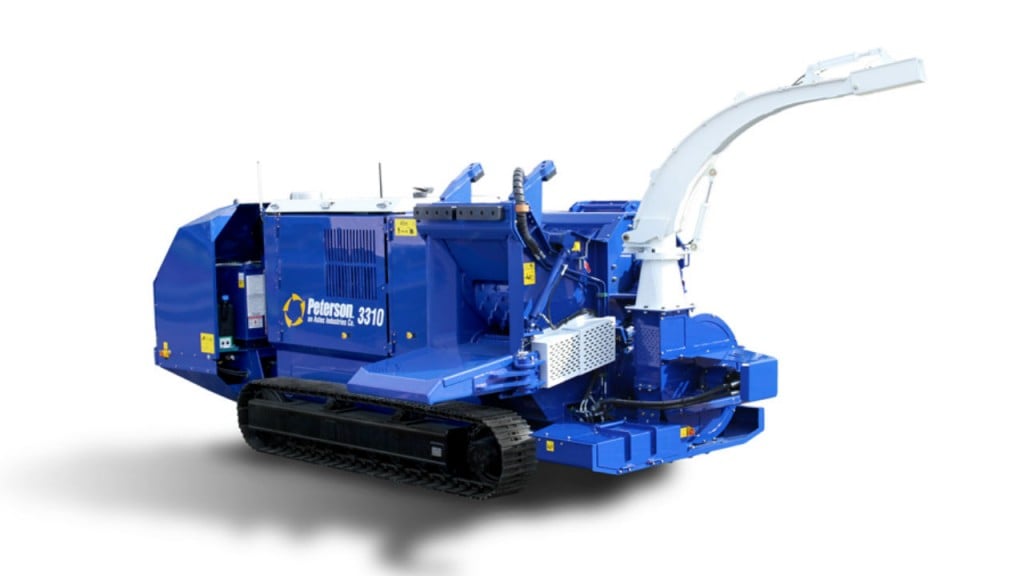 Peterson Pacific has released the all-new 3310 drum chipper. With a 540 hp (402 kW) Caterpillar engine, the 3310 has the power to handle up to 24-inch (61 cm) diameter logs. The fully enclosed engine compartment keeps things clean, but is easily serviced by large access doors on both sides of the machine.
"The all-new 3310 is the third and smallest model in Peterson's lineup of drum chippers. Like the other larger Peterson drum chippers, the 3310 is equipped with sizing screens and an intelligent control system that provide superior fuel economy and the most consistent chip quality. The 3310 is a high capacity small chipper with a 23-inch (600 mm) diameter log capacity. It was designed for biomass energy producers around the world that will benefit from the efficient feeding and flexible van loading options that are provided by this unique design" said Larry Cumming, Peterson's president.
At just under 24-feet long, the 3310 utilizes a transverse-feed design allowing for a much smaller operations deck than typical drum chippers. The rotatable end load or optional top load spout design allows for trailers to be loaded in a variety of positions, depending on the demands of the job site. Not only does the compact size allow for easy maneuverability, but can even be transported in a 40-foot high cube container for overseas shipment.
Using the proven drum and knife design used on the larger 4300-series drum chippers, the 3310's main components are robust and offer long life.
The Peterson 3310 drum chipper is also Peterson+ enabled--a new remote monitoring solution providing machine owners access to real-time and historical data of their machine's performance and location.
Peterson specializes in developing delivery and processing equipment that turns low-grade organic materials into high value products.
Company info
29408 Airport Rd
Eugene, OR
US, 97402

Read more
More from Organics Recycling
Single-Ram and II-Ram High-Capacity Balers
At Machinex, we've been designing sorting systems for over 35 years, so we know how essential it is for MRF operators to have a baler they can trust and not worry about its operational reliability. This is why we design and manufacture reliable single-ram and II-ram high-capacity balers to specifically help optimize their operations.
Watch the video of our expert who presents the main features of Machinex balers delivering these important benefits:
Easy & accessible maintenance
Reduced maintenance & bale handling costs
Energy savings
Optimal bale density
For C&D recyclers, waste haulers, demolition contractors and landfills, there is a growing opportunity to profit from rethinking processes. Although every operation is different, by streamlining the front end of the C&D operation processes with purpose-built technologies, recyclers can tap into new end markets, accommodate higher material volumes, stay ahead of regulatory restrictions, increase recovery rates and add commodity revenue, while decreasing labor and other costs.
Download the new eBook to learn about:
Finding opportunities in the alternative to landfilling C&D
How facilities can increase their profits from C&D
Using the right C&D processing technology in the right locations