Small footprint makes crushing plant ideal for small to medium contractors
IROCK TC-15CC plant improves productivity and enhances uptime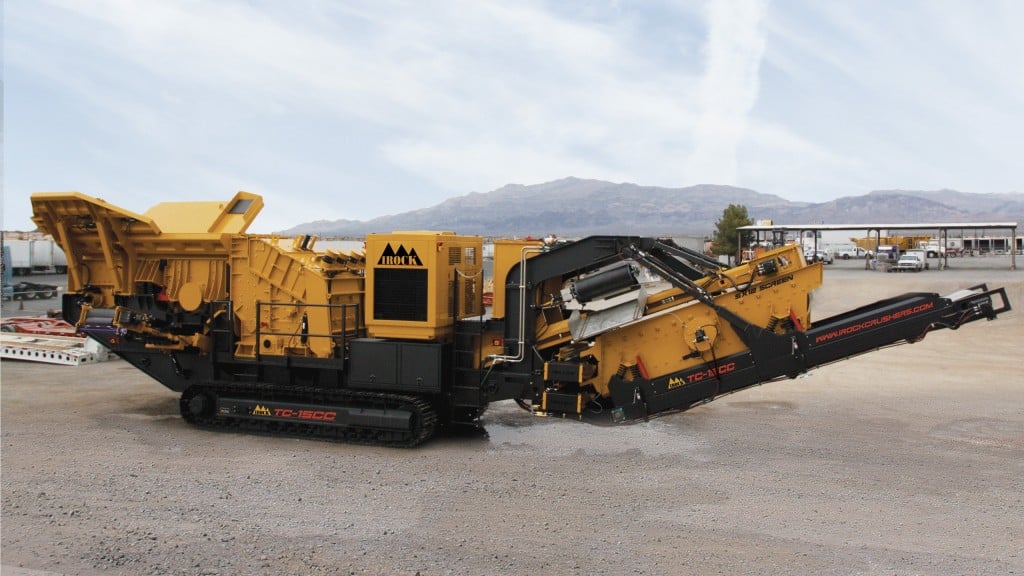 The IROCK TC-15CC tracked closed-circuit crushing plant is ideal for small to medium contractors. The unit boasts a relatively small footprint and is easy to maneuver from job to job or around the site. The new crusher features a large capacity hopper for loading material with large wheel loaders and excavators. Its new apron release system minimizes material blockages, which enhances uptime.
The TC-15CC can process a variety of soft to medium hardness materials, such as concrete, gravel, rock and sand to produce uniform, cubical product. IROCK's hydraulically adjustable aprons are remote controlled and provide optimal management over sizing materials. The remote-controlled apron release and the unit's large crusher opening allow the operator to remove material blockages from the machine's cab, which means less downtime and more productivity
The track crusher features a fixed, Hardox hopper with fold-up wings to deliver a 15-cubic-yard capacity. It is paired with a 40-inch vibrating grizzly feeder, which has 3/4-inch AR 400 liners on the pan and sidewalls.
Producers can set up the TC-15CC to produce as many as four products or just one for optimal productivity. The 5-foot by 12-foot heavy-duty, high-energy screen works with two side transfer conveyor belts for producing the multiple products. Users can simply rotate the return conveyor out to make the fourth product or keep it in place to return the oversize to the crusher to be re-crushed. The ability to return the top and bottom deck materials to the crusher enables as much as 20 percent more production than competitors' machines. The boosted efficiency equates to greater production in less time, lower labor costs, less fuel consumption and lower operation expenses. This feature is ideal for applications such as asphalt recycling, where contractors commonly need a consistent half-inch product. The return conveyor is mounted on a hydraulic swivel, allowing producers to use the conveyor for stacking material as high as 16 feet.
The TC-15CC also features a 44-inch by 5-foot double deck pre-screen that incorporates heavy-duty grizzly bars on top and screen media on the bottom. The screen media removes fine material before it enters the impactor and routes the material through the unit's bypass chute. With this chute, fines that fall through the grizzly feeder can either bypass the crusher and mix back in with the crushed material or be removed via the dirt conveyor with a simple adjustment to the flop gate.
Company info
Related products