New partnership between ELV Select and SEDA marks renewed vision for canadian end-of-life vehicle recycling market
ES2 Mobile Drainage Station available in Canada from ELV Select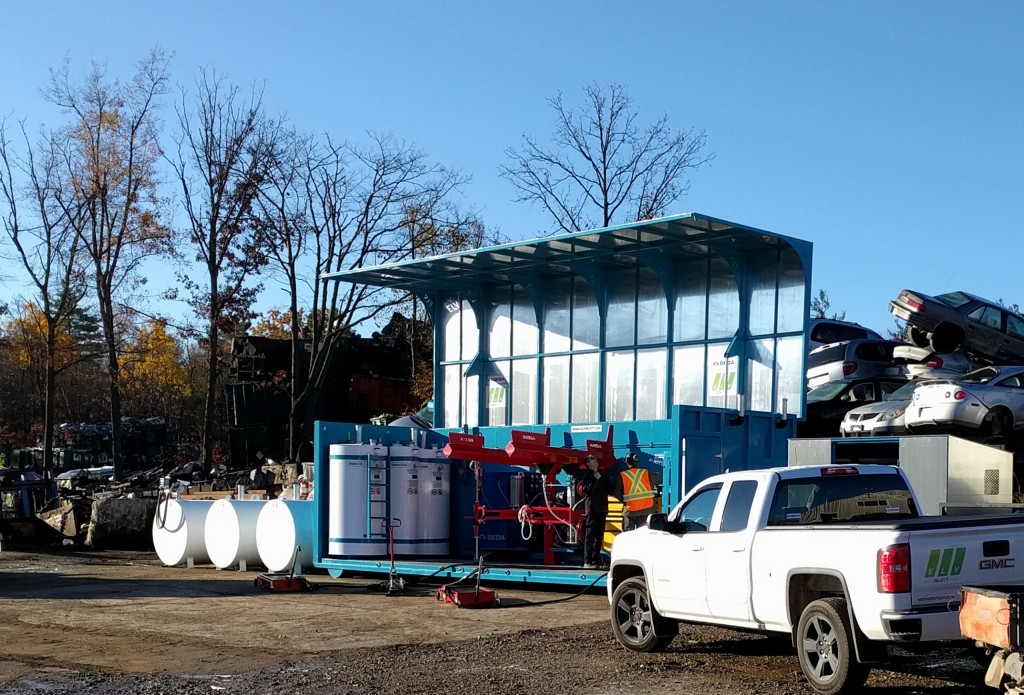 Ontario-based end-of-life vehicle (ELV) recycling equipment manufacturer and distributor ELV Select has announced that they are now offering the ES2 Mobile Drainage Station, a first of its kind system for the North American market. In 2015, the company began a partnership with Austria-based auto recycling and drainage equipment specialist SEDA International, as the exclusive Canadian distributor. ELV Select designs and builds the ES2 container, for the entire North American market, while SEDA USA, SEDA's subsidiary based out of Georgia, provides the ES2's drainage technology and 10,000-pound vehicle ramp.
According to ELV Select, their partnership with SEDA marks a renewed vision from the manufacturer, to be a leader in the Canadian market, not only in ELV drainage and dismantling equipment, but also with respect to service, support and maintenance.
The ES2 Mobile Drainage Station includes a complete SEDA 5-fluid drainage system that comes with an impermeable floor and catchment area. The ES2 container provides the system with protection from the elements, a covered workplace and enables it to be moved around and transported with ease using a standard roll-off truck configuration.
According to ELV Select, the ES2 is a 28-foot version of the company's first generation ES1 – Mobile Drainage Station, a 24-foot unit. The larger ES2 allows for full-size trucks and vans to be easily drained while maintaining a safe distance from the fluid storage tanks. The 24-foot ES1 version is still available, but now sold with external, platform-mounted or stationary tanks only, and as a result, provides more room to work than the original model.
The 28-foot ES2 – Mobile Drainage Station can drain 25-30 vehicles per day and features a heavy-duty, "North-American-proof" frame and walls, with a full floor-integrated fluid catchment area. The grate system is designed to quickly contain minor fluid spills while also being comfortable to walk on. Fluid is stored in ULC-rated, vacuum-monitored, double-walled tanks that are configured upright and securely mounted and piped directly from the SEDA Drainage System.
Additional key features of the ES2 include an innovative wall-mount system that enables a modular arrangement of toolboxes, hose reels and other components, and each unit comes with safety-locking heavy-duty cylinders to lift and close the lid, which also functions as a roof. ELV Select says they offer full training to demonstrate the system's operations.
"The advantage of the ES2 is that it is completely customizable," says Henk Huijgen, sales and marketing, ELV Select. "Every ELV recycling facility has different needs and the ES2 is designed to meet those requirements."
There are several other benefits provided by the ES2 Mobile Drainage Station that Huijgen says make it an ideal system for auto and metal recyclers. The standard roll-off truck configuration allows recyclers to use existing equipment to transport or move the ES2 around their facilities. Plus, with the inclusion of ELV's Power-and-Air Platform, the need to install additional electrical components and compressors at a recycling facility is eliminated. The ES2 – Mobile Drainage Station also eliminates the need for costly building permits, site plans and structures which often take a long time to acquire.
"We want the ES2 to become an integral part of a recycler's ELV process. That's why we have the ES2 painted in the recycler's company colours. The unit is yours," he says. "Make it your own."
Related Articles
Traditionally, waste management companies have operated using a simple "management of waste" approach to operating a MRF. Throughput targets and continuous operation (minimal downtime) were the main driving forces. The industry has changed however, and the focus moving forward is now on optimizing system performance and reliability, in conjunction with increasing recycling rates and a drive for a "greener" and more sustainable tomorrow.
When considering the addition of, or upgrade to, an "intelligent" MRF, for municipalities or private operators, the main factors should always be the client's (operator) current requirements, and evolving market needs, which include throughput, reliability, output quality, and adaptability. Equally important is a full understanding of what is really expected from any proposed system. Having an engaged and focused mindset for the project with the client from the beginning, will impact and drive the entire design process. This then impacts the overall project result, through to the productive, efficient, ongoing operation of the facility itself.