The MB revolution crusher bucket reaches fourth generation
MB CRUSHER BF90.3 S4 now available to Canadian construction and recycling market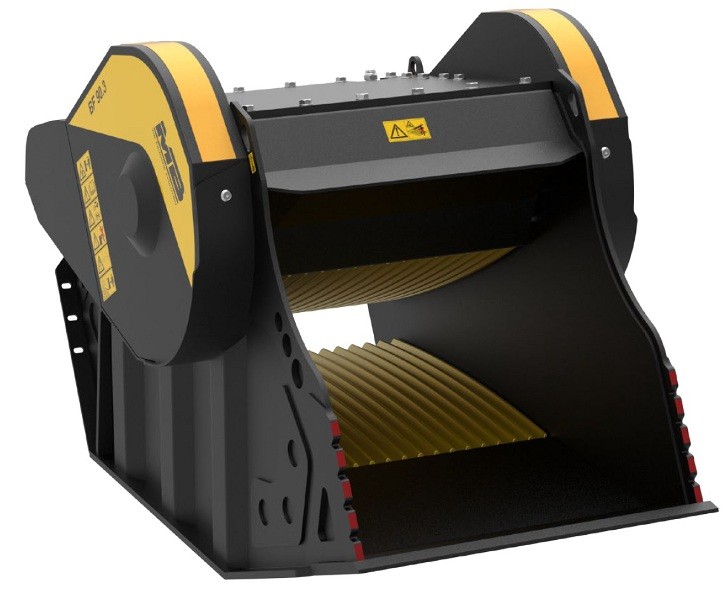 MB CRUSHER has announced availability of the BF90.3 S4 Crusher Bucket to the Canadian construction and recycling market. According to the Italy-based manufacturer, the BF90.3 was the first crusher bucket in the world ever made. Designed to handle the most challenging conditions on any site, the BF90.3 is built to be extremely compact and versatile and has been updated and made more powerful over the years. Suitable for all crushing operations, it maintains the same results in terms of performance with all types of inert material.

The MB crusher bucket has now been further optimised to allow:
• An increase in productivity, thanks to a functional restyling of the internal structure of the machine, which allows for an increase in productive performance, strength and improved reliability in terms of stability and working precision.
• Increased options for the regulation of output materials.
• A reduction in standard maintenance time thanks to an integrated centralized greasing system.
• Increased resistance and performance, even in the most extreme operational conditions, thanks to higher levels of power and the strengthening of parts and components subject to the most stress and wear.
"Revolution and innovation are not static factors, but instead present a continuous challenge for improvement," said DIEGO AZZOLIN, head of production at MB.
Azzolin says their RESEARCH and DEVELOPMENT department has always aimed to raise the level of clients' expectations and move the potential of their machines towards new goals. Furthermore, he says it is thanks to the suggestions of clients who exploit the performance of MB products in the widest range of applications, that MB Crusher can effectively study and update its machinery.
Founded in Italy in 2001, MB CRUSHER is globally present via a capillary network made up of 8 branches, logistic centres, dealers and authorised workshops. All of the stages of design, production and sales are handled at the brand-new headquarters in Fara (Vicenza), for a product that is 100% Made in Italy.

Company info
Related products